Dems Push Equal Pay as a Vote Winner in Texas and Beyond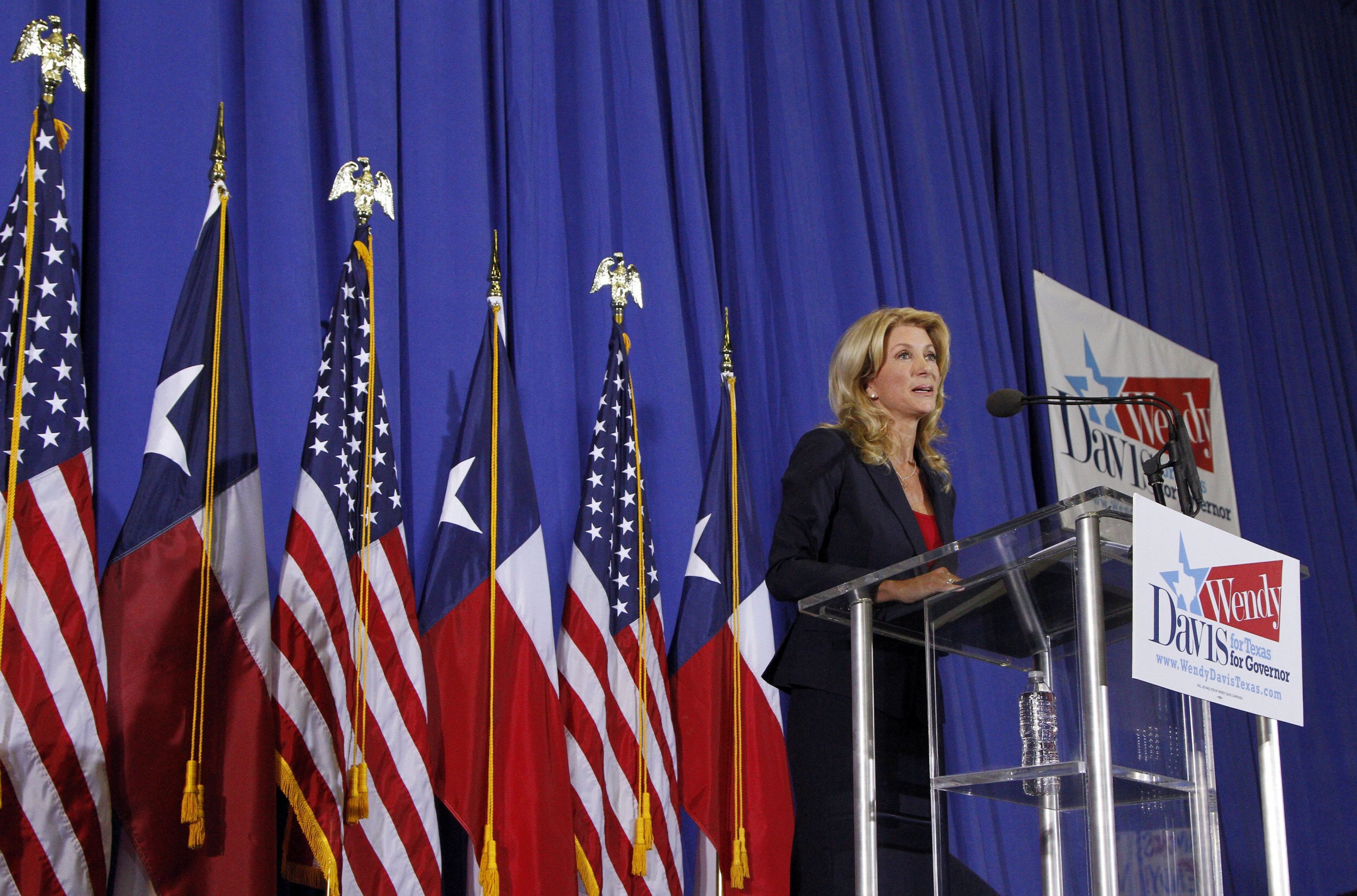 A month ago, Wendy Davis, Democrats' dark horse candidate for governor in Texas, was struggling. Her launch to national fame following her 13-hour filibuster of the state's draconian anti-abortion law led to a gubernatorial campaign and the ability to fundraise nationally. But the abortion issue was too divisive to run on in Texas. Her campaign needed another big issue.
Then Davis's opponent, Texas attorney general Greg Abbott, handed her one on a silver platter: Equal pay for women.
Abbott was asked during a Dallas television interview whether he would have vetoed equal pay legislation that the outgoing governor, Republican Rick Perry, vetoed last year. Abbott demured for over a week, then finally said he was against the bill too.
Meanwhile, Davis's campaign pounced. A state senator, Davis was behind last year's bill to make it easier for women to bring equal pay claims in state courts. At last, Davis had the upper hand on a policy issue. For the last month, Davis's campaign has successfully put pay equity front and center in Texas.
The media ate it up. A few weeks ago, the Houston Chronicle and San Antonio Express-News analyzed pay data from Abbott's attorney general's office and found that male assistant attorneys general are making about $6,000 more than their female counterparts on average. Davis pounced again. On April 2, the front page of The Dallas Morning News declared the issue "on the rise" in Texas and showed a map of gender pay disparity by state.
"It's not like the Wendy Davis campaign was really, say, operating at a high level before this issue," said Austin-based Democratic strategist Jason Stanford, noting that Davis hired a new communications director, Zac Petkanas, a former campaign aide to Senate Majority Leader Harry Reid, just as the equal pay issue bubbled up. "Boy have they raised their game since then. They have been operating on a higher level."
Republicans trying to put out the equal pay fire have ended up fanning the flames instead.
Cari Christman, who runs a brand new Republican PAC in Texas, RedState Women, went on television to defend Abbott's opposition to the law, then flubbed it by saying women are simply "too busy" to fight for equal pay.
The executive director of the Texas state GOP fared even worse when she tried to explain away the issue the next day. "Men are better negotiators," said Beth Cubriel. "I would encourage women, instead of pursuing the courts for action, to become better negotiators."
"That's probably not the kind of framing of this issue or response to some of the Democrats' points on equal pay that are going to resonate and turn this issue around," Texas Republican pollster Marc DelSignore said of Cubriel's remarks.
"The polite way of putting it is: There's definitely room for improvement in terms of how the Abbott folks in particular, but more generally Republicans at the statewide level, are dealing with the issue," he said.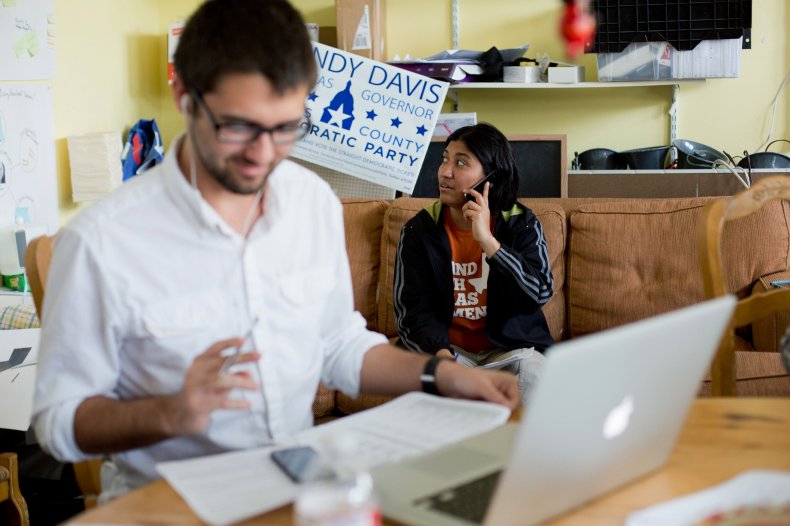 Davis's newfound success is the most visible example of a strategy Democrats are beginning to adopt at a national level as they gear up for the midterm elections this November. In Washington, Democrats are in the midst of an all-out push on the issue, coordinated with Equal Pay Day on Tuesday, April 8, to vote on equal pay legislation. (Because women make an average of 77 cents for every dollar a man earns, Equal Pay Day signifies how far into the current year as well as the previous year a woman would need to work to earn the same amount as a man in the previous year.)
Majority Leader Reid, D-Nevada, will bring the Paycheck Fairness Act to the Senate floor for a vote, putting Republicans in the awkward position of blocking popular legislation. The bill would require the Labor Department and employers to work together to end pay disparities and create grants for negotiation skills training for women. Meanwhile, Senate Democrats have held hearings and press conferences on the issue.
According to polling by American Women, the research affiliate of EMILY's List, a PAC that helps elect Democratic women, 68 percent of likely 2014 voters support ending pay discrimination toward women, including 72 percent of women and 64 percent for men. The bill being debated in Congress got only slightly less support, with 65 percent overall, 71 percent among women and 58 percent among men.
These high marks are exactly why Democrats are pouncing on the issue, especially in a year like 2014, an off year election when women's turnout sinks without a presidential contest to draw them to the polls.
"Women are obviously an important constituency for Democrats and Democrats have historically enjoyed real advantages among women," said Democratic pollster Julie Hootkin. But in the last midterm election, the famous Democratic shellacking of 2010, Democrats only took 48 percent of women's votes, compared to 55 percent in the 2006 midterm elections.
"As people look to evaluate 2010 and think about ways that they can not just engage but also motivate women to come out in the midterm elections, there's a fundamental belief that equal pay, in tandem with things like the minimum wage, offer Democrats a real opportunity to connect with women on economic issues," she said.
It's a strategy that kills two birds with one stone, so to speak. "It is something that will allow Democrats to engage women but also focus the narrative on economic issues," Hootkin said.
This is particularly true in Texas, where a Davis victory depends on rallying the support of more moderate and conservative-leaning women voters.
"She's not going to win unless she gets white, suburban women to vote for her in greater numbers," Stanford said. "Being told that they're not worth as much as men is probably going to get them more interested in voting for Wendy Davis. That's why they're talking about this."
The Texas race could become a model for races across the country. The issue has cropped up in numerous contests already, including in the re-election campaigns of Democratic Senators Kay Hagan of North Carolina and Jeanne Shaheen of New Hampshire. Democratic candidates Michelle Nunn in Georgia and Alison Lundergan Grimes in Kentucky have brought up the issue. In Wisconsin, Democratic gubernatorial candidate Mary Burke made reinstating Wisconsin's equal pay law part of her jobs agenda, a contrast with incumbent Republican Scott Walker who repealed the law two years ago.
"I think there's been a commitment on the part of Democrats, from the top of the ticket down," to focus on equal pay, said Hootkin, noting that President Obama made a point of making the Lilly Ledbetter Fair Pay Act the first bill he signed when he became president in 2009. He mentioned it again in his State of the Union Address this year. "I think that it is something we will be hearing from now until November."
Equal pay may be a potent message, but Republicans don't believe it is enough to put Democrats over the top in a year when Republicans seem poised for a number of victories. Midterm elections typically see older, white voters turn out, giving an edge to the GOP, while the Affordable Care Act continues to supply Republicans with ammunition against Democrats. It doesn't help that Democrats are defending Senate seats in red states this year.
And that's why Texas Republicans aren't shaking in their cowboy boots just yet.
"Voting patterns tend to change over a longer period of time than one election cycle," said DelSignore, pointing out that Texas is an uphill climb for Democrats. "They're making up some ground but I don't think it's a game changer yet for the Davis campaign or for Democrats in general for the 2014 election."
Democrats have to concede this point. For Davis in particular, equal pay is one part of a game plan that needs to be executed flawlessly between now and November.
"It's not there yet, but it's only April," Stanford said optimistically.