Dems Say Trump's 'Critical Race Theory' Ban Ended Most Federal Diversity Training
In a Tuesday letter to the Office of Management and Budget (OMB), Democratic members of the House Committee on Oversight and Reform said that a ban on critical race theory training had caused a cessation of a majority of diversity training in some federal agencies.
Critical race theory, an ideology that points out instances of systemic racism, has become a major factor in anti-racism and diversity training. The White House called for the ban on the training in a September executive order, describing critical race theory as a "destructive ideology." Government contractors were also prohibited from engaging in the training.
The Oversight Committee had originally asked the OMB to provide information on the executive order by October 13. No documentation was provided to the committee by that date. According to the letter, some businesses and institutions of higher learning that receive federal funds have also limited their critical race theory training.
"The Administration's actions have already shut down initiatives across the nation—inside and outside the federal government—meant to combat bias and discrimination in the workplace," read a copy of the letter obtained by Newsweek on Tuesday.
"The executive order stymied diversity and anti-racism training efforts outside of federal agencies as well," the letter continued. "The 'chillingly punitive' consequences of non-compliance have caused multiple universities and other entities in receipt of federal funds to roll back crucial efforts meant to combat discriminatory and biased behavior."
Committee members asked OMB Director Russell Vought to be present at a committee briefing and provide documentation before December 22. Newsweek reached out to the OMB for comment.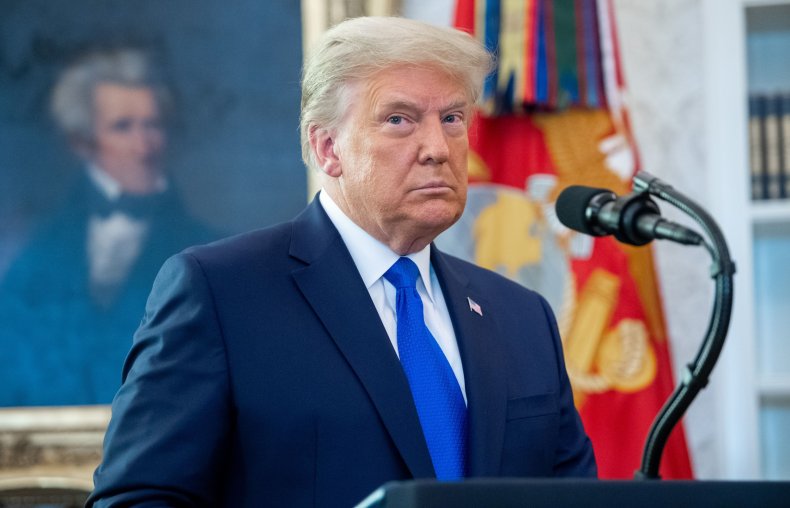 Trump's executive order banned diversity training based on critical race theory on the grounds that its basic tenets "are inherently sexist and racist." While the order states that creating an inclusive working environment is "appropriate and beneficial," it alleges that critical race theory "perpetuates racial stereotypes and division and can use subtle coercive pressure to ensure conformity of viewpoint."
Vought warned in a September memo that Trump had instructed his office "to ensure that federal agencies cease and desist from using taxpayer dollars to fund these divisive, un-American propaganda training sessions."
During the presidential debate in September, Trump explained that he signed the executive order because critical race theory trainers were "teaching people to hate our country, and I'm not going to allow that to happen."
Many federal agencies responded quickly to the executive order. According to Reuters, the U.S. State Department placed a temporary pause on its diversity training programs in October in order for a review of the programs to be completed.
Some universities also altered their plans for diversity training for fear of violating the executive order. In a statement issued after the executive order was enacted, the University of Iowa placed a two-week-long pause on its diversity training "given the seriousness of the penalties for non-compliance with the order, which include the loss of federal funding." University officials planned on reviewing the school's diversity training programs for language that could potentially violate the guidelines laid out by the Trump administration.
Trump defended the executive order during the September presidential debate, saying that he signed the executive order because critical race theory trainers were "teaching people to hate our country, and I'm not going to allow that to happen."