Dems Whack Obama on Trade Deal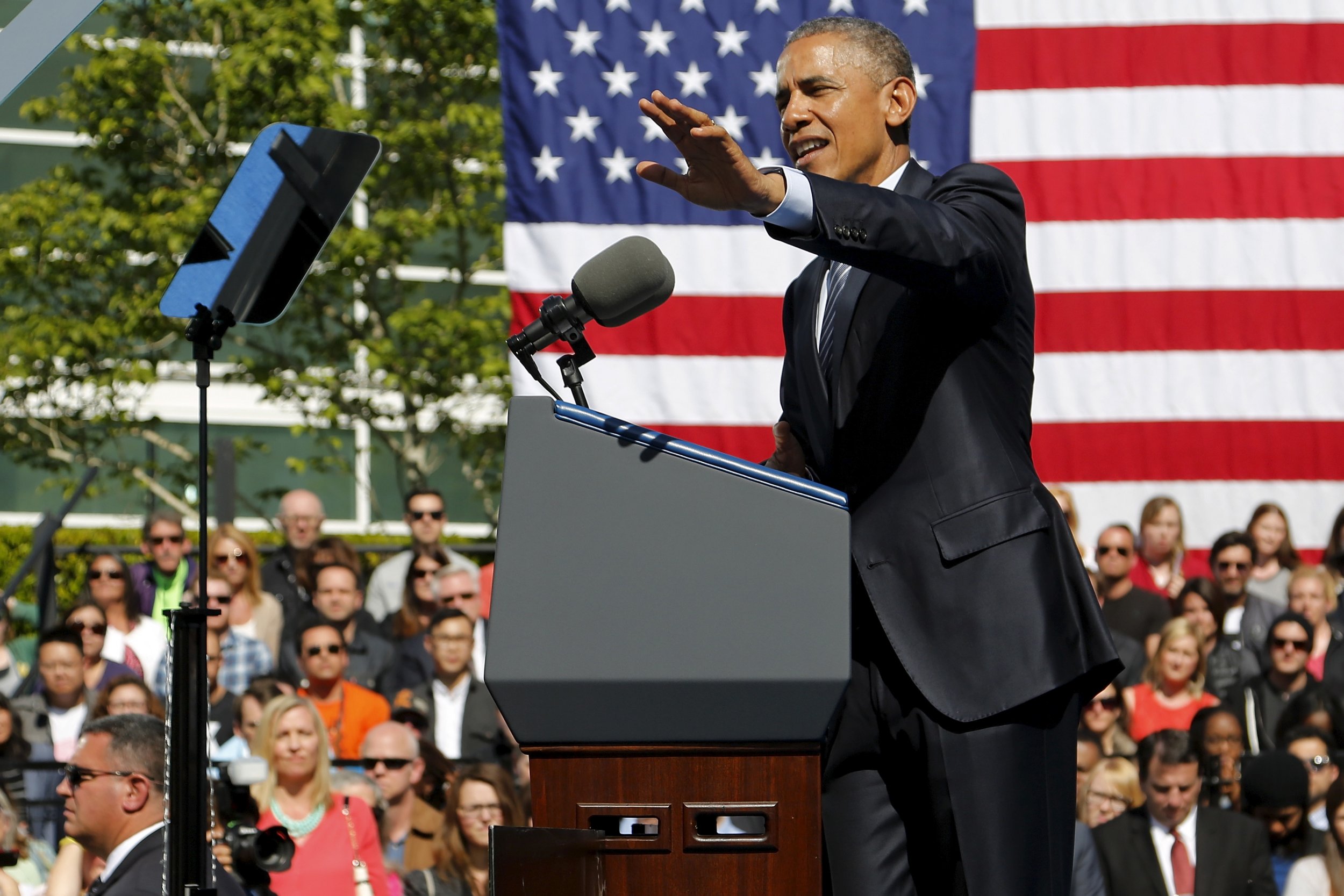 One of President Barack Obama's top policy priorities is on life support, and he has his own party to thank for it.
Democrats on Tuesday blocked a preliminary vote to grant the president the authority to negotiate trade deals without Congress amending them later. Under this trade promotion authority (TPA), the Hill would instead get an up or down vote on any deal.
The vote jeopardizes approval of the Trans-Pacific Partnership (TPP), a multi-nation pact under negotiation, that Obama is championing against the opposition of most Democrats in Congress and their allies in organized labor. If the pact is to be ratified by Congress, Obama needs the kind of "fast track" authority that the Senate blocked on Tuesday.
"Essentially, what the Democrats are doing today, by trying to block us even getting onto this legislation, is throwing their own president under the bus," Republican Senator John Thune of South Dakota told reporters before the vote. The final tally was 52 to 45, below the 60-vote threshold needed to begin debate on the bill.
Free trade is one agenda item where Obama has Republican support, an issue both sides can cite to underscore their bipartisan cooperation. The White House hoped there'd be a big enough coalition of pro-trade Republicans and Democrats to move ahead on TPA, the first step in considering one and perhaps two far-reaching multinational trade agreements before Obama's second term ends.
The only good news for Obama is that the defeat was largely over procedural matters, leaving open the possibility that the vote could go the president's way at a later date.
However, on Tuesday pro-trade Democrats yanked their support for opening debate on the bill over a tiff with Republicans over legislative process.
Democrats wanted Senate Republicans to bring the fast track bill to a vote along with legislation providing so-called trade adjustment assistance—aid for those who lose their jobs because of trade. They also wanted to move legislation to promote trade with Africa and a bill to enforce customs laws, including currency manipulation. But Senate Majority Leader Mitch McConnell would agree only to the adjustment assistance, calling the customs bill "a killer" because it would risk a presidential veto.
McConnell did promise an open amendment process, potentially allowing changes on the floor. But that wasn't enough for his Democratic colleagues. "Democrats are not going to go down this path without assurances from Senator McConnell that we are going to get opportunities to vote on all of these measures and that they will move together," New York Senator Chuck Schumer said.
The Democrats' rebuff isn't the end of the trade debate. The two parties will now regroup, but it's unclear how they'll hammer out a new compromise. "I don't know where we're going to go," conceded Utah Senator Orrin Hatch, the lead Republican sponsor of the trade bill.
At stake is the future of the Trans-Pacific Partnership, which should be finalized this year, after years of negotiation. It would reduce economic barriers between the United States and 11 other countries in the Asia-Pacific region, including Japan, Singapore, Vietnam, Chile, Mexico and Canada, that together purchase more than 40 percent of American exports. Backers say it would spur economic growth, but critics, including Massachusetts Senator Elizabeth Warren and other progressive champions, warn it will hurt workers and threaten U.S. laws. And they criticize how the administration has shrouded the draft agreement in secrecy—offering classified briefings and closed-door document reviews but little public discussion. Defenders counter that negotiating every provision of the deal publicly would slow the whole process to a halt.
The trade question is part of the 2016 discussion, with dark horse Democratic hopefuls like Vermont Senator Bernie Sanders and former Maryland Governor Martin O'Malley lambasting the potential deal and pressing front-runner Hillary Clinton, who supported it during her time in the Obama administration. Clinton has taken a more wait-and-see approach since declaring her candidacy.
For the White House, the TPP is a key part of its long-running effort to "rebalance" American foreign policy toward Asia (which Clinton herself launched, in a 2011 Foreign Policy article written when she was secretary of state)—a policy that has been long on rhetoric but light on action. With doubts about American leadership and commitment already rising in the region, new domestic obstacles are bound to make foreign partners jumpy.
It also casts a shadow on a trade deal the United States is trying to reach with the European Union: the Transatlantic Trade and Investment Partnership, or TTIP. Negotiations were launched in 2014; the ninth round of talks was just completed in April.
In the Senate, talks are set to continue on a future trade vote. Oregon Senator Ron Wyden, the leading Democrat supporting Obama's Pacific trade deal, said on the floor that he remains "very interested in working closely...to find a bipartisan path back to this legislation just as soon as possible."