ISIS Terrorist, Former Rapper Cuspert Now on State Department Watch List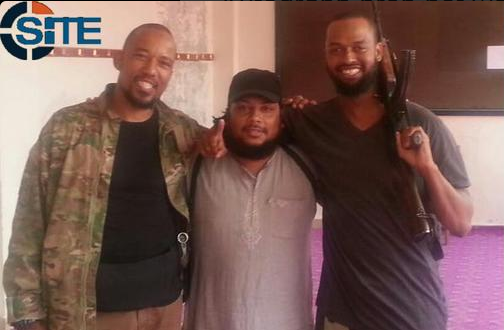 This week, the U.S. Department of State designated Denis Cuspert, alias Abu Talha al-Almani, a global terrorist. "As a result of the designation, all property subject to U.S. jurisdiction in which Cuspert has any interest is blocked and U.S. persons are prohibited from engaging in transactions with him or to his benefit," the department said in a statement.
The Berlin-born 39-year-old joined the Islamic State (ISIS) in 2012 and has appeared in a number of videos released by the terrorist organization. In one notorious video, Cuspert is seen holding the severed head of a man ISIS claims opposed actions of the group.
Before ISIS, Cuspert was already well known among some circles, as a rap singer under the name of "Deso Dogg." After joining the terrorist group, young jihads traveled to meet him and took celebrity style photographs with him. Though ISIS does not allow Western music, like rap, it does allow Cuspert to record Islamic chants and distribute them amongst members. The chants are set to videos of ISIS fighting and are relatively fast-paced, with a cadence similar to his former work as a rapper.
Because he is well liked in the jihadist community, a "celebrity" of sorts, Cuspert is responsible for recruiting foreign fighters into ISIS. He focuses primarily on recruiting Germans and foreigners with criminal backgrounds. It is unknown how many people Cuspert has successfully recruited.
In one recruitment video intercepted by the SITE Intel Group, a jihadist watchdog, Cuspert encourages his "brothers and sisters" to look at the "fun" side of Syria. "It is not so creepy here as all say. It is not a horror movie here... That's jihad, jihad makes fun... and we have fun here with the children... Come on, we invite you to jihad! Come!," he says. Other recruitment videos also focus on children, in one instance Cuspert donates clothes and food to little boys.
In another video, Cuspert pairs his former career as a rapper with ISIS recruitment. Recorded in German with the styling's of an Islamic chant, the video "Why Don't You Stand Up?" encourages Muslims to travel to Syria.
In addition to being wanted by the American government for his ties to ISIS, the German government has listed him as wanted "on suspicion of involvement in terrorist activities."