A Guide to Denis Diderot's France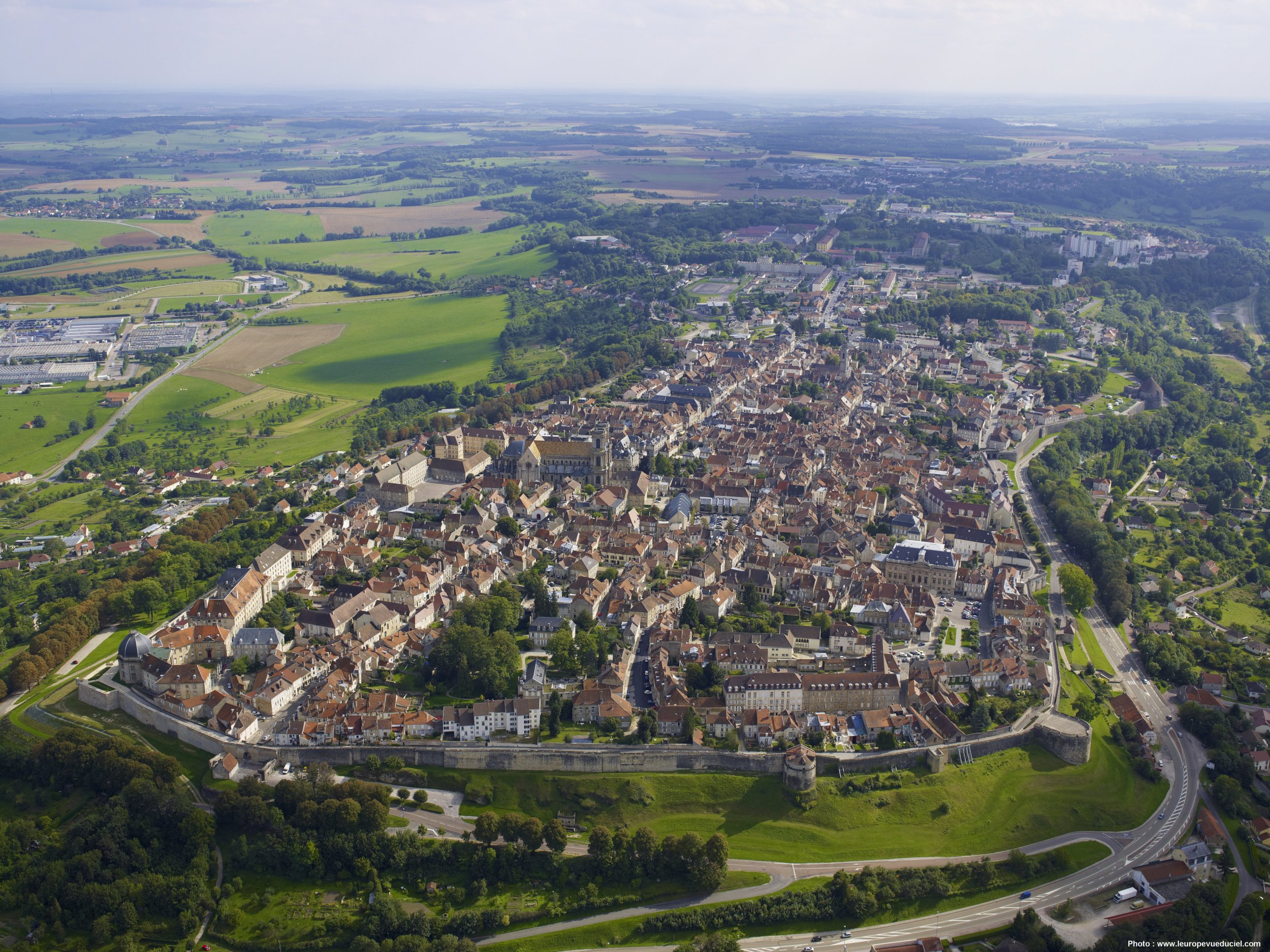 Three hundred years ago, the author and philosopher Denis Diderot predicted that, according to author Andrew Curran, "The real threat to American democracy would not come from foreign powers; it would stem directly from the country's future successes: unbridled luxury, class tensions, political corruption, venality, and, in the worst scenario, the rise of a cynical autocrat who turns his back on the founding values of the Republic. As age-old prophecies go, this particular vision of the United States is as far-sighted as it is disheartening." Here, Curran takes you into the life of the prescient man.
The famed philosopher and author Denis Diderot (1713-1784) called Paris home for fifty-eight years. Like many inhabitants of the capital, however, he arrived from the provinces, in his case from the small city of Langres.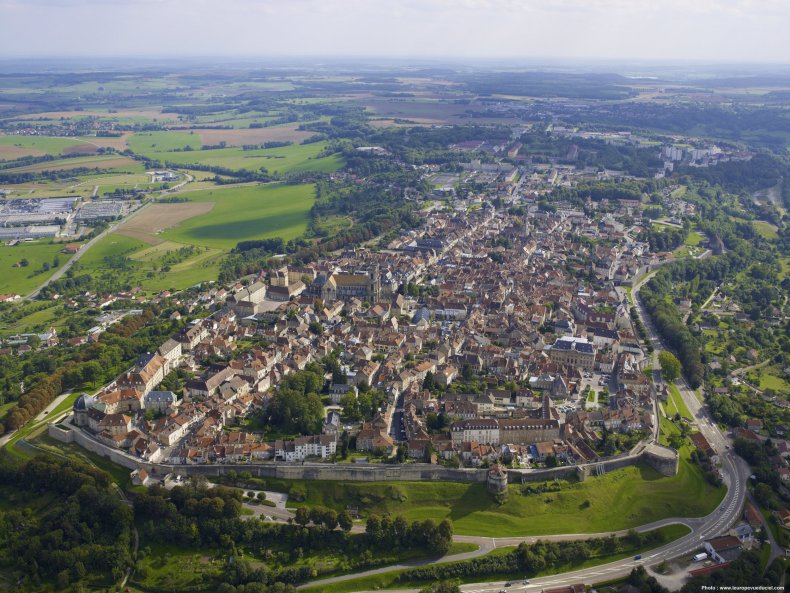 Located 180 miles southeast of Paris, Langres is a fortress-like burg entirely surrounded stone ramparts that date back to the Romans and, in many ways, resembles a "Game of Thrones" set.
In the almost 250 years since his death, Diderot's life has become a municipal obsession in this city of 8,000 inhabitants. The city's central square, re-baptized Place Diderot in 1884, leads to the rue Diderot, which, in turn, leads to the Diderot Junior High (there is also a Diderot High School.) Every third shop also seems to display the writer's name: in addition to a fantastic new museum dedicated to the philosophe, there is a Diderot café, a Diderot coffee bean shop, a boulangerie Diderot, a Diderot cigarette and cigar store, a Diderot motorcycle dealership, a Diderot driving school, and the elegant (and delicious) Diderot Restaurant.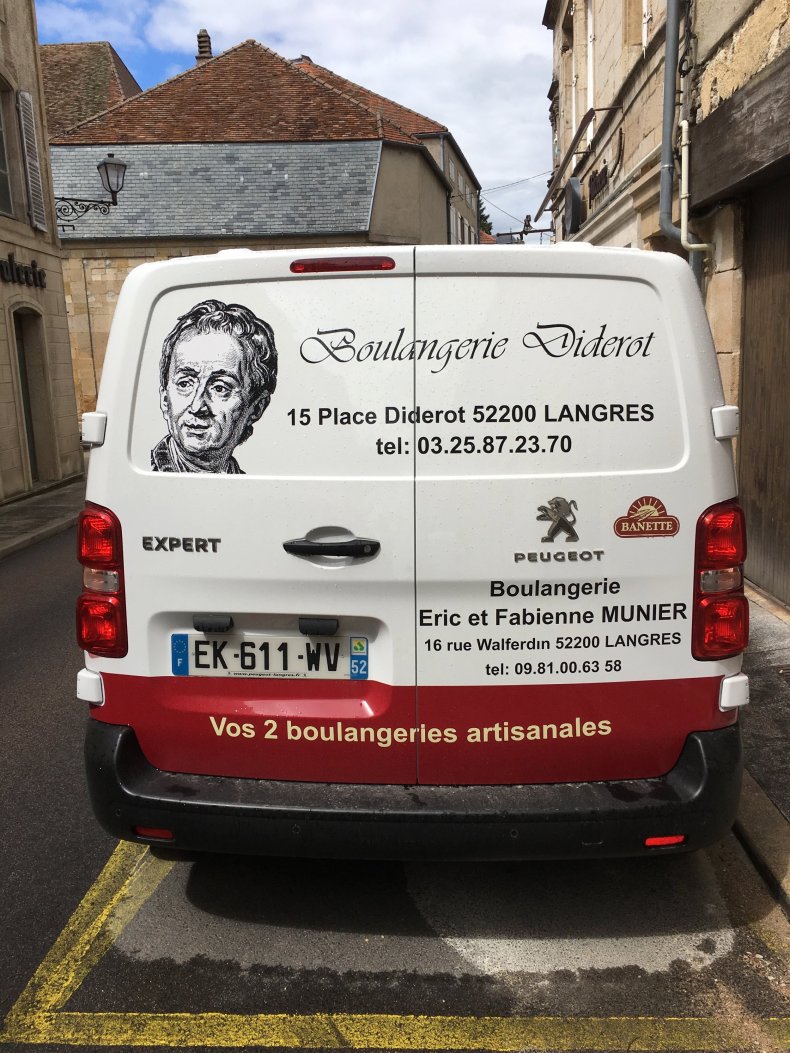 Traces of Diderot family history can also be found on virtually every street. Using a street map available at the tourist bureau, one can readily find the seventeenth-century apartment house where he was born, a second house where he grew up (and where his father ran his cutlery business), the parish church where he attended mass, the cathedral where he was tonsured as an abbot, the ruins of the convent where his sister died at age 28, and the site of the monastery where Diderot's father had him forcibly detained (and beaten) after the young man declared his intention to marry Anne-Antoinette, a penniless laundress.
The center of Langres also proudly displays a huge bronze statue of Diderot, which was sculpted by Frédéric Auguste Bartholdi, the famed creator of the Statue of Liberty. Careful observers will notice that the anticlerical politicians who commissioned the work in the 1880s positioned this statue in such a way that Diderot was turning his back on the city's most prominent landmark, the twelfth-century Saint-Mammès Cathedral.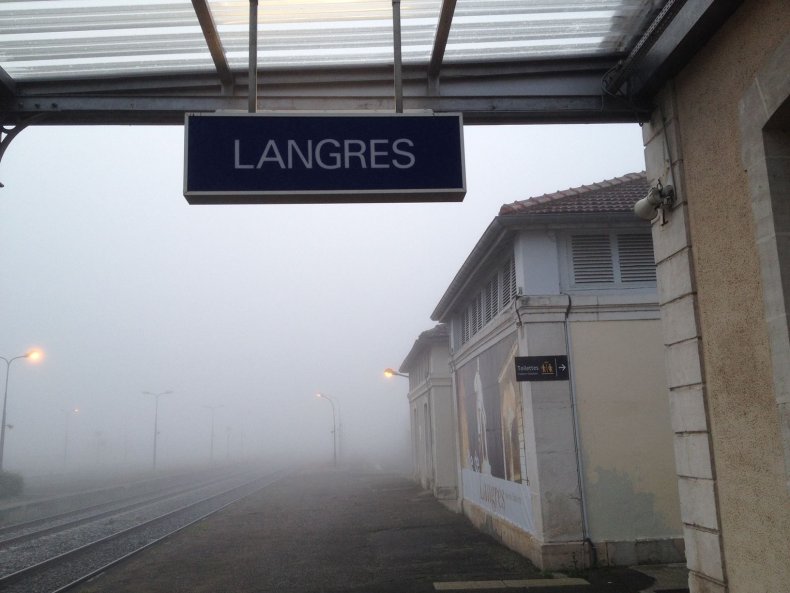 Diderot left the city of Langres for Paris at age thirteen to continue his religious studies on his way to the priesthood. This particular vocation did not bear fruit.
After dropping out of the Sorbonne at age 22 (and becoming estranged from his parents shortly thereafter), Diderot bounced from one fleapit apartments to another in the Latin Quarter. This area in the Left Bank of Paris, was home at the time to an odd mix of ecclesiastics, booksellers, and a significant number struggling writers, and was far less chic than it is now.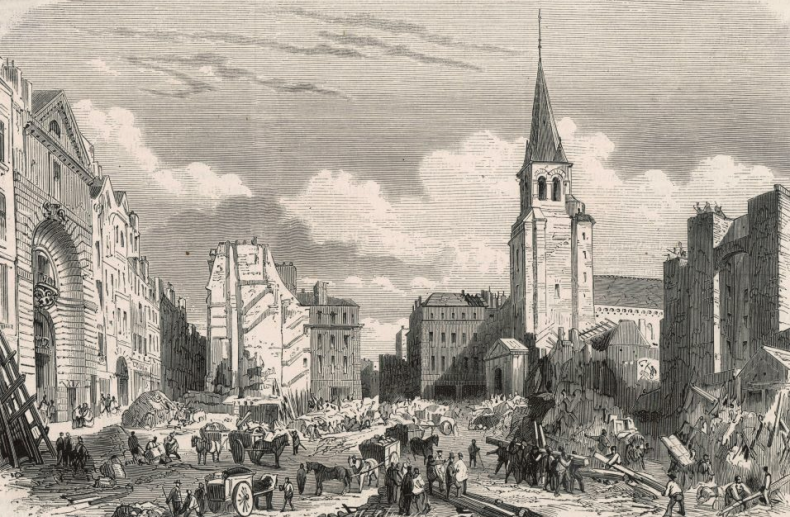 Once Diderot finally established himself as an author, he and his wife lived in a first-floor apartment at 3, rue de l'Estrapade from 1747 to 1754. It was here that Diderot wrote perhaps six thousand articles for his "Encyclopédie". This address was also the site where two gendarmes arrested him and dragged him off to prison in July of 1749 for his illegal publications, including a blatant work of atheism and a libertine novel whose main characters were dozens of talking vaginas.
The months that Diderot spent in the Château de Vincennes—a medieval fortification and royal palace converted to a prison—were among the most traumatic of his life. To get a sense of his imprisonment at Vincennes, visit this national monument on a dark and rainy October afternoon. In particular, make sure to walk up the stairs of the imposing 165-foot-tall tower and poke your head into what were, during Diderot's era, the foul-smelling and rat-infested cells where the monarchy locked up all the undesirables.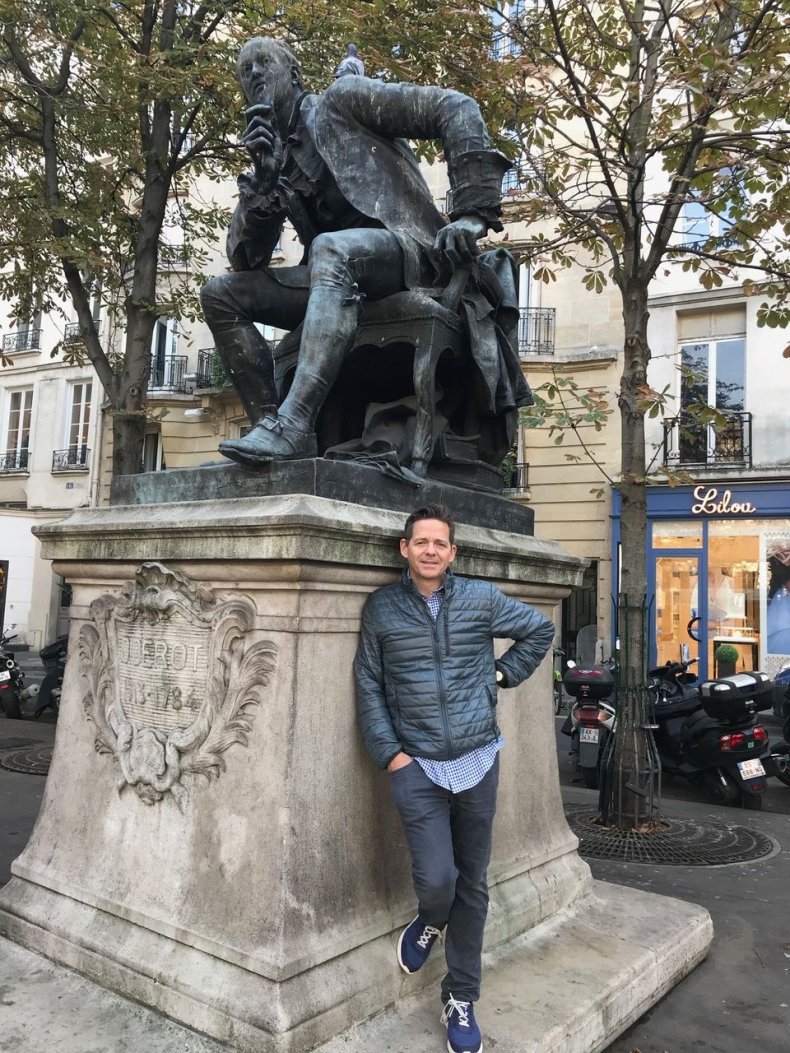 But the address that was the most synonymous with Diderot is 2, rue Taranne. It is here, a hundred yards from the Saint-Germain-des-Prés Abbey, that Diderot spent thirty years, most of them holed up in his fifth-floor garret office, writing works such as "Rameau's Nephew" as well as his famed art criticism.
Diderot's apartment house, along with his rue Taranne neighborhood, no longer exist; both were razed in the 1860s to make way for the Boulevard Saint-Germain. Today, an Armani boutique (on the corner of the rue de Rennes and the Boulevard Saint-Germain, 75006) occupies the precise space where, in the 1750s, a wigmaker rented the ground floor storefront of Diderot's building.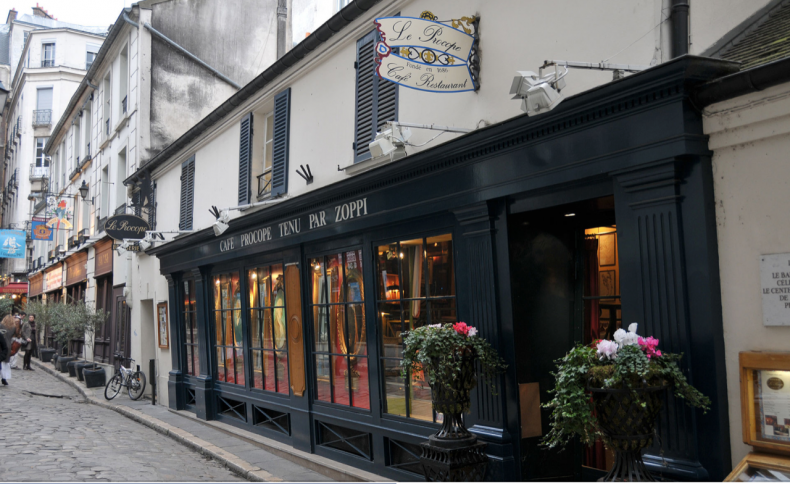 Diderot's presence can nonetheless be felt in his former neighborhood. Not far from where he lived, is Jean Gautherin's muscly, thick-boned likeness of Diderot on 145, Boulevard Saint-Germain and Le Procope (13, rue de l'Ancienne Comédie), a seventeenth-century café that looks more or less as it did during the days that it was frequented by Diderot and the Encyclopedists, is still open for a glass of wine or a cup of coffee.
Though very much a Left Bank intellectual, Diderot also spent a great deal of time on the Right Bank. An avid walker, he often made his way across the Seine by crossing at the Pont Neuf, one of the few bridges in the eighteenth century without houses blocking the view of the river and the city.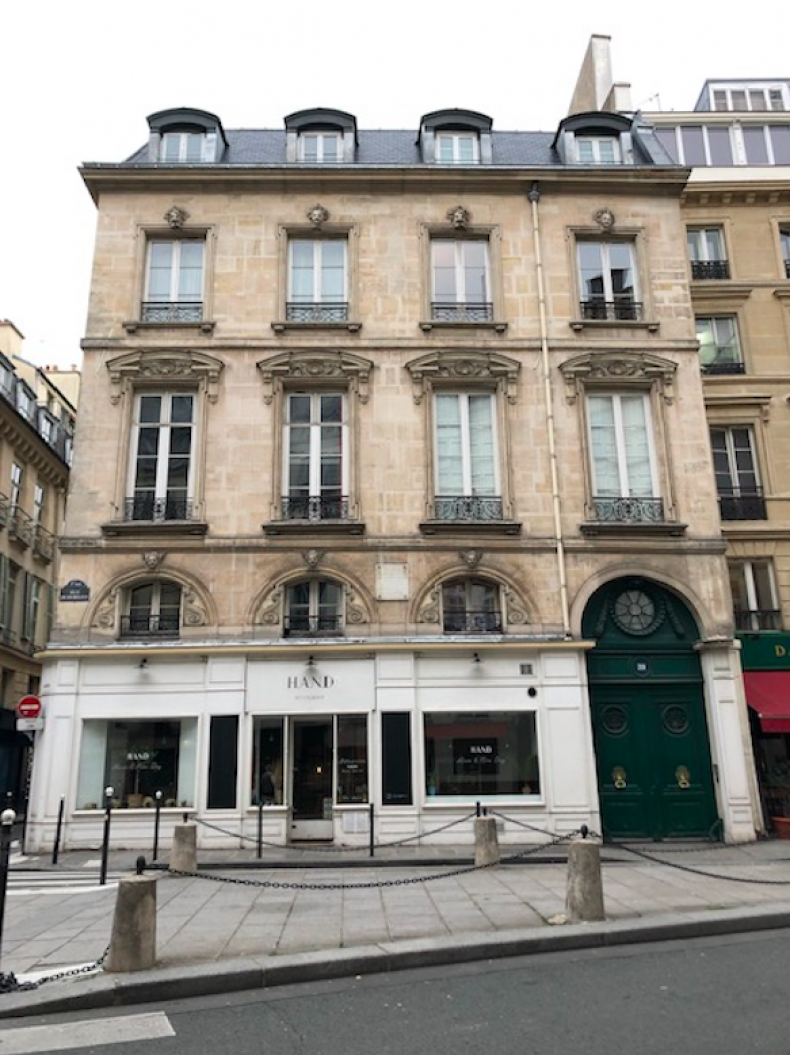 Diderot's Right Bank trips often included frequent visit to the Louvre, much of which, by that time, had been converted from a palace into painting studios and apartments for the members of the Royal Academy of Painting and Sculpture. In addition to spending weeks at a time at the Academy's Salon of Painting in sculpture, which was held every two years, Diderot also regularly dropped by the studios to have supper with his artists friends including Jean-Baptiste Simeon Chardin.
The famed writer also made almost daily pilgrimages to the pleasure gardens inside the Palais Royal, where he often met his mistress Sophie Volland. Inside the interior courtyard of this beautiful, flower-filled park is the Café de la Régence, where, as a young man, Diderot played chess with his onetime-best friend, Jean-Jacques Rousseau (Rousseau always beat him).
Diderot's final days were also spent on the Right Bank, in a majestic town house apartment on 39, rue de Richelieu that his long-term benefactor Catherine the Great rented for him in 1784. This building, which now has an American restaurant on the ground floor, is only a short walk from where Diderot was buried, in the Chapel of the Virgin, deep in the nave of Church of Saint-Roch (284, rue Saint-Honoré) on August 1, 1784.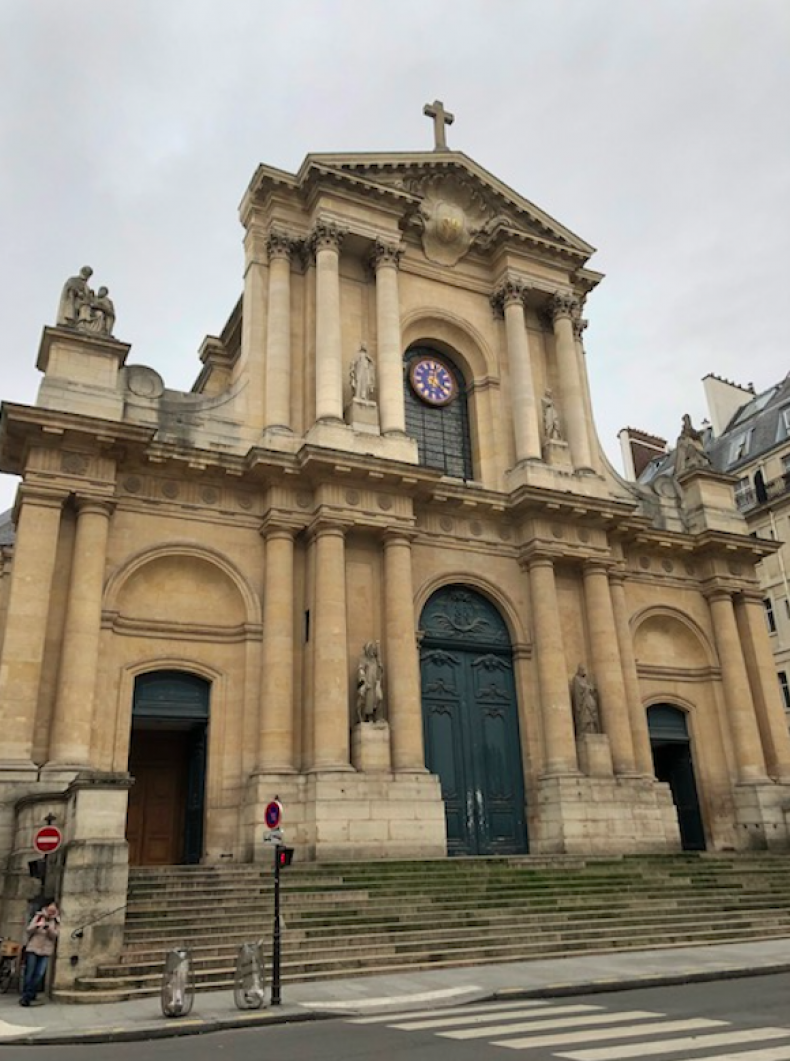 Diderot lay at rest in this enormous Baroque church until the tumultuous last year of the French Revolution, at which point grave robbers opened his tomb, stole his lead-encased coffin, and dumped his remains onto the marble floor. The next day, the writer's remains were presumably swept up and transferred to one of the city's mass graves.
Some twenty years before this desecration, Diderot had prophetically remarked that "whether you rot beneath marble or rot under the ground, you still rot." The good news is that this adopted Parisian believed that his immortality would not come from people visiting his tomb, but from his writings, from posterity, from us.
Andrew S. Curran is an award-winning historian whose new biography, "Diderot and the Art of Thinking Freely" is on sale now.