Nobel Peace Prize 2018 Winners: Trump Loses Out to Denis Mukwege and Nadia Murad Who Fought Sexual Violence in War
There was speculation that President Donald Trump would win the 2018 Nobel Peace Prize for his efforts in bringing North Korea to the negotiating table, but the committee has instead awarded it to Denis Mukwege and Nadia Murad for their fight against sexual violence in wartime.
Mukwege is a gynecologist who helped thousands of victims of sexual violence in the war-torn Democratic Republic of Congo. A film profiling his work is titled The Man Who Mends Women.
"This year's Peace Laureate Denis Mukwege has repeatedly condemned impunity for mass rape and criticized the Congolese government and other countries for not doing enough to stop the use of sexual violence against women as a strategy and weapon of war," the Nobel Prize tweeted.
Speaking to CNN about his work, Mukwege told a harrowing story of the injuries suffered by just one of the many women he has treated during his career.
"They brought me a woman who had been raped by several men in uniform," he said. "She hadn't just been raped. They had also shot at her genitals. I had never seen anything like it. I thought it must be an exceptional case, the act of a mad man. I couldn't imagine that it would become the work I do for probably the rest of my life."
Murad is a victim of sexual violence perpetrated by the Islamic State, or ISIS, which has persecuted the Yazidi minority group to which she belongs. She escaped from capture by ISIS and has since told her story, and those of other Yazidi victims, to highlight their plight and fight for their rights.
During an ISIS assault on her hometown in northern Iraq, Murad's mother and six of her brothers were killed. She was "given to more than 10" ISIS fighters, Murad later recalled, and passed around to be sexually abused, sometimes hourly.
"Nadia Murad is one of an estimated 3,000 Yazidi girls and women who were victims of rape and other abuses by the ISIS army. The abuses were systematic and part of a military strategy. They served as a weapon in the fight against Yazidis and other religious minorities," the Nobel Prize tweeted.
A group of Republicans had nominated President Trump for the 2018 Nobel Peace Prize after his historic meeting with North Korean despot Kim Jong Un. It marked the start of new peace negotiations between the U.S. and North Korea, which up until recently were trading threats of mutual annihilation.
There are hopes that the current talks will lead to the denuclearization of North Korea, though progess is slow and there is little agreed so far that is concrete.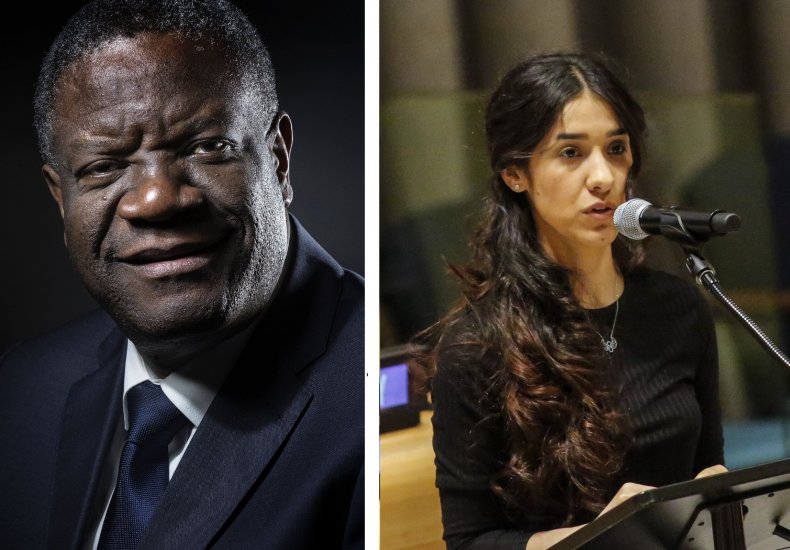 This article was updated to include more background information.