How Denis Villeneuve's 'Reverence' For 'Dune' Books As A Teen Added 'Pressure' On Film
The dream for any director is to adapt a book, play or story that has been with them for years, and is close to their hearts. For Denis Villeneuve, this was Frank Herbert's Dune series, which he has now turned it into an epic movie.
The film only depicts the first half of Herbert's iconic sci-fi novel, following the story of young Paul Atreides (played by Timothée Chalamet) as he and his family move to rule spice production on the harsh deserts of the planet Arrakis.
Villeneuve told Newsweek how it was always his intention to split the novel into two, knowing he could only do justice to the beloved novel in this way. But for him, the book was more than just a project. As a child, Villeneuve was almost a Dune evangelist, converting his friends to fans of Herbert's work.
He said: "I read the book when I was a teen, maybe 13, 14 years old? I was looking to find new authors and was in a bookstore in a small town in Quebec, nearby my school.
"I found this novel called Dune and I read it... and I recommended it to all my friends and we became Dune fans, we were like, Dune maniacs.
"You know, it was really a book that really, I was fascinated by from the start, but as a teen."
His love and fascination for the book meant the person who he wanted to impress most with his screen adaptation was himself, above any other mega fan out there.
He explained: "I know what it means to me. I'm a hardcore fan of the book for 40 years and I have reverence for this book. So the pressure was coming from myself.
"I didn't have to deal with the pressures of others, just to deal with myself was enough, seriously. To try not to disappoint myself, the teenager inside me, who read the book and loved it so much. I mean, just that was a lot of pressure."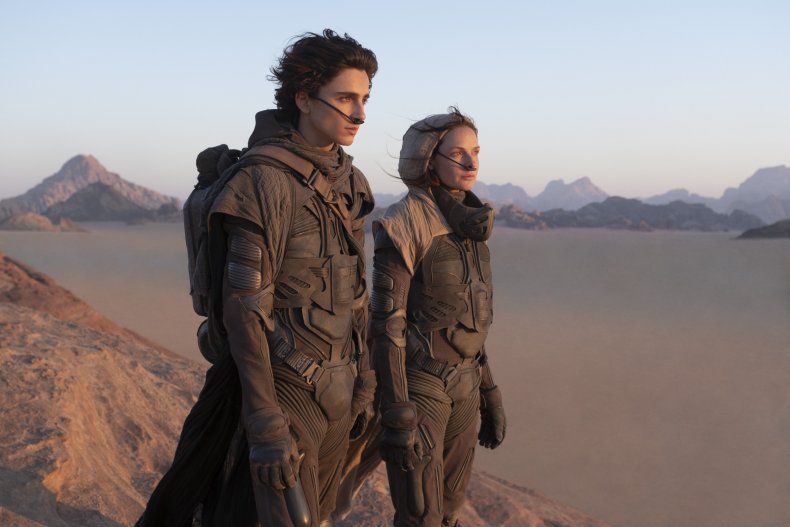 While he was always going to be his toughest critic about his own Dune adaptation, this project was something he longed to see, though his own status as a director and resources needed to be built before he could create the movie on the scale it deserved to be made.
In his adaptation, he focused strongly on the book itself, keeping as closely connected to the spirit of the story. For him, while he had respect for David Lynch's adaptation and praised some elements of this version, he felt "other elements were deviating from the book and the spirit of the book," so wanted to see a new film made.
Villeneuve added: "I will say it was in the back of my mind that a new adaptation should see the light of the day... I was waiting for an adaptation, I was expecting that someone would it one day.
"It was in the back of my mind all this time. But for the first part of my life, it was like just a fantasy. And it was something that was unreachable.
"But as the years and the experience went by, I found suddenly myself at a moment in my life where I felt that it could be possible, because I had access to the resources that I had, the technical skills, to try to bring it to the screen."
He called the process of making his version the "roughest, toughest and longest shoot I've ever done," not only due to the pressure to make it right, but to the physical exertion of filming for months in the heat of the desert in Jordan and the U.A.E..
The second film, Dune Part Two, has not yet been filmed, or been given the green light by Warner Bros Studio.
For now, fans can bask in the glory of Villeneuve's first part of the story, which is as epic and on as big a scale as one could possibly imagine.
Dune is in movie theaters and on HBO Max now.