Denmark's 'Energy Islands' Pushed Forward to Escape Reliance on Russia
Denmark is speeding up the construction of two "energy island" wind farms in order to escape its reliance on Russian energy.
The "energy islands," which are being constructed by Danish electricity and gas supplier Energinet, will consist of two wind farms. One will be based in the North Sea and will supply 3GW of energy, and 10GW longer term, while the other in the Baltic Sea will generate 2GW.
Russia heavily relies on exports of its energy supplies to shape its economy. However, countries across the world have been cutting it out ever since the country invaded Ukraine on February 24.
The Danish plans have been established for some time, as part of the country's wider aim to replace fossil fuels with renewable energy.
Originally, the wind farms were set to be operational by 2030. However, amid the Russian invasion of Ukraine, the plans have now been pushed forward.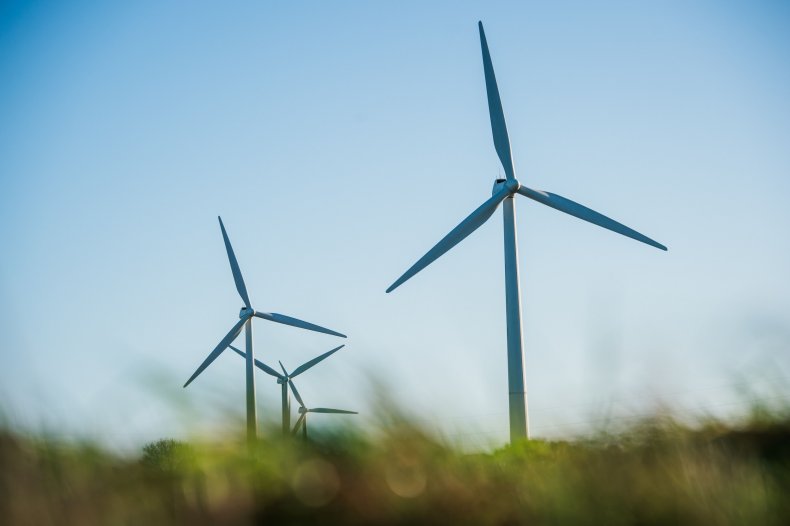 It follows a statement issued by Denmark's Minister of Climate, Energy, and Utilities Dan Jørgensen, which said that Denmark "must be free of Russian fossil fuels as fast as possible" and increase renewable energy options in order to do so.
Business development manager at Nordic electric utility company Helen, Kristiina Siilin, told Newsweek that Europe's move away from Russian energy will probably speed up the development of renewable alternatives.
"I think the determining factor for the transition pace is then the volumes of energy that needs replacing. Smaller European countries can adopt sustainable solutions quicker and make greater impact to carbon emissions with new innovations due to their lower energy demand," she said.
"Renewable energy is one key ingredient to replace fossil fuels, and more precisely Russian energy."
However, Siilin said renewable energy alone cannot replace Russian energy.
Denmark currently has a 15.8 percent reliance on Russian energy, according to the IEA. Its reliance has decreased over the years, but in 2016 it was as high as 34 percent.
Denmark is already a trailblazer in wind farming. Wind power in Denmark accounts for nearly half of its total electricity generation, at 48.6 percent, according to IEA.
Energy communications advisor Paddy Blewer, who has worked in the energy industry for 20 years, told Newsweek that the new wind farms will be a good alternative source of energy for Denmark.
"Denmark is very lucky in that it's a small country with great winds and a small population, with limited industrial needs for gas," he said. "This means it is easier to replace it with other sources, ideally, ones that are renewable, especially on a small peninsula jutting out into the sea."
Blewer said Denmark's primary use of natural gas is power generation, and added that the country could well start supplying to adjacent countries. However, it certainly would not be on a scale as large as Russia.
Denmark produces around 166,000 million cubic feet of natural gas per year (taken from the Danish portion of the North Sea), ranking 57th in the world, according to the Worldometer website, and comsumes around 109,000 million cubic feet per year.
However, according to Statista, the country's natural gas production has fallen steadily since 2005, when almost 11 billion cubic meters was extracted.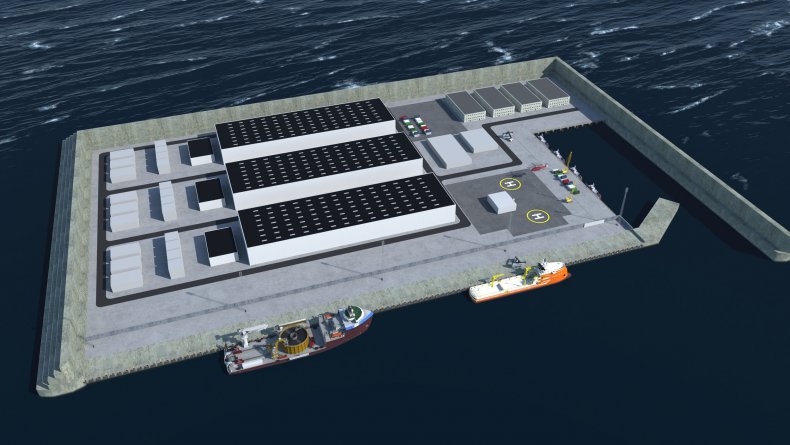 "Europe has, to a certain extent, sleepwalked into a significant energy systemic reliance on Russia. Europe has wanted to offshore its carbon cost and hoped that renewable energy technology will develop faster than it has, so that it doesn't need Russian gas molecules anymore," Blewer explained.
"The challenge is that time has now run out ... And it is now politically unacceptable to utilize Russian gas molecules, so the challenge is that you can't replace them."
Blewer said this is why Denmark is looking to replace gas—and in the longer term, more initiatives such as this could contribute to reducing the world's reliance on Russian energy.
Timo Huhtisaari, Director of Sustainability and Future Business at Nordic energy group St1 Nordic, similarly told Newsweek that the transition away from Russian energy is "as difficult as transitioning from fossil energy to sustainable, renewable alternatives."
"A number of new innovations, both technological and more holistic, political and societal are needed to speed this up. Denmark is a really good example of how this can be done well, in a holistic and new way," Huhtisaari, who is also a partner of Finnish Flow, said.
"It is important that we are really focusing on new ways to solve the problem."
Huhtisaari said Denmark already has a proven track record around offshore wind, making the wind farms "a natural next step." However, he said that all societies must identify what is suitable for them individually.
He highlighted an example in Helsinki, Finland, where there are concepts to build sustainable and seasonal heat storage using seawater heat pumps, which will convert primarily carbon-free electrical energy into heat.
This article has been updated to include quotes from Kristiina Siilin