Denmark: Europe's Most Liberal Government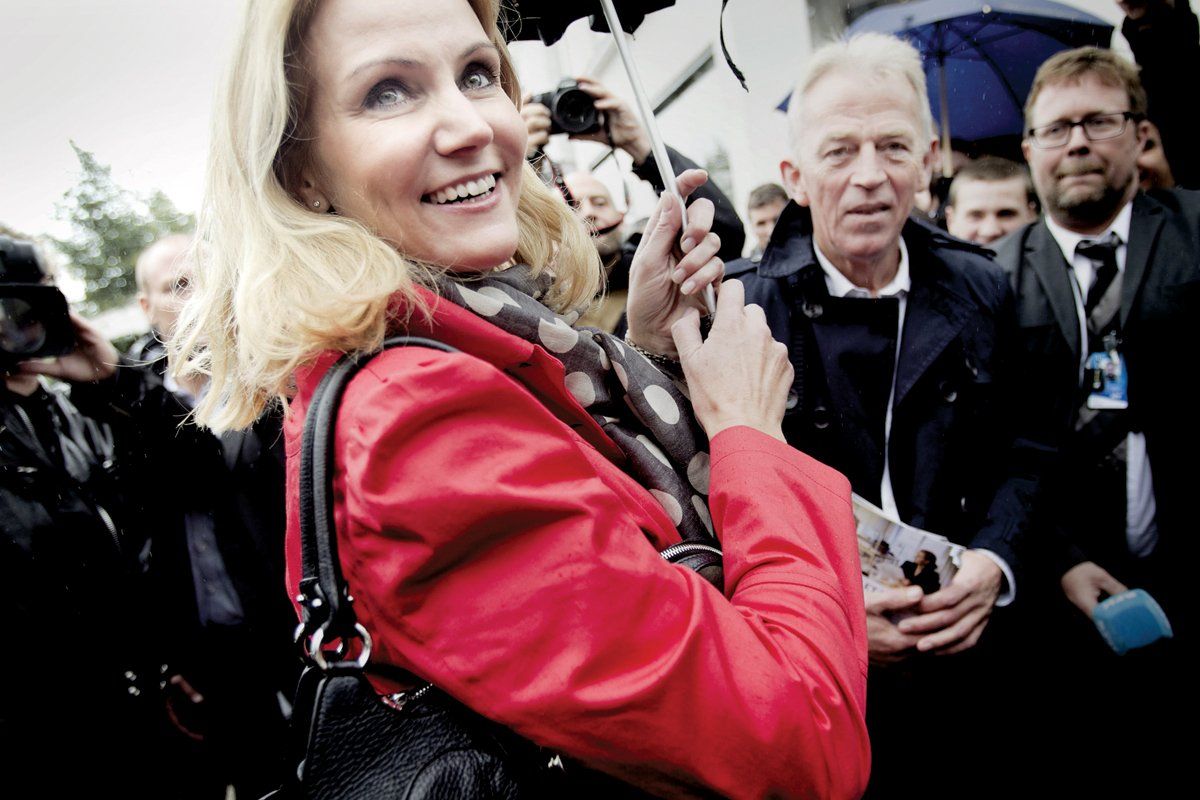 When newly elected Danish ministers arrived at Copenhagen's royal palace last week for an audience with Queen Margrethe, a crowd in front of the palace let out cries of jubilation. Above the cheering faithful, the sky was clear and the political banners of the Socialist People's Party, a partner in the new coalition government, fluttered festively in the breeze.
After almost a decade of center-right rule, here was both symbolic and visible change: first came several cabinet ministers on bicycles, followed in a black BMW by the country's first female prime minister—Helle Thorning-Schmidt, a determined Social Democrat with enviable cheekbones and ice-queen-like beauty. Indian-born Manu Sareen, picked as church, gender-equality, and Nordic-cooperation minister, arrived on a bright yellow bike built to carry cargo.
The slogan of Thorning-Schmidt's government is "A Denmark That Stands United," and during the first session in Parliament, the prime minister spoke of "solidarity," a word rarely uttered by the previous administration. As if to dispel any lingering doubt, an incoming cabinet member proudly spelled it out on the radio that week: on a continent dominated by center-right governments, Denmark now has the most leftist government in all of Europe. One might add: at least on paper.
Thorning-Schmidt, daughter-in-law of former British Labour leader Neil Kinnock, will lead a coalition of three parties: her own Social Democrats, the Socialist People's Party, and the more centrist Social Liberals. After election results were made official on Sept. 16, party leaders holed up in a hotel on Copenhagen's outskirts for several weeks of horse-trading over policy objectives and government posts. Of the 23 cabinet ministers, nine are women.
But the gender ratio was not what occupied Danish commentators last week. Rather, much was made of the representatives' political résumés. Ole Sohn, former chairman of the Danish Communist Party, was, to the amusement of some in the press, appointed minister of industry and growth while the Socialist People's Party chairman, Villy Søvndal, became Denmark's representative to the rest of the world as the country's foreign minister. The 59-year-old former teacher has, for the past few years, led his party more toward the center.
Thorning-Schmidt, who took control of her party in 2005, is herself hardly an ideologue. She is known as a tough politician, a skilled communicator, and a sharp dresser. "It's hard to see her big political visions—to figure out what it is she wants to change about the world; what is her passion. But she is a very skilled operator, who will cut a good figure on the international stage," says Hans Mortensen, one of the country's most astute political observers, and a writer forWeekendavisen newspaper.
The political change in this small Scandinavian country is especially interesting because, at the new year, Denmark takes over the European Union presidency and will have to steer the union through a severe financial crisis that threatens not just individual economies but national governments and, some say, survival of the union itself.
Despite these challenges—and the headaches of taking over a building, an office, and a job that for 10 years belonged to somebody else—Søvndal appeared noticeably relaxed on a recent afternoon as he greeted a visitor at his office, which has a view of the imposing opera house and the city's canals. The announcement of the cabinet was still so recent that colleagues from other nations—such as British Foreign Secretary William Hague—were phoning the foreign ministry with messages of congratulations.
Domestically, however, the new government had—only days after its announcement—come under fire for reneging on election promises, especially in relation to the economy. The budget deficit is projected to reach 4.6 percent of the gross domestic product next year. "Traitor," one left-leaning tabloid newspaper screamed on the front page, above a picture of Thorning-Schmidt, listing promises that supposedly had been broken already. Conservative newspapers, meanwhile, smugly argued that the government was red in name but blue in deed.
In an interview with Newsweek at his offices, Søvndal brushed such criticism aside. Both the Danes and the rest of world will soon see noticeable policy differences between this and the previous government, he said. "Denmark has earned a reputation as a self-centered country, a backward-looking country," said Søvndal. "But it's crucial that we are an open country."
Søvndal highlighted that he intends a renewed engagement with Europe after a period of strain. Earlier this year, the center-right administration reinstated customs checks at the border with Germany, and was met with fierce criticism from other European countries, which saw the tightening of the borders as counter to the intended spirit of openness within the EU. Thorning-Schmidt has promised that the customs checks will be abolished, and that Denmark's immigration policies—among the most restrictive in Europe—will be examined. "This is a decision in favor of liberty for European citizens," the German Foreign Minister Guido Westerwelle said in a statement, after Thorning-Schmidt announced the abolition of the customs control.
The foreign minister also promised more "international solidarity," in the form of greater focus on international aid. And finally, a key area will be the environment. The new government has pledged to reduce CO2 emissions by 40 percent by 2020. "We have big ambitions in terms of growth through our green goals," said Søvndal.
Conservative pundits have criticized the government's plans as expensive and unrealizable. Denmark has the world's highest tax level, which funds a wide-reaching welfare system that includes unemployment insurance, free education, and health care. "The Scandinavian welfare model is unique," Søvndal said, "and although we, too, have been hit by the crisis, it's interesting to note that it's the countries with a strong welfare model that seem to have weathered the economic crisis best."
The new government has unveiled a stimulus package to the tune of almost $2 billion to be spent on infrastructure upgrades. Thorning-Schmidt has also promised new duties on tobacco and unhealthy foods.
Mortensen believes that, compared with the previous one, this administration will pursue "a more active economic policy, with efforts at creating growth—it's very Obama-like," he says. Yet, from a distance, the election results in this nation of about 5 million windmill-and bicycle-loving people may not seem all that surprising—and the political differences negligible. Yes, Sohn did once lead the Communists but he doesn't believe in common ownership of the means of production, and seems to have little appetite for revolution—financial or otherwise.
The flags may be proud and the rhetoric focused on solidarity, but, as Mortensen puts it, "of course, we're not going to introduce socialism in Denmark."
Roug Bokkenheuser, until recently deputy editor of Newsweek International, is the host of a world-affairs program on Radio24syv in Denmark.