Denmark Places Anti-Refugee Ads in Lebanese Newspapers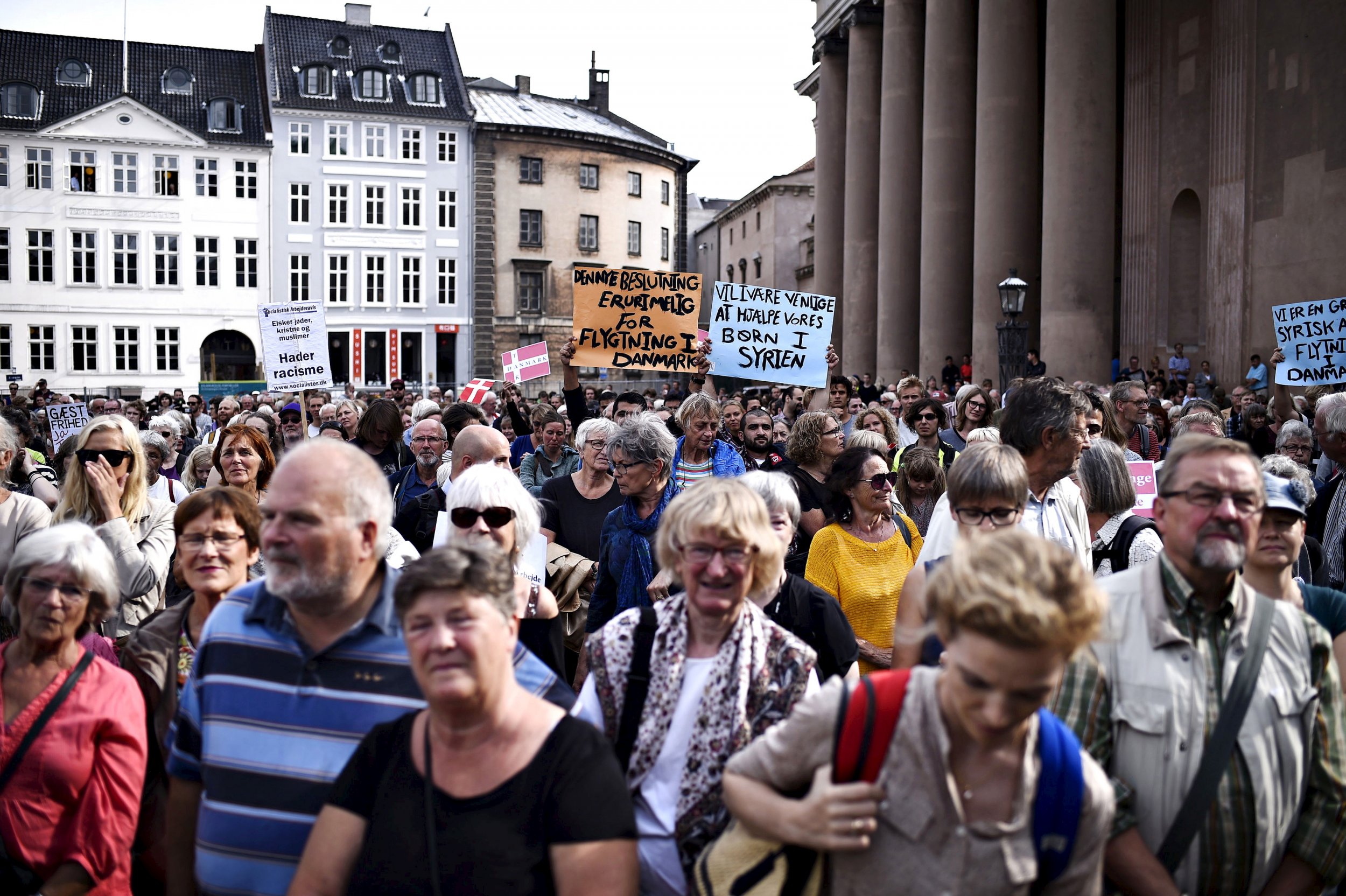 Denmark's Ministry of Immigration, Integration and Housing began an advertising campaign Monday aimed at deterring refugees from arriving in the country.
"Denmark has decided to tighten the regulations concerning refugees in a number of areas," read the ads, which ran in four newspapers in Lebanon in Arabic and English. The plain text flyer continued by informing readers that the Danish Parliament has just passed a regulation to reduce social benefits for newly arrived refugees by up to 50 percent. It then listed six other obstacles refugees would face, including a language requirement to obtain permanent residence and a waiting period of at least five years.
In addition, the ad informs readers that "foreign nationals granted temporary protection in Denmark will not have the right to bring family members to Denmark during the first year." Justin Cremer, an editor at the English-language Danish news site The Local Denmark, posted the English version of the ad on Twitter Monday:
The publication of Monday's advertisements comes as thousands of refugees and migrants have streamed into Europe, particularly to Germany and Austria, where authorities have opened the borders. France, New Zealand and the U.K. have just announced plans to take in Syrian refugees, while Pope Francis said Sunday that the Vatican would host two refugee families and called on Catholic institutions throughout Europe to do the same.
Denmark saw 14,815 asylum seekers arrive in the country in 2014, compared with just 7,557 the year before, with numbers for January through May of this year outpacing those from the same period in 2014. Unlike some of its fellow European countries, Denmark has become stricter on the subject of refugees since June elections resulted in a win for the center-right.
Germany is expecting to receive 800,000 asylum seekers this year and has urged other European countries to increase their intake of refugees, calling for a quota system. "So many refugees are arriving at our external borders that we can't leave Italy or Greece alone to deal with this task," German Chancellor Angela Merkel said at a news conference in Berne, Switzerland, last week. "At the same time, if we say that Italy and Greece can't be left alone with this task, then neither can it be that three countries, like Sweden, Austria and Germany, are left alone with the lion's share of the task."
Denmark's Integration Minister Inger Støjberg had first announced her intention to run anti-refugee advertisements in July, shortly after the new government decided it would cut benefits to refugees seeking asylum "in order to make Denmark a less attractive destination while making it more attractive to work and contribute to Danish society," according to a Ministry of Employment statement.
"The advertisements must contain sobering information about the halving of benefits and other constraints we are going to adopt," Støjberg told Danish newspaper DR at the time, according to The Washington Post. "This kind of information spreads."
The goal, she wrote in a Facebook post Monday, according to The Local, is to "objectively and soberly" inform refugees, and perhaps human smugglers, of the new regulations. "In light of the huge influx to Europe these days, there is good reason for us to tighten rules and get that effectively communicated," she added. The flyer dated September 7 has also been published in ten languages , including Farsi and Russian, on Denmark's Department of Immigration Services' website.
The idea for the advertisements sparked outrage when Støjberg first proposed it in July, with similar reactions to their publication Monday. Støjberg's fellow Venstre party member Jens Rohde told Danish newspaper Jyllands-Posten: "One wishes that our minister—before she sets a bunch of things in action and appears on TV thumping her chest about how strong she is—would do some field studies so she could actually see what the conditions are like in Syria, Libya, Greece and the refugee camps."
Michael Gatten, a member of Copenhagen's municipal council, told the same newspaper that he was disappointed by the move. "It is a repulsive way of acting," he said. Zenia Stampe of the Social Liberal party wrote on her Facebook page in July:
Cosmopolitan and humanistic Europeans will begin to think: "What happened to the Danes? Weren't they once known for their open-mindedness, tolerance, equality and sense of solidarity with the world's poor and persecuted? Now they are suddenly acting spoiled, petty and egotistical. Maybe one should consider investing, working or studying elsewhere."

I think Støjberg's campaign must be the worst branding strategy of the century.
Critics of the campaign even took initiative via a Facebook group, raising money to buy their own advertisement welcoming refugees. The ad, which ran in The Guardian, said in large print: "Dear refugees, we welcome you to Denmark."
"We're not all like minister Støjberg and the rest of the Danish government," it continues in smaller print below. "Many of us are bidding refugees a warm welcome. And many of us want to help those who are fleeing torture, bombs and persecution."