Denmark Has Lifted All COVID Restrictions—Why Isn't America Ready to Follow?
Denmark became the first country in the European Union to lift all of its COVID restrictions on Tuesday. The country used its high vaccination rate to justify the move despite COVID cases in the country reaching their highest level in the pandemic.
People in Denmark are no longer required to wear face masks in indoor spaces. COVID passes for bars and restaurants and the need to self-isolate after a positive test result have also been removed.
The decision has been made as officials in countries, including the U.S., reconsider their approach to controlling COVID in what is the third calendar year of the pandemic. It also comes in the light of data suggesting the Omicron variant is less severe than its predecessors, and as vaccines and treatments have become more widely available.
Ahead in COVID deaths, the U.S. is behind Denmark in terms of COVID vaccinations, with just 64 percent of the country's population currently fully vaccinated. In Denmark, 81 percent of the population is fully vaccinated.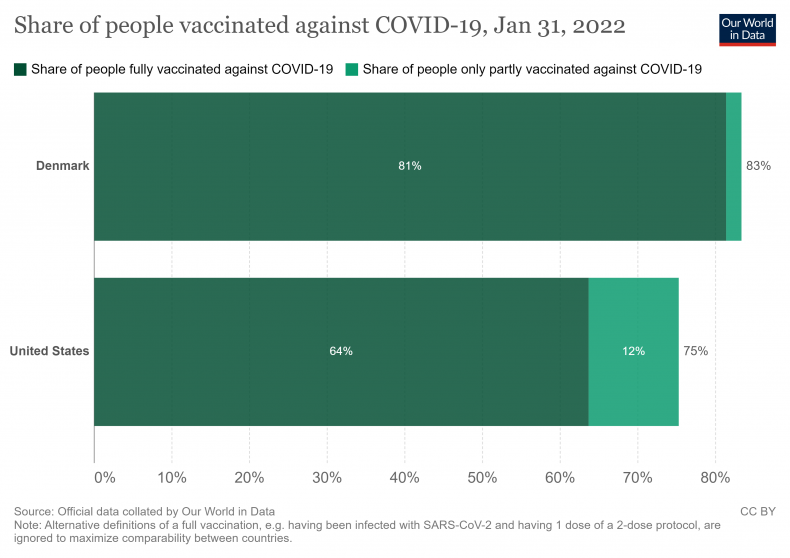 According to The New York Times COVID Tracker, cases in the U.S. are averaging 385,425 cases per day or 117 infections per 100,000 people. This is a fall in cases of 49 percent over the past 14 days.
This data on cases may make it appear as if the U.S. is in a better position than Denmark, where cases have risen by 53 percent over the last 14 days, with the country reporting an average 45,272 new COVID cases per day.
This is equivalent to 764 cases per 100,000 people, or 7,640 cases per million people—a much higher rate of cases than the U.S.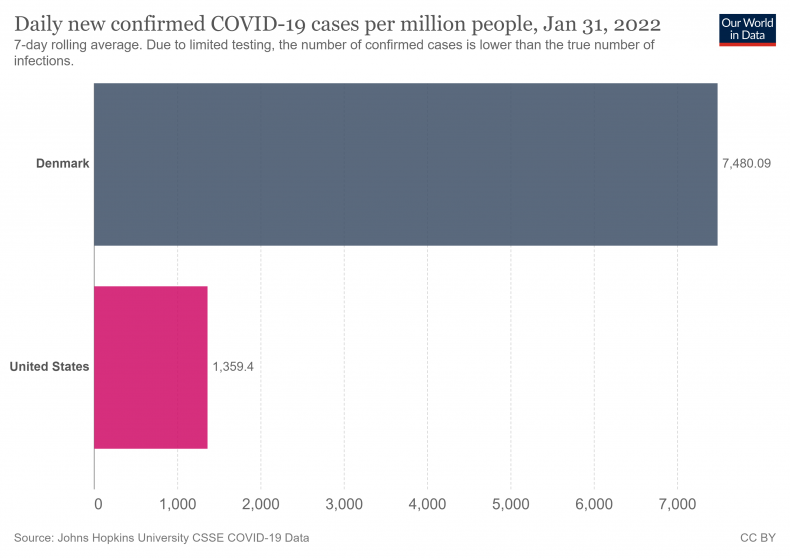 However, the U.S. is ahead of Denmark when it comes to COVID deaths. While Denmark is reporting an average of 20 deaths per day or around 3.3 deaths per million people, according to The New York Times COVID tracker, the U.S. is currently reporting a daily average of 0.79 COVID-related deaths per 100,000. This is equivalent to around 8 fatalities per million people.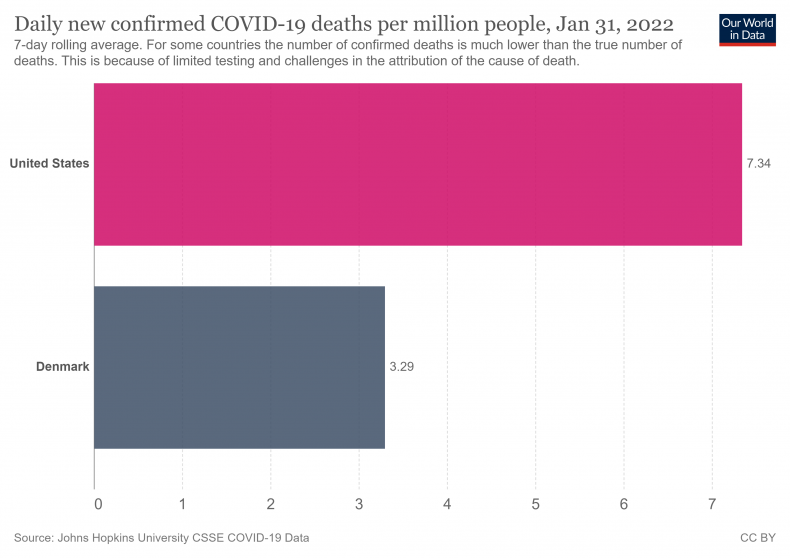 Mark Jit, professor of vaccine epidemiology at the London School of Hygiene & Tropical Medicine (LSHTM) in the U.K., told Newsweek: "Right now countries with high vaccine coverage are able to relax restrictions without causing the same death rates we saw in previous waves. In the USA, due to lower vaccine coverage, death rates are higher and are continuing to rise."
Jit cautioned against the lifting of restrictions in general. He told Newsweek: "We still need to be vigilant as vaccine protection may wane and new variants may emerge. A new BA.2 Omicron variant that is more transmissible is spreading rapidly across Europe, and could cause cases to spike again, with a rise in deaths likely to follow."
The epidemiologist said that allowing infections to spread so that people will develop natural immunity may not protect them from future variants, pointing out that being infected with Delta did not protect people from Omicron.
Jit concluded: "For many countries with high vaccine coverage, we are entering a new phase of the COVID pandemic. But what this phase will look like is still unclear."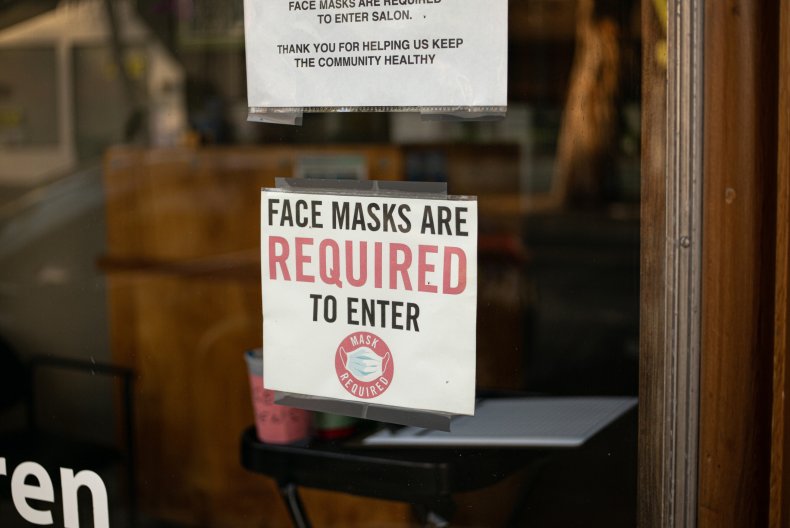 COVID restrictions in the U.S.
Rules on restrictions such as masks and vaccine passports vary across the U.S. Currently, many U.S. states still require individuals to wear masks while indoors, with some areas such as Miami-Dade County, Florida, requiring visitors to county facilities to wear masks regardless of vaccination status, and others such as Portland, Maine saying masks need not be worn with proof of vaccination.
As of January 3, Chicago required residents over the age of 5 to show proof they are fully vaccinated to enter restaurants, fitness centers, and entertainment venues where food or drinks are served if their stay will last longer than 10 minutes. Meanwhile, in Indiana, Governor Eric Holcomb has signed a bill that bans state or local governments from requiring vaccine passports.
Seema Lakdawala, a respiratory virus expert at the University of Pittsburgh, told The New York Times she was surprised more states did not have new mask mandates amid the rise of the more transmissible Omicron variant. She said: "I'm not sure anywhere at the moment is in a place that there is sufficient decrease in cases, at least in the U.S., to warrant taking off mask mandates."
Lakdawala said that while she was "hopeful we've turned a corner," she wants to see weeks of a downward trend for the virus.