Denmark's Little Mermaid Statue Vandalized With 'Racist Fish' Message
Copenhagen's century-old Little Mermaid sculpture was vandalized with the phrase "racist fish" on Friday. Photos shared online show the message written in capital letters on the base of the bronze statue, which sits along the harbor in Denmark's capital city.
Copenhagen Police were investigating the incident early Friday and had not yet identified the person or people responsible, according to news outlet Agence France-Press (AFP).
"We can confirm that The Little Mermaid has been vandalised some time before 9:00 am this morning," police told AFP in a statement. "An unknown person has written the words 'Racist Fish' on it. We are investigating the case."
Newsweek reached out to Copenhagen Police for additional comments but did not receive a reply in time for publication.
The Little Mermaid statue, created by sculptor Edvard Eriksen, depicts a stylized version of the character made famous by Danish author Hans Christian Andersen's early 19th-century folktale. The sitting figure was mounted on a large rock positioned against the waterfront in central Copenhagen in 1913. Since its unveiling, the statue has become a staple of Copenhagen's tourism industry.
It has periodically been subject to various acts of vandalism, often related to political or social causes. In 1964, the Little Mermaid's head was removed amid Denmark's Situationist movement, although it was unclear if activists were responsible, according to a report from the Telegraph. The sculpture's arm was removed in 1984, followed by several subsequent attempts to remove its head, one of which was successful.
The statue was doused in paint on a number of occasions. In 2017, animal rights activists spray-painted it red to protest local whaling practices.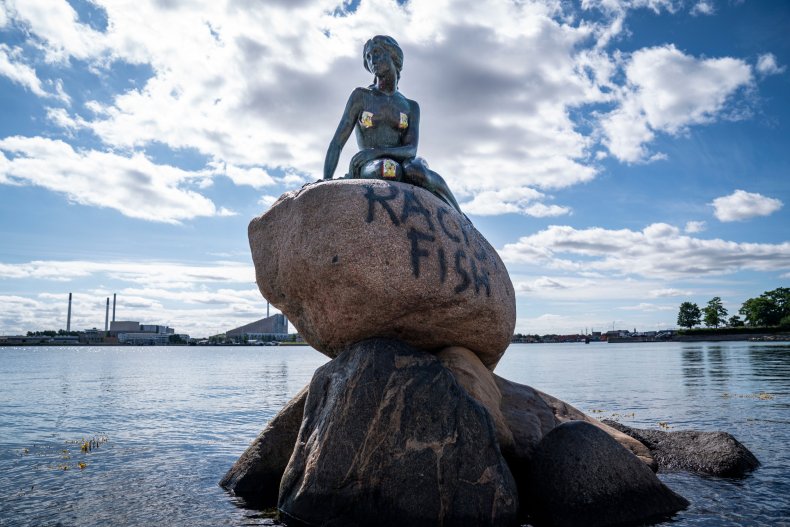 The meaning behind Friday's "racist fish" message is not yet clear, although it comes as criticisms about monuments that symbolize racist leaders, ideologies or events are brought to the forefront of global conversations. In Greenland, civilians painted "decolonize" onto a statue of Danish-Norwegian missionary Hans Egede in mid-June, as Black Lives Matter demonstrations taking place across the world gave way to broader pushback against systemic violence and racism throughout history. Egede is known for leading efforts to colonize Greenland's population during the earlier part of the 18th century.
Advocates have pushed for the removal of violent historical figures elsewhere in Europe over the course of the past month. In Belgium, civilians have called for several statues of King Leopold II, responsible for millions of deaths during colonization of what is now the Democratic Republic of the Congo, to be taken down. In the United Kingdom, residents tore down a statue of slave trader Edward Colston in Bristol before tossing the structure into the city's harbor nearby.