Dennis Hastert, Former U.S. House Speaker, Sentenced to 15 Months in Prison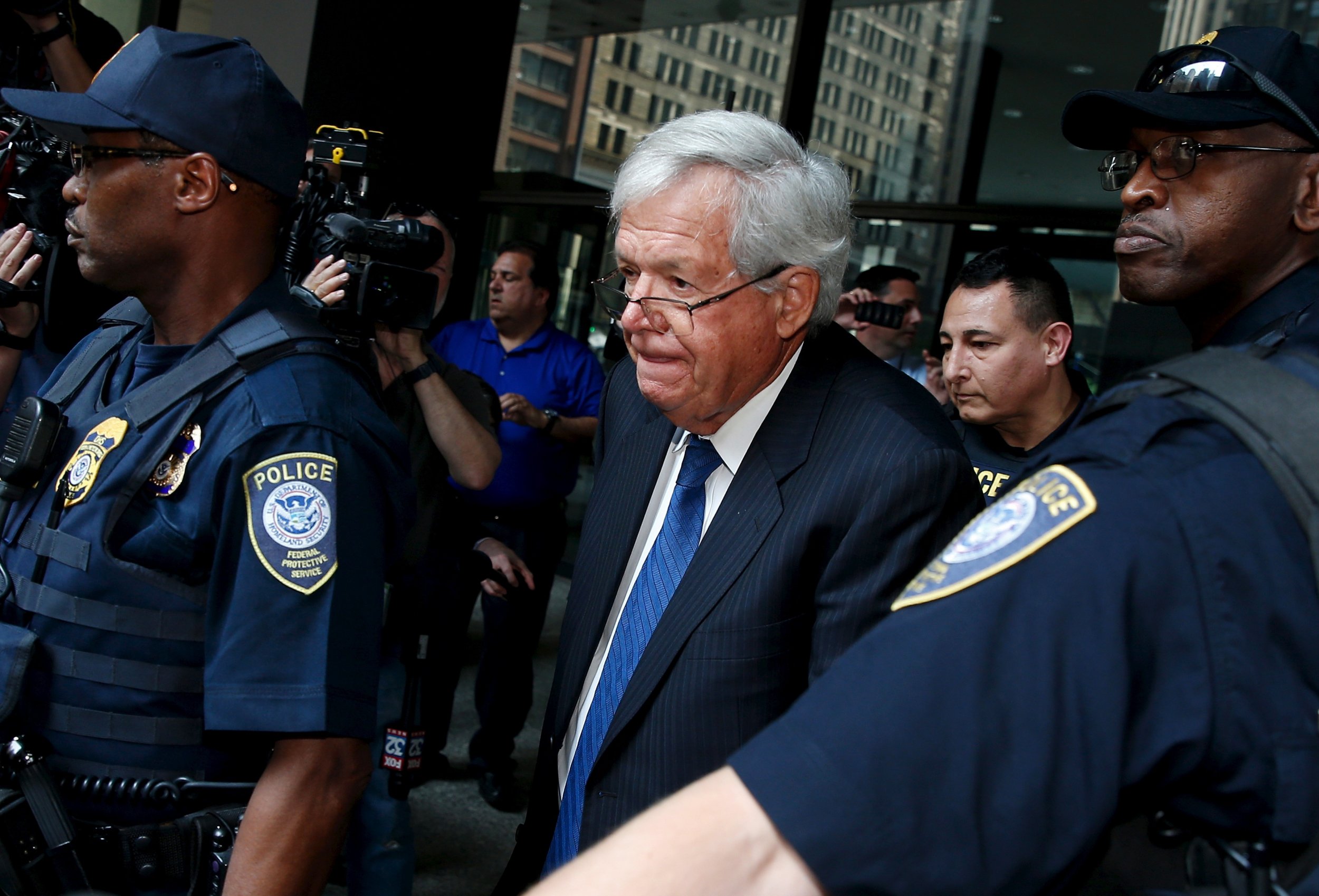 Dennis Hastert, who as U.S. House speaker once occupied the third-highest-ranking position in the U.S. government, was sentenced to 15 months in federal prison on Wednesday after he pleaded guilty to paying more than $1 million in hush money to a man he allegedly sexually abused while he was a high school wrestling coach.
Hastert, 74, appeared in a Chicago courthouse in a wheelchair on Wednesday and publically apologized for the first time shortly before his sentence was announced. Hastert said: "What I did was wrong and I regret it."
"They looked to me and I took advantage of them," he said.
Judge Thomas M. Durkin of the Northern District of Illinois, who handed down the sentence, said Hastert should participate in a sex offender treatment program and was given a $250,000 fine. A two-year supervised release is also part of Hastert's sentence.
Prosecution lawyers asked for Hastert to receive a sentence of up to six months in prison, while his attorneys said he should be granted probation due to ill health. The sentence Durkin handed down was more than double the maximum amount of time requested by the prosecution.
One of Hastert's alleged victims, Scott Cross, 53, previously known only as Individual D, testified on Wednesday. Cross is the brother of Tom Cross, a former Illinois House Republican leader who was a political protege of Hastert whom the former speaker had previously approached about writing a letter of support for his case.
Jolene Burdge, the sister of another alleged victim, also testified on Wednesday and said: "Don't be a coward Mr. Hastert. Tell the truth. What you did wasn't misconduct. It was sexual abuse of a minor."
While the statute of limitations on the sexual abuse allegations has passed, Hastert allegedly agreed to pay $3.5 million in hush money to someone identified as Individual A. That person was paid $1.7 million of the agreed upon sum. Four men in total accused Hastert of abusing them.
Hastert was originally indicted by the FBI for "structuring" cash withdrawals: He was taking out cash in increments of $10,000, but upon learning that amount would be flagged under the Patriot Act began taking out $9,000 at a time. He was also indicted for lying to the FBI about the reasons for his large cash withdrawals and didn't disclose that they were to pay hush money to victims of his sexual abuse.
According to federal prosecutors, Hastert touched the genitals of the boys and, in some cases, engaged in oral sex. Hastert's lawyers initially said he was the victim of an extortion scheme by Individual A.
Hastert served a speaker of the House for eight years, from 1999 to 2007, the longest term for a Republican in U.S. history.