This Democrat Doubts Russia Panic. Will That Help Him Become Ohio Governor?
After Dennis Kucinich accepted an endorsement for his gubernatorial run in Ohio on Monday, a reporter followed up with a question about an issue far from home: Is Kucinich worried that dismissive comments he's made about Russia's meddling in the 2016 presidential election will hurt his chances in the race?
"Look, the only thing I'm worried about as candidate for governor is Moscow, Ohio," Kucinich said.
The reporter pressed him: "But what about Moscow, Russia?"
"Have you heard me make any statements about foreign policy?" Kucinich responded. "This is about the state of Ohio."
Yet for years, in interviews, social media posts and opinion articles, Kucinich, a former congressman from Ohio, has argued that the U.S. needs to ease up on Russia. Now with Congress and the special counsel investigating Russia's election interference, Kucinich's comments are drawing attention as he attempts a political comeback to fill the seat that Ohio Governor John Kasich must vacate at the end of his third term. Some political analysts believe those remarks could be a play to appeal to the state's moderate Democrats, who may decide the election.
"I have worked as a public servant in many different levels of office, but all of that comes together in 2018," Kucinich told Newsweek in a phone interview on Thursday. "So I'm thoroughly prepared for this moment. I just didn't know that it would arrive later in life."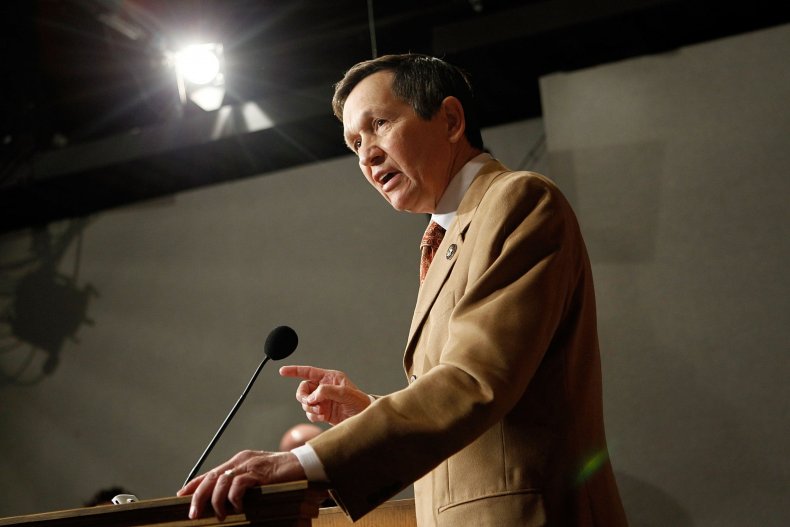 Kucinich was mayor of Cleveland in the late 1970s, and during his tenure political opponents attempted a recall and the city defaulted on its debt, the first big U.S. metropolis to do so since the Great Depression. He later became a state senator, served as a U.S. representative from Ohio from 1997 to 2013 and ran unsuccessfully for president in 2004 and 2008. "I think a lot of people had written Dennis off," Sandy Theis, an Ohio-based Democratic strategist, told Newsweek. Then a poll last week put him as tied for Democratic frontrunner with opponent Richard Cordray. "They're taking him seriously now," Theis added.
Ohio political analysts have long considered Kucinich an outspoken progressive, one cut from the same cloth as Senator Bernie Sanders. (Our Revolution, a progressive group aligned with Sanders, has endorsed Kucinich for governor.) So those analysts find it puzzling that since leaving office, Kucinich has become a Fox News contributor and has made statements that mirror what President Donald Trump and his allies say, especially about Russia.
Though his skepticism about Russian meddling is unusual for a Democrat, Kucinich has long promoted dialogue between that country and the U.S. "I don't believe that Russia is currently a threat to U.S. security," the then-congressman said at a forum on U.S.-Russia relations in 2008, months after dropping his presidential bid. In 2009, he started the Congressional Russia Caucus, and the following year, he spoke at the World Russia Forum, an annual event hosted by Russia House, a company based in Washington, D.C. and Moscow.
After leaving office, in 2014, he condemned the U.S. sanctions on Russia for its interference in Ukraine. "We need to stop playing Cold War games," he told a Russian state-operated news agency. Then following the 2016 election, after the Barack Obama administration said Russia meddled, he posted on Facebook, "Enough of the BS about #Russia stealing the election. This is CIA & State Dept propaganda trying to legitimatize their increased hostilities towards Russia."
After Trump took office, Kucinich continued giving interviews that seemed in line with what the president—whose inauguration speech Kucinich praised—was saying. In one interview, he said Obama should have fired then-FBI Director James Comey for Comey's disclosure about new evidence in the completed investigation of Hillary Clinton's emails, and called it "astonishing" that Comey was still leading the bureau and its Russia probe. (Trump fired Comey a month later.) In the same interview, he said the Russia issue "is hurting the Democratic party," and that "the Democrats are losing valuable time trying to blame the 2016 election results on Moscow."
In a February 2017 opinion piece published by Newsweek, he defended Michael Flynn, who had just resigned as Trump's national security adviser and would later plead guilty to lying to federal agents. Last July, he said on Fox News that the meeting between Trump campaign officials and a Kremlin-linked lawyer "is a bunch of nothing," and that the Russia investigations are "going nowhere." He claimed in multiple TV appearances that U.S. intelligences agencies are trying to take down Trump. In one spot, when Fox News host Sean Hannity asked if "President Trump is under attack by the 'deep state' intelligence community," Kucinich responded: "I believe that."
Kucinich has also given interviews to Russian outlets that U.S. intelligence believes were part of Russia's meddling operation. "If you want to know who influenced the U.S. election," he told Russia's Sputnik in an article published last March, "look no further than the FBI."
Talking to Newsweek, Kucinich spoke more about his current platform than his previous Russia comments. "The integrity of every election needs to be protected," he said. "But I'm not—I am not—going to let the people of Ohio believe that I am somehow tone-deaf to the concerns they have for jobs, healthcare, education, protecting the water and the air, by trying to engage with other candidates in foreign policy matters."
Ohio political analysts told Newsweek that, having won over progressives for years, he now could be trying to attract the moderate Democrats who voted for Trump in 2016, helping the president win the state that had gone to Obama twice before. "I live in a working-class neighborhood in Cleveland. I'm very aware at how the Democratic party lost touch with a lot of working-class voters," Kucinich told Newsweek. "And because of where I come from, because of who I am, I feel that I'm probably in the best shape of any Democrat who's running for statewide office to bring people back to the Democratic party."
The strategy could work, according to Tom Sutton, a political science professor at Ohio's Baldwin Wallace University. "If he's able to continue to appeal to labor and the labor Democrats, as well as appeal to the progressives, that's where he might forge that coalition to be able to prevail in the primary," Sutton said.
But a former colleague suggested Kucinich may simply be speaking his mind, and not tailoring his remarks to potential voters. "He was always independent of any party-line package of positions," said David Swanson, who worked on both of Kucinich's presidential bids. "He always formed his own beliefs based on his understanding of the facts."
To be sure, Kucinich hasn't been totally pro-Trump. Following the president's speech at the United Nations last September, during which he said the U.S. could "have no choice but to totally destroy North Korea," Kucinich tweeted to the president his opposition. "Threats escalate, not avert, conflicts. A conditional promise to destroy another nation is highly inflammatory. Stop," he wrote. Kucinich has also called on Trump to support recipients of the Deferred Action for Childhood Arrivals program and to respond more effectively to Hurricane Harvey.
And the rest of his governor campaign platform doesn't shy away from his progressive bona fides. The campaign site touts his "F" rating from the NRA and talks about raising the minimum wage. His running mate for lieutenant governor, Tara Samples, would be "the first African American Democrat ever elected to state office in the 215-year history of the State of Ohio," the website says.
In the interview on Thursday, Kucinich didn't dispute that it's unusual for a Democrat to take the stance he has on the Russia issue. But he pointed out it isn't his first unorthodox position. "It was unusual for a Democrat to stand against the war, to stand against the Patriot Act," Kucinich said. "Look, I'm a Democrat and I'm a true-blue Democrat. I never lost touch with my roots and I don't have minders or handlers or consultants who tell me what to say.
"There's a whole new Democratic party being born here," he added.