Who Was Dennis Nilsen's Grandfather? 'The Nilsen Tapes' Director on Dennis Nilsen's Childhood
Memories of a Murderer: The Nilsen Tapes is available to stream and download on Netflix now. In the documentary, serial killer Dennis Nilsen reflects on his childhood and adolescence, and in particular his relationship with his grandfather. Newsweek spoke to director Michael Harte about Nilsen's accounts in his audio tapes and the concept of Nilsen being an "unreliable narrator."
Who was Dennis Nilsen's Grandfather?
Dennis Nilsen was born on November 23, 1945, in Fraserburgh, Scotland, to parents Elizabeth Duthie Whyte, and Olav Magnus Moksheim, a Norwegian solider.
Following his parents' divorce in 1948, Nilsen's mother continued to live with her parents Andrew and Lily Whyte, who helped raise her three children, Olav Jr, Sylvia, and Nilsen himself.
Nilsen's maternal grandfather, Andrew Whyte, was a fisherman, often leaving his family to spend weeks at sea. Despite his frequent absences, Nilsen and Andrew Whyte remained very close.
Andrew Whyte died from a heart attack suffered while fishing in the North Sea on October 31, 1951, following weeks of declining health. He was 62 years old at the time of his death. Nilsen was just 5-years-old when he saw his grandfather's body in an open casket.
In archival news footage featured in the documentary, Nilsen's mother recalled him asking her: "[Andrew Whyte] always took me everywhere with him, why couldn't he of taken me to that better place with him?"
Speaking in Memories of a Murderer: The Nilsen Tapes, journalist Russ Coffey recalls Nilsen writing to him about the work he was doing on his autobiography from his prison cell. Coffey shared Nilsen's belief that his grandfather's death had a great impact on him and "fused" Nilsen's ideas of love and death together.
The Scottish serial killer had a contradictory take on his childhood and in particular on his relationship with his grandfather.
In the documentary, in archival news footage Nilsen's mother describes her son as "just a normal, quiet boy." However, Nilsen described himself as an "inwardly, troubled boy." who "nobody seemed to notice."
"I see a small frail boy, he is now against a background of powerful forces acting upon him. I had the feeling of being somehow different," recalls Nilsen in the tapes.
He then goes on to cite his poor economic background, his absent father, his Roman Catholic upbringing, his grandfather's death, and homosexuality as "assaults" on his "awakening self-esteem."
Speaking to Newsweek, director Michael Harte shared his thoughts on Nilsen and the content of the tapes.
He said: "What I realized over the course of those tentative weeks [of research] is that Nilsen would describe himself or picture himself very much as an outsider, as someone living on the fringes of society due to various factors like his sexuality, economic status, and his family. I mean he talks about it a lot. He would pity himself, almost like a victim of society, but then I realized what was happening was the way he was painting himself, he was describing some of his victims who were on the fringes of society.
"This isn't actually a film about why Nilsen did the things that he did, this is actually a film about why he got away with it for as long as he did."
Also on the tapes, Nilsen spoke fondly of his grandfather, recalling memories of fishing and having picnics taking long walks along the Scottish countryside.
"He was, to me, a great man. The broad sweep of his 62 years is too great for this short narrative, but his mark upon me is indelible" Nilsen recorded in his tapes and put in writing to Coffey.
However, in hidden audio tapes Nilsen also alleges his grandfather sexually assaulted him, something which has never been proven.
He says in his audio tapes: "I vaguely remember that concrete, slit-eyed pillbox where strange things had happened between my grandfather and me.
"It is a most horrifying admission to make, that the only tactile contact I had in my early formative years, was the painful and confusing paradoxical embrace of a pedophile."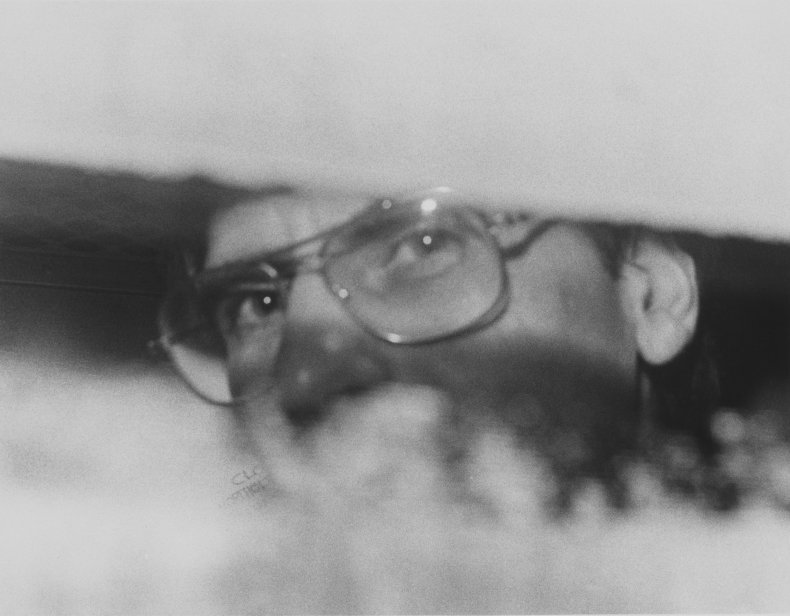 Harte shared his thought on Nilsen's accounts of his grandfather and childhood.
He described Nilsen as an "unreliable narrator," warning some of Nilsen's accounts of childhood may be fabricated as an excuse to explain why he turned into a cold-blooded killer.
"It became clear, pretty early in the process that what we had here was an unreliable narrator. He's lying to himself, creating an image because he does not want to take responsibility for what he did and that I wanted to explore that."
He continued: "There are huge questions marks over his childhood. I was very careful about how we shot those scenes, I wanted to make sure it didn't feel too real. This is Nilsen's version of what happened, whether that's true or not, I don't know. But for me, it was clear that I knew that I couldn't present this as the truth because, for me, it didn't seem to be the case."
Nilsen would go on to kill at least 12 men and boys between 1978 and 1983 at two of his addresses in Northwest London.
He was jailed for life in 1983 with a recommendation of a minimum of 25 years after being convicted of six counts of murder and two of attempted murder. In 1994, this was changed to a whole life tariff, meaning he would never be released from prison.
Nilsen died in York Hospital on May 12, 2018. He was 72.
Memories of a Murderer: The Nilsen Tapes is streaming on Netflix now.