5 Shocking Details 'The Nilsen Tapes' Leaves Out
Memories of a Murderer: The Nilsen Tapes is a true-crime documentary like no other. Director Michael Harte was granted access to over 250 hours of audiotapes, recorded by a Scottish serial killer from his prison, alongside 7000 pages of written material.
The documentary explores Nilsen's crimes and includes personal accounts of his childhood. More importantly, the documentary features interviews with those who knew Nilsen personally, members of the victim's families, and the detectives who worked closely on the case. The choice to shift the focus away from Nilsen himself and more towards those it impacted was a deliberate move from the director, Michael Harte.
Speaking to Newsweek, Harte discussed how the documentary aimed to show how "destructive" prejudice could be in society.
"Nilsen's story has been told from many different points of view but I was very keen to tell a story that wasn't just about Nilsen," he said.
"We used the tapes and we used Nilsen as a way into something else and that something else was the question 'Why did he get away with this for so long and how did he manage to kill and kill again? What were the circumstances?'"
He added: "For me, the thing that draws me towards a true story, especially in Nilsen's case, is that it does hold up a mirror to society. There are things that we can learn from the years."
The case of Dennis Nilsen is dark and complex which undoubtedly means there were plenty of details left out of the documentary. Additionally, Harte has made clear the aim of the documentary was not so much to tell Nilsen's story but to pose the question of 'how did this happen?'. Below are five shocking details The Nilsen Tapes leaves out.
1. Nilsen's military career
While the Netflix documentary touches on Nilsen's time in the army as a cook, with Sunday Times journalist Russ Coffey, describing it as a "turning point" in Nilsen's life, The Nilsen Tapes does not go into great detail about his army career.
It was in mid-1964 when Nilsen passed his first catering exam and was officially assigned to the 1st Battalion of the Royal Fusiliers in Osnabrück, West Germany, where he served as a private.
After two years, he returned to Aldershot in Hampshire, England, to sit his official catering exam. He passed and began his career as a cook for the British Army in Norway.
In 1967, he was deployed to the State of Aden (formerly Aden Colony), where he worked as a cook at the Al Mansoura Prison.
In Brian Masters biography of Nilsen "Killing for Company: The Case of Dennis Nilsen", Nilsen recalled a time when he was once kidnapped by an Arab taxi driver who beat him unconscious. When he awoke, Nilsen beat the driver and locked him in the boot of the taxi. He referred to this encounter as a near-death experience and reflected on the moment in his early sexual fantasies.
After his time in Aden, Nilsen served with the Argyll and Sutherland Highlanders at Seaton Barracks in Plymouth, Devon before being transferred to Cyprus in 1969.
Nilsen also served in West Berlin and Inverness with the Argyll and Sutherland Highlanders and was selected for the Queen's Royal Guard in January 1971.
As reported in Bill Waddell's book The Black Museum: New Scotland Yard, Nilsen retired from the military in 1972, reaching the rank of corporal.
2. Nilsen had a flatmate at 195 Melrose Avenue
Dennis Nilsen and 20-year-old David Gallichan moved into 195 Melrose Avenue in late 1975, three years before Nilsen's killing spree began, reports Russ Coffey, who corresponded with Nilsen on several occasions.
The pair met when Nilsen encountered Gallichan being threatened outside a pub. He later learned Gallichan was homeless and unemployed and the pair decided to live together.
In May 1977, Gallichan moved out of the property after their friendship had become significantly strained. Nilsen never lived with anybody after Gallichan.
3. Nilsen's survivors at his Trial
In Memories of a Murderer: The Nilsen Tapes, a survivor is known as Martyn, gives his brave account of encountering Dennis Nilsen before he carried out his first murder in 1978.
Speaking in the documentary, Martyn recalls the moment he came to the realization he could have been Nilsen's "first victim."
The documentary also features audio of the police interviews with Carl Stottor, who Nilsen tried to strangle and drown in May 1982.
Other survivors did not appear in the documentary but did testify at Nilsen's trial, including Paul Nobbs and Douglas Stewart.
Harte explained to Newsweek the reason why there is not so much detail on Nilsen's crimes themselves. "This isn't actually a film about why Nilsen did the things that he did," he said. "This is actually a film about why did he get away with his for as long as he did."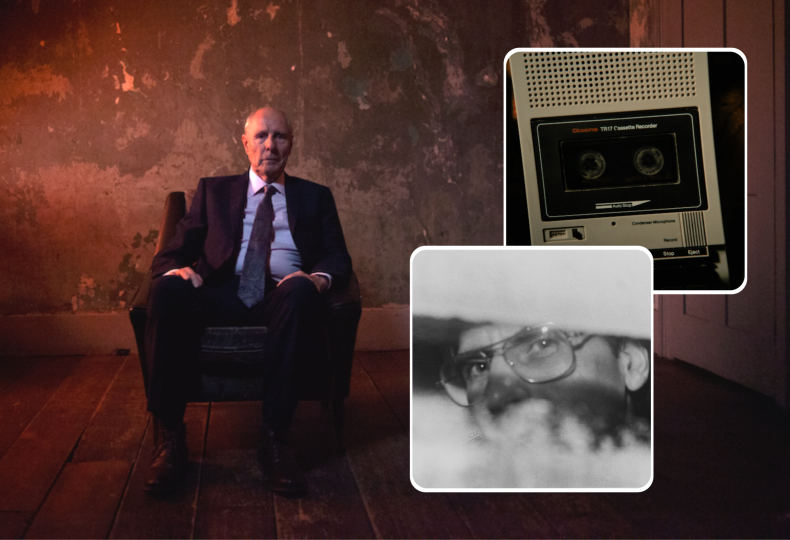 4. Detective Chief Inspector Peter Jay and Brian Masters are absent
Peter Jay played a key role in the investigation into Dennis Nilsen whereas Brian Masters corresponded with and met Nilsen in prison to produce the book "Killing for company."
The pair featured heavily in the ITV series Des, starring David Tennant as Nilsen, Daniel Mays as Jay, and Jason Watkins as Masters.
Speaking to the Radio Times, Harte explained there was a deliberate decision made not to include too much of a Master's experience of Nilsen.
He explained: "There was interest. We spoke to him initially and there was interest but you know, Brian Masters' story is very much about why Nielsen did what he did. His book was very very good but our story was– I needed it to be different. I didn't want to go down that route."
He continued: " I felt that if we brought Masters in, it becomes a slightly– it would still be a very interesting film but we're trying to tell a different story here. And that story had been told and has been told many times."
Sadly, the real Jay died in 2018 at the age of 79.
5. Nilsen's death
Nilsen had been serving his life sentence at Her Majesty's Prison Full Sutton when he was taken to hospital on May 10, 2018 complaining of severe stomach pains.
He was found to have a ruptured abdominal aortic aneurysm which was repaired but he later suffered a blood clot as a complication of the stomach surgery.
Nilsen died two days later on May 12, 2018, having served 34 years of his full-life sentence.
The post-mortem report detailed Nilsen's cause of death as a pulmonary embolism and retroperitoneal hemorrhage.
Memories of a Murder: The Nilsen Tapes is streaming on Netflix now.