Conservative Radio Host Counters Anne Frank's View that People Are 'Good at Heart'
Conservative radio host Dennis Prager disagrees with Anne Frank's view that, as she wrote in her diary, people are "really good at heart."
Prager, who is also the founder of the influential non-profit Prager University, responded on his "Fireside Chat" this week to a listener's question that asked for his opinion on a quote from the teenage, German-born Dutch diarist who died in a Nazi concentration camp during World War II. Frank famously wrote in her posthumously published The Diary of a Young Girl, "despite everything, I believe people are really good at heart." Prager described her as a "wonderful young woman," before adding that people can't expect a 16-year-old girl to have any real insight on life.
Prager, who was born into an Orthodox Jewish family in New York, said Frank was a "secular Jew" who was not raised in a religious Jewish or Christian home and who therefore wouldn't have been "taught as basic religious doctrine that people are not born basically good."
"I know she wrote that and my answer is: it doesn't matter that she wrote it," Prager said in a video recorded version of his show and in response to a question submitted from Idaho. "I don't get my wisdom from teenagers."
"That she was a wonderful young woman and wrote an unbelievably powerful document that will last forever is beside the point. I don't expect 16-year-olds, unless they grew up in a religious Jewish or Christian home—she was a secular Jew—most kids believe that (people are basically good). But it is not true. But it has never been an issue with me, 'Well, you disagree with Anne Frank.' So what?"
In May, Prager wrote an essay in the Jerusalem Post entitled, "What have Jews learned from the Holocaust? Not much." Prager argued that even 74 years after the end of the Holocaust, "most Jews outside of Israel" have learned little to nothing and still believe "people are basically good."
Prager publishes pieces on his website which rail against "The Left" and his PragerU video ads make arguments in favor of conservative values. "The Left Hates The Salvation Army. That's All You Need to Know About the Left" and "Why the Left Doesn't Like Christmas" are two of Prager's most recent columns. He also brings up Nazi comparisons frequently on his radio program, The Dennis Prager Show, saying the left "cheapens" Nazi evil by using the term to dismiss political opponents or that liberals focus on Nazism while failing to acknowledge the horrors wrought by Communism. Many political analysts see him as a leading figure in the "right-wing culture war."
"The Left is obsessed with Trump because he won," Prager wrote. "Had he spoken like Shakespeare they would attack him. Google had an internal memo calling Jordan Peterson, Ben Shapiro and PragerU 'Nazis.'"
Prager said that Frank's diary "gives a face to the horror of the Holocaust" and is likely the most famous document from the era.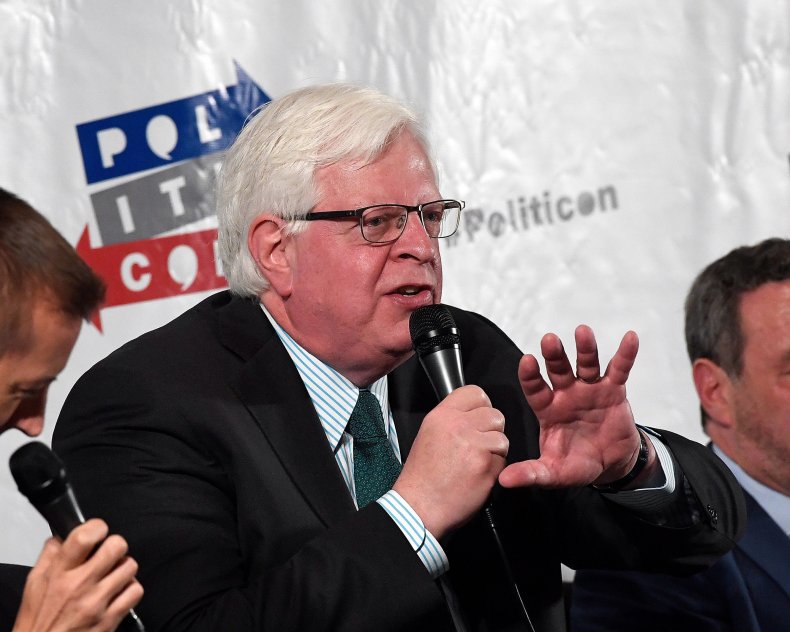 Prager did not immediately respond to Newsweek's request for elaboration on his comments Tuesday afternoon.
Update 1/8, 4:45 p.m. ET: The original headline on this story misrepresented Prager's comments; the headline and story have been edited to reflect that Prager did not "ridicule" or "mock" Anne Frank but took issue with her view.