Dennis Rodman on Kim Jong Un, His 'Friend' Throughout the Years
Dennis Rodman, the former NBA player, known for his eccentric style and idiosyncrasies as much as his ability on the court, has over the years become an unlikely pseudo-diplomat to North Korea.
Rodman spoke to Megyn Kelly Today Tuesday about first meeting North Korean leader Kim Jong Un in 2013 as part of a basketball trip hosted by Vice. During the trip, Rodman called Kim a "friend for life."
Rodman told Megyn Kelly that when he first visited, he didn't know anything about the country, but appreciated the reception he got.
"When [Kim] walked in it was just like Moses splitting the Red Sea," Rodman said Tuesday.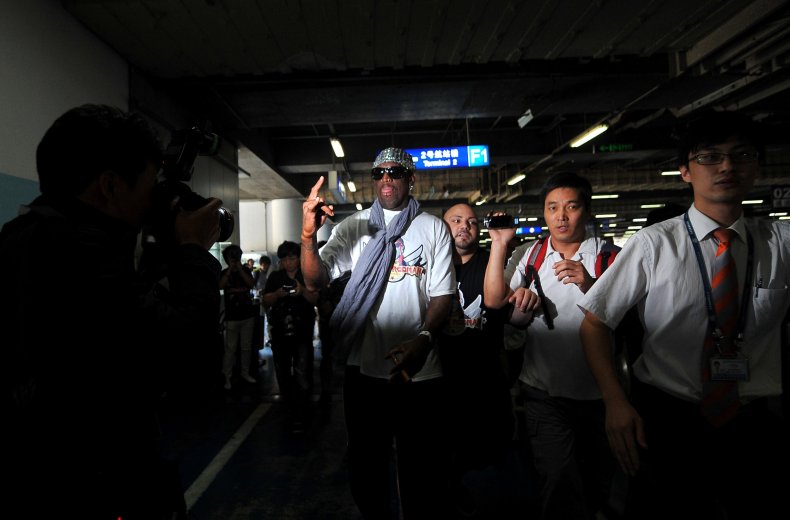 Rodman said that in the several times he has met with Kim, the two "have fun" including doing activities such as jet ski riding, visiting the supreme leader's private island, and karaoke.
Rodman also said the Kim told him that North Korea loves him and would "make sure [he's] okay."
Rodman said that his relationship with Kim started out just wanting to bring the game of basketball North Korea. Kim is a noted basketball fan and his favorite team is reportedly the Chicago Bulls spurred by the team's former star Michael Jordan, a one-time teammate of Rodman's.
Rodman has called the Kim a "great guy" in the past and Kelly pushed Rodman on the litany of human rights abuses attributed to Kim. Rodman said that he's been "good to me." Rodman also referenced President Donald Trump's summit meeting with Kim last week as justification for people having a relationship with Kim.
The summit in Singapore drew Rodman to the city-state to be near the historic first-time meeting of a U.S. president and North Korean leader.
An emotional Rodman speaking to CNN last week said that former President Barack Obama would not listen to him, despite his insight on Kim. Rodman began crying when describing the threats he had received for his optimism about North Korea and friendship with Kim. In the interview, Rodman, who has always had nice words for Kim, said: "He loves to have a good time."
"This guy wants to be around the world, he wants to go to America," said Rodman to CNN.
To Sports Illustrated in 2013, Rodman said of Kim: "All he does is smile and smile and smile."
Rodman spoke to ABC's The Week in 2013 and said the leader enjoyed his status.
"He loves power. He loves control because of, you know, his dad and stuff like that, but he's just a great guy. He's just a great guy," said Rodman.
Rodman, who knows Trump from appearances on the president's show Celebrity Apprentice, said that Trump's books, including Art of the Deal, helped Kim know Trump.
"When I went over there last time for his birthday I gave him Donald Trump's books...I think he didn't realize who Donald Trump was at that time," Rodman told TMZ earlier this year speaking about a 2017 trip.
Rodman has gone out of his way to defend Kim at times saying that Kim "didn't create this bullshit, he just inherited it," to Howard Stern Monday.
Rodman has shied away from certain aspects of being an unsanctioned diplomat—in an angry exchange with CNN in 2014, he downplayed the imprisonment of an American missionary in North Korea. Rodman brought a crew of basketball players to North Korea in 2014 for more diplomacy, but faced backlash after singing "Happy Birthday" to Kim who had just recently had his uncle executed and was not working to release Kenneth Bae.
He later apologized for the interaction, blaming among other things, alcohol. Bae was released later that year.
Last year Rodman and his agent suggested they helped broker the release of college student Otto Warmbier, an American prisoner detained in North Korea. Warmbier was returned stateside in a coma and died from mysterious brain injuries. Warmbier's family said Rodman had nothing to do with his release.
When asked about the student's treatment by ABC's Good Morning America, Rodman dodged.
"He's a friend of mine, OK, great. I don't look at the political side about him. I look at the friendship about him," Rodman said about Kim.
When faced with difficult questions about Kim and his nuclear weapon armed regime, Rodman often says that he is just trying to "open the door."