Dennis Rodman Says His Friend Kim Jong Un Is 'Probably' a Madman, 'But I Don't See It'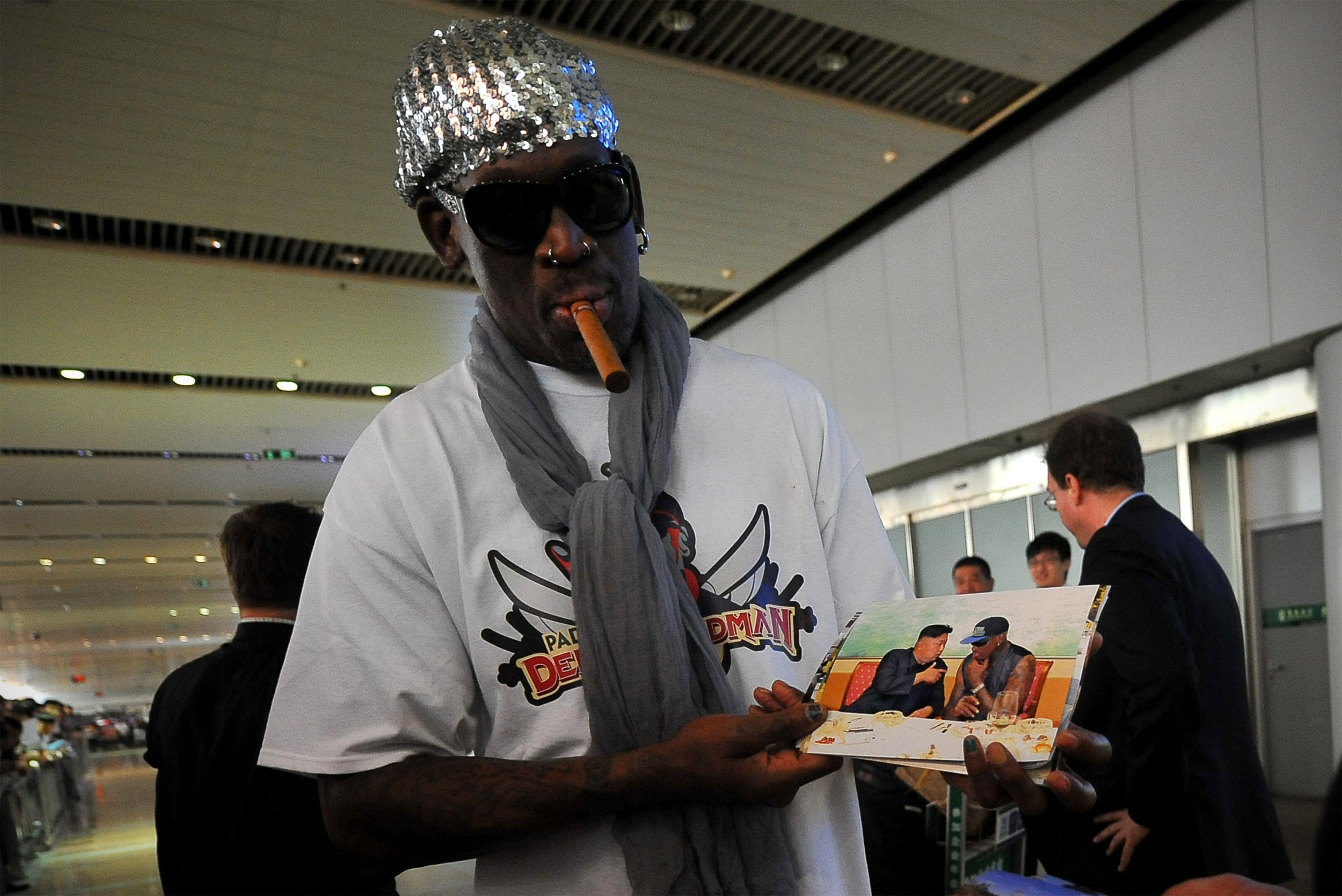 Former basketball star Dennis Rodman has spoken candidly about his odd friendship with Kim Jong Un, stating the North Korean dictator is "probably a madman, but I don't see it."
The unlikely relationship between the pair was the topic of discussion on Wednesday evening, when Rodman appeared as a guest on The Late Show. Host Stephen Colbert told the the four-time NBA rebound leader: "you must be high," as he discussed the friendship between the pair.
Rodman explained he and Kim have a good relationship, although he stopped short of calling them "best friends," explaining he had visited the isolated nation a number of times over the past four years.
"When I went over there, the first thing he said to me was, 'Mr. Rodman, we just want to know, can we trust you?' I said, 'Absolutely.' And that's how our conversation started," Rodman told Colbert.
"I don't really judge people, you know, by their color. I don't judge where they come from. I just judge people where, you know, we're all human beings. You know, throughout the day, we're all human beings. It's funny though that I don't see how people can sit there and say that this person is a 'madman.' He probably is, but I didn't see that. But he probably is," Rodman added.
His comments come as tensions between the U.S. and North Korea become increasingly strained amid missile launches from North Korea and fiery rhetoric from the leaders of both nations.
But despite Pyongyang suggested the U.S. was "begging for war" at the beginning of December, as it announced the largest ever aerial drill with South Korea, Rodman said he does not believe his friend is looking to start a nuclear conflict.
"He's more like a kid than anything," Rodman insisted.
"He's a kid, but he's a kid with nuclear weapons," Colbert shot back.
Several days prior to the interview, Rodman suggested there should be a meeting between Trump and Kim, announcing that he had three messages for Washington from North Korea, although he did not elaborate on what they were.