Dennis Rodman's Net Worth 2020, Stats and Salary History Compared to Michael Jordan
Dennis Rodman became known as a tenacious rebounder and defensive player for the Detroit Pistons during their back-to-back NBA titles in 1989 and 1990. He was a member of the squad known as "The Bad Boys."
The Chicago Bulls overtook the Pistons as the beast of NBA's Eastern Conference the next three years, winning NBA titles each season. Michael Jordan retired from basketball after that third championship in 1993 so he could focus on playing professional baseball. When Jordan returned to the Bulls for the 1995-96 season, the team went and signed Rodman to complete the final piece of another three-peat championship.
Rodman is a central figure for The Last Dance Episode 3 that's to air Sunday night on ESPN. Rodman, who was known for flash with his facial piercings, colorfully-dyed hair and countless tattoos, was all brash on the boards. He led the NBA in rebounding seven-consecutive seasons, including all three championship seasons he played for the Bulls.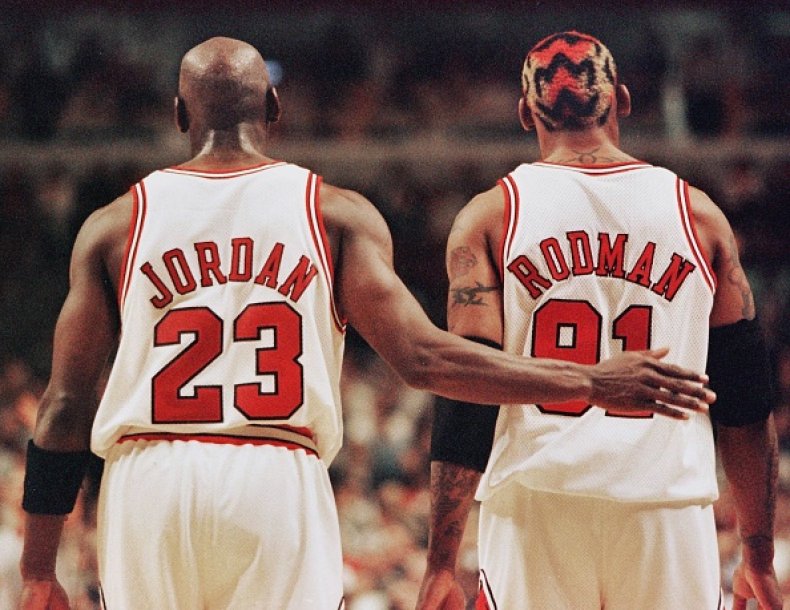 After pulling down 9.7 rebounds a game during the 1989-1990 repeat for the Pistons, Rodman averaged more than 11 rebounds each of the next 10 seasons, including eight of those with more than 14 rebounds a game. His best season was 18.7 rebounds a game in the 1991-92 season with the Pistons. He played two seasons for the San Antonio Spurs before going to Chicago.
Fast forward to the 1995-96 season, Michael Jordan was the centerpiece of the Bulls. He eventually led Chicago to six NBA titles in eight years, and Scottie Pippen was his proverbial sidekick.
And just as Jordan was the main engine that made the Bulls run, he was the highest-paid player. Though Rodman was a main cog that helped that engine go, he didn't make quite as much money.
Rodman had a salary of $2.5 million for the Bulls during the 1995-96 season, and that ballooned up to $9 million the next season. That fell to $4.6 million for the 1997-98 season when the Bulls capped off a second three-peat, and that's when the team began unraveling.
The Last Dance was filmed during that final championship season as Jordan's contract, along with coach Phil Jackson's tenure, were both about to end.
Rodman, too, departed after that season, going to the Los Angeles Lakers for a season and then the Dallas Mavericks for one year to finish out his career. Rodman was reportedly paid $1 million by the Lakers and then he was paid less than $450,000 by the Mavericks in the 1999-2000 season.
Rodman made about $27 million in NBA salary during his career, and now he reportedly has a net worth of $500,000, which is well shy of Pippen ($30-50 million), and both are well south of Jordan's estimated net worth of $2.1 billion.
Then again, Jordan was a five-time MVP, a six-time NBA Finals MVP and one of the top plyers of all-time.
In recent years, Rodman has made headlines by visiting North Korea to chum with leader Kim Jong Un, who's apparently a fan of basketball and of Rodman.