Denny Stong, Youngest Boulder Shooting Victim, Died a Hero, Friends Say
Denny Stong, the youngest victim of the mass shooting at a supermarket in Boulder, Colorado, died a hero, his friends have said.
The 20-year-old was among 10 people killed when a gunman opened fire at the King Soopers on Table Mesa Drive on Monday afternoon.
Stong had been working at the store since 2018, according to his Facebook profile.
But he was off the clock when the shooting began, his friend Logan Smith, a barista at King Soopers, told Newsweek.
Smith, 20, said he and Stong had been talking when the gunfire erupted, but ended up running in different directions. He said he learned from other co-workers that Stong had confronted the gunman and stabbed him in the leg before he was fatally shot.
"They said Denny had a knife on him and actually tried to fight the gunman, and that's why he was seen bleeding, because Denny sliced him with his knife," Smith said.
Stong's friend Bianca Porter described him as "very brave and selfless."
"Denny was the type of kid who would run towards the gunshots to try to stop them instead of running away," she told Newsweek.
Others told of how Stong had led other people to safety in the moments before he died.
"I'm hearing from different people that Denny was not just a victim, but a hero who guided people out of the store through the back and was leading people to safety before losing his life," James Noland wrote on a GoFundMe page for Stong's family.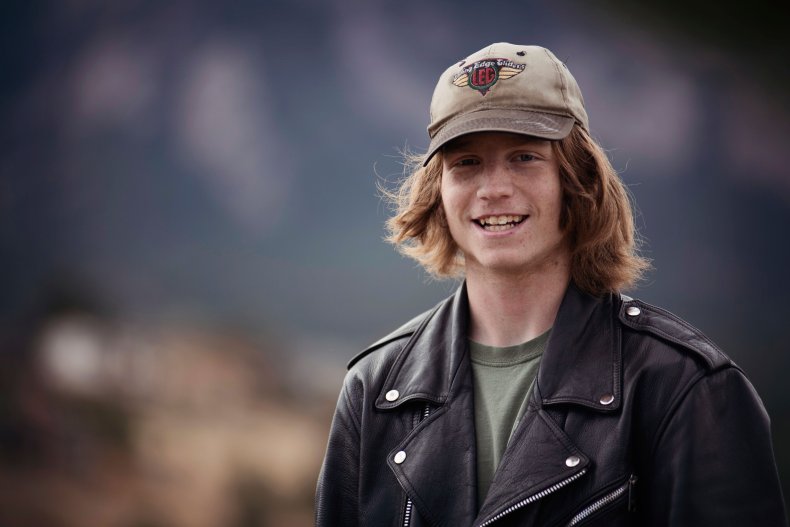 Noland, who said he grew up with Stong in Boulder and attended elementary and high school with him, added: "His life was not lost in vain, as he had saved others while risking his. He is a hero."
In a statement, King Soopers said the company was learning of "truly heroic acts that included associates, customers and first responders selflessly helping to protect and save others." Two other King Soopers employees died in the shooting—Rikki Olds and Teri Leiker.
Lisa Siciliano, who took Stong's senior portraits, was in the store's parking lot when the shooting began and warned others to stay away on her social media.
She told Newsweek that hearing about Stong's final moments made her "tear up."
"Denny was a really sweet, hardworking, gentle kid," added Siciliano, whose daughter went to school with him. "Always good to see him there as well as Teri. Everyone knew the employees at King Soopers, it was that kind of neighborhood and that kind of store."
In a post on Facebook, Siciliano said Stong's face had been the first that came to mind when the shooting unfolded.
"I knew he always worked at the spot where the gunman was & prayed he would not have been hit. Sadly he was," she wrote alongside pictures she took of him in a leather jacket with his motorcycle.
"He worked really hard and was proud to have bought his motorcycle partly with the money he made at his job," Siciliano told Newsweek.
Smith described Stong as like a brother. "He was a little annoying brother…He was honest, rude, but I loved him," he said.
Stong had recently posted on Facebook about being an essential worker during the coronavirus pandemic, updating his profile picture to include the words: "I can't stay home. I am a grocery store worker."
But those who knew Stong said he was working towards his dream of becoming a pilot. He was also an avid hunter and a supporter of the Second Amendment, they said.
"We would go shooting in the mountains every other weekend," Smith said. "Those were memories that were created between us."
His final post on Facebook encouraged friends to donate to the National Foundation for Gun Rights for his birthday, adding that "their mission means a lot to me."
Molly Proch, another friend, told The New York Times that Stong supported strengthening some gun regulations. "He was so passionate about expressing how he thought the government should handle weapons" to avoid mass shootings, she told the newspaper.
Stong's Facebook page paints a picture of a young man whose interests included flying model airplanes and the British science-fiction show Doctor Who.
He was also a history buff preparing for his first big Civil War re-enactment, The Boulder Daily Camera reported.
"He was a kind soul with a funny sense of humor and unique interests," Noland wrote on the fundraising page. "It was only ten days ago that we were all hanging out at Bianca's house, talking and laughing together."
In a tribute on Facebook, Porter described him as a "goofy, outgoing and kind-hearted guy."
"I remember my first day at this new school and you were the first to talk to me and be my friend," she wrote. "We always had the weirdest conversations but that's what I loved about you. It set you apart from everyone else. You never cared what other people thought about you, you just lived your life."
She added: "You didn't deserve to have your life taken from you like this. I can't imagine how scared you were but yet you still helped guide others to safety and fought for your life. I'm so deeply saddened by this and I wish it could all be a dream."
Update 24/3 11 a.m. ET: This article has been updated with comments from Logan Smith. Update 24/3 12.30 p.m. ET: This article has been updated with a comment from Bianca Porter.