Denny's Beyond Burger: Details, Locations and How to Get a Free Plant-based Burger
The Beyond Burger, Denny's much-anticipated partnership with Beyond Meat, is now available.
Denny's Beyond Burger was released on October 28, in all Los Angeles locations. The burger features a plant-based patty topped with tomatoes, onions, crisp lettuce, pickles, American cheese and Denny's All-American sauce, inside a multigrain bun.
Customers can try the Beyond Burger for free on Halloween, October 31, between 4 p.m. and 7 p.m. at any Denny's location in Los Angeles. The burger is free with the purchase of any drink and will be available while stocks last.
Denny's will launch the Beyond Burger nationwide in 2020. Denny's has hundreds of locations in all 50 U.S. states and Washington DC, and more than 1,700 franchises internationally.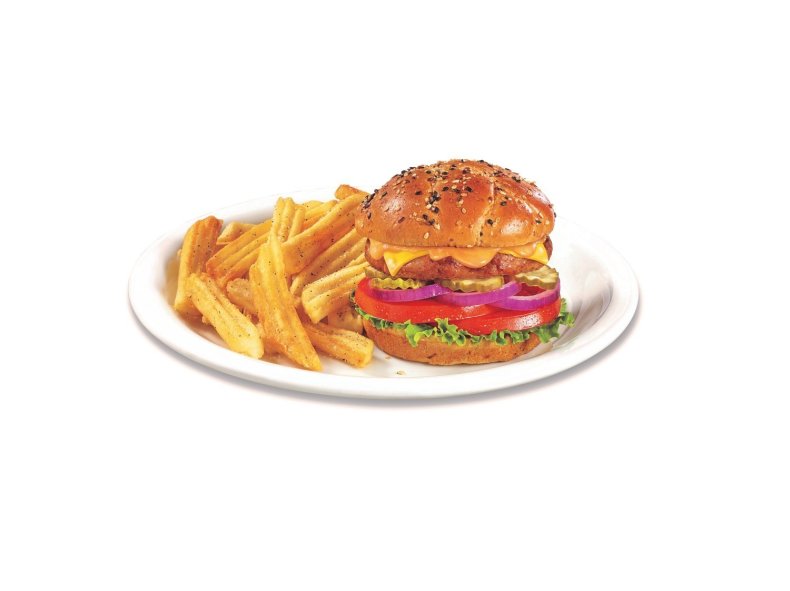 In a statement, John Dillon, the chief brand officer for Denny's, said: "We could not be more excited to announce this game-changing partnership with Beyond Meat. As a company, we strive to evolve with the tastes and demands of our customers and we knew to find a plant-based option that met our incredibly high-quality standards and taste expectations was critical in staying at the top of our game.
Tim Smith, Beyond Meat's VP of North America Sales Foodservice, said in a statement: "We're working to make delicious plant-based meat as accessible as possible and believe the Denny's Beyond Burger will be well-received by longtime fans and new guests alike.
"Through our partnership with Denny's, we look forward to introducing more families to the nutritional and environmental benefits of consuming plant-based meat."
Denny's Beyond Burger is the restaurant chain's first plant-based protein option, with the company saying in a statement they were looking to meet modern customer needs.
Beyond Meat also recently partnered with Dunkin' to launch a Beyond Sausage Sandwich. The plant-based protein sandwich will be available in 9,000 locations nationwide from November 6.
Furthermore, Beyond Meat and McDonald's are trialing a P.L.T. in restaurants in Canada. The plant-based protein burger is served with tomato, lettuce, and cheese. The 12-week trial began at 28 restaurants in Ontario on September 30.
Beyond Meat products are available in more than 53,000 retail and foodservice outlets worldwide. The plant-based protein is made out of pea, mung bean, fava bean, brown rice, and sunflower. The fats in the protein include cocoa butter, coconut oil, sunflower oil, and canola oil, all of which have less saturated fats than meat products, and the products are flavored and colored with beet juice extract, apple extract, and natural flavors.