Denny's Launches 'Turkey and Dressing Dinner Pack' for a Stress-free Thanksgiving
If cooking a big Thanksgiving three course meal isn't a thing at home, then Denny's might be the go-to place. Today (November 22), the restaurant chain is introducing a new "family style" Turkey and Dressing Dinner Pack to its seasonal menu.
The dinner pack provides guests with a carryout dining option, meaning a stress-free holiday dinner at home. Each dinner pack is prepared ready to heat up and serve to the family, and features delicious Thanksgiving staples such as carved turkey breast, savory stuffing, gravy, cranberry sauce, red-skinned mashed potatoes and one additional side.
Beginning Friday, November 22, and concluding at 6:00 p.m. ET on Wednesday, November 27, customers will have the option to order the dinner pack online at Dennys.com for pickup by Thanksgiving, which comfortably feeds a family of four.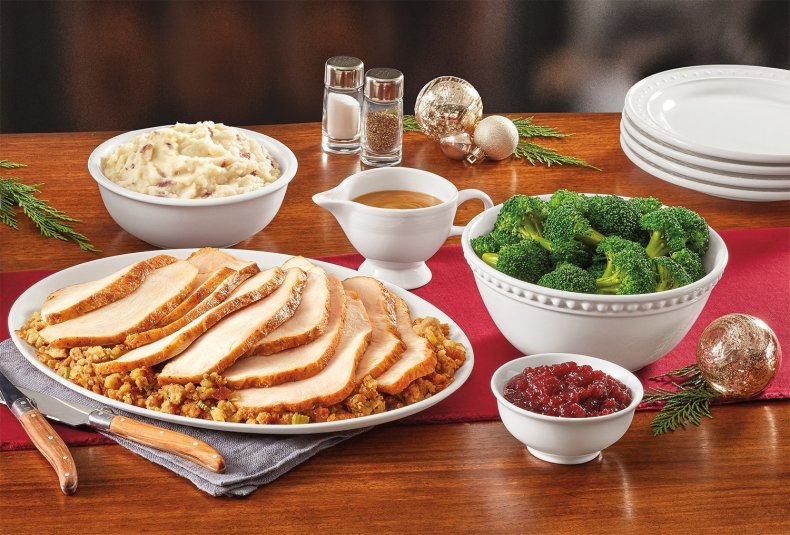 In a press release, chief brand officer, John Dillion, said: "The holidays should be a time for friends and family to gather and spend time with each other – not worrying about shopping, cooking and planning what to eat." He goes on to say that the Dinner Pack includes all elements of a "traditional Thanksgiving dinner" without the need for preparation and cooking. "Guests can enjoy quality time with their loved ones and eliminate any stress in the kitchen," he explains.
The dinner pack joins other additions to the holiday season menu. Earlier in November, Denny's introduced a new menu with "a variety of holiday feasts and a selection of sweet holiday delights" so guests could settle their holiday cravings without breaking the bank.
Menu items, which are available nationwide, include:
Cinnamon Roll Pancake Breakfast: Buttermilk pancakes cooked with a cinnamon crumb topping and topped with whipped cream, served with a pitcher of warm cream cheese icing for drizzling, two eggs, hash browns and a choice of two bacon strips or sausage links
Bourbon Chicken & Garlic Peppercorn Sirloin Dinner: A USDA choice cut, eight ounces (oz) seasoned sirloin steak topped with garlic peppercorn butter and a grilled seasoned chicken breast covered with a bourbon glaze, fire-roasted bell peppers, onions and mushrooms
Garlic Peppercorn Sirloin & Premium Chicken Tenders Dinner: A USDA choice cut, eight oz. seasoned sirloin steak topped with garlic peppercorn butter and premium golden-fried chicken tenderloins with choice of dipping sauce
Apple Bourbon Crepe Breakfast: Folded with vanilla cream and topped with caramel apple walnut bourbon sauce and served with two eggs, hash browns, plus two bacon strips or two sausage links
The Turkey & Dressing Dinner Packs must be ordered online at least 24 hours before the desired pickup time. This dining option is not available for dine-in and is offered at participating Denny's locations for a limited time.