Dentists Mysteriously Dying of Lung Disease: CDC Report
Health officials are trying to figure out why dentists are dying after discovering a strange pattern in cases of a lung disease.
The U.S. Centers for Disease Control and Prevention reported that an analysis of patients at a Virginia care center found a high incidence of idiopathic pulmonary fibrosis (IPF) for dentists. Out of nearly 900 patients studied over roughly two decades, the CDC found eight dentists and one dental technician, all men, had the disease. Seven of the patients had already died.
While that does not sound like a lot, it represents 1 percent of the total IPF patients. Meanwhile, the CDC noted, only about 0.038 percent of people living in the country are dentists.
"A questionnaire was administered to one of the living patients, who reported polishing dental appliances and preparing amalgams and impressions without respiratory protection," according to the CDC. "Substances used during these tasks contained…known or potential respiratory toxicity. Although no clear etiologies for this cluster exist, occupational exposures possibly contributed."
The investigation came after one dentist diagnosed with the lung disease alerted the CDC to the pattern at the care center.
"Although IPF has been associated with certain occupations, no published data exist regarding IPF in dentists," the CDC said. However, "dental personnel are exposed to infectious agents, chemicals, airborne particulates, ionizing radiation and other potentially hazardous materials. Inhalational exposures experienced by dentists likely increase their risk for certain work-related respiratory diseases."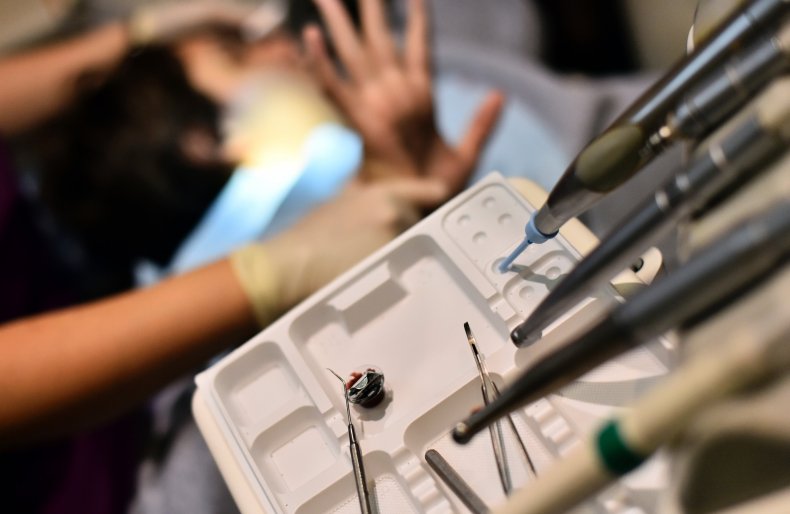 Pulmonary fibrosis is a condition in which lung tissue becomes scarred, the U.S. National Institutes of Health explain. The thickened lung tissue makes it difficult to get oxygen into the blood, depriving crucial organs like the brain and heart.
When doctors cannot find a cause for the scarring condition, it is known as being idiopathic. Experts still do not have a full understanding of what causes the disease, and it kills many patients between three and five years after they are diagnosed.
Officials also still do not know what caused the cluster of dentists with the illness.
"Although the etiology of IPF is unknown, exposures that have been suggested as contributing factors include viral infections, cigarette smoking and occupations where exposure to dust, wood dust and metal dust are common," the CDC said.
Signs of idiopathic pulmonary fibrosis include shortness of breath, a chronic and dry cough, weight loss, fatigue, joint and muscle pains and clubbed fingers or toes.
"We do work with materials and with human bioproducts that are potentially damaging to our bodies if we inhale them," Dr. Paul Casamassimo, the chief policy officer of the American Academy of Pediatric Dentistry Pediatric Oral Health and Research Center, told CNN.