Dentists Remove 526 Teeth From Mouth of 7-Year-Old Boy
Dentists in India pulled more than 500 teeth from the mouth of a young boy.
On July 11, P Ravindran, 7, was taken to the Saveetha Dental College and Hospital in Chennai, complaining of a swollen growth on his lower jaw. When the dentists X-rayed Ravindran, they found a "bag-like" tumor containing 526 small teeth.
"The tumor-like growth prevented permanent molar teeth growth in the boy in the affected side," P Senthilnathan, a Professor at the Department of Oral and Maxillofacial Surgery at Saveetha Dental College told The New Indian Express. "[An] X-Ray and CT scan showed multiple, rudimentary teeth in a bag-like tissue. It took five hours to remove all the minute teeth."
Fortunately the growth was caught early. All of the boy's other teeth are fine, according to his dentists, though the growth of his molars will be affected, requiring molar implants in his teens.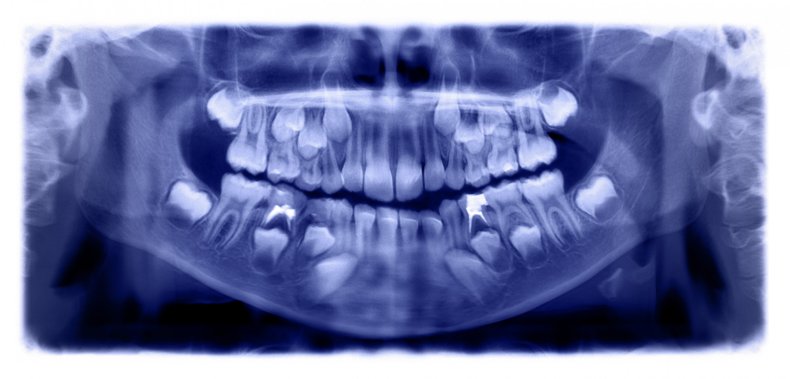 According to the founder of Saveetha Dental College, the surgery was performed free of charge. While Ravindran's parents immediately agreed to the operation, it took several hours to convince the 7-year-old to cooperate.
After the procedure was completed, though, he was able to smile without pain.
"The teeth were in different sizes that varied between 0.1 mm to 15mm. They looked like pearls in an oyster. Even the smallest piece had a crown, root and an enamel coating like a tooth," Prathibha Ramani, the college's head of maxillofacial pathology told the Times of India. "We have never seen these many teeth in any one site."
The medical name for this super-rare condition is compound composite odontoma. In a similar case from 2014, 232 teeth were removed from the mouth of a Mumbai teen.
Dentists are still looking for a cause for the boy's condition. "Biopsy results showed it was just abnormal growth. There could be a strong genetic [component], but we cannot rule out environmental factors such as radiation from mobile towers," said Ramani.
A Saveetha Dental College study of people living by cellphone towers revealed that more than 10 percent had "micronuclei changes" to their cells, which can cause "uncontrolled multiplication of cells and diseases," according to Ramani
However, the American Cancer Society maintains that the RF energy coming from phone towers is too low to have much effect on people's health. The energy levels from cell phone towers is not significantly different from the radiation coming from TV and radio stations, according to ACS.