Pensioner Got False Teeth Stuck in Throat During Operation and No One Noticed for Eight Days
A pensioner in the U.K. got false teeth stuck in his throat following a routine operation—and they remained lodged there for eight days before anyone noticed.
The 72-year-old had been admitted to have a harmless lump in his abdominal wall removed. After surgery, he complained of pain, bleeding and was struggling to swallow. The following week, he returned to the hospital's emergency department saying he had been unable to eat solid food since the operation.
Tests showed nothing out of the ordinary, so he was sent home with antibiotics, steroids and mouthwash.
However, he came back two days later after his symptoms got worse.
He was admitted after doctors suspected he had developed a severe chest infection that may have been caused by inhaling saliva, food or stomach acid. After physicians looked at his throat they discovered a semi-circular object positioned across the vocal cords. The tissue surrounding the site had swollen and blistered.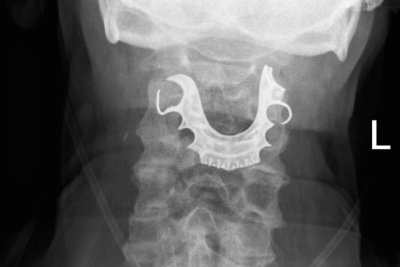 It emerged the man had lost his dentures during the last hospital stay. This included a metal roof plate and three false teeth. They are believed to have slipped down his throat during the original operation.
Doctors performed emergency surgery to remove the dentures and he was discharged after six days. Two days later he was readmitted because internal wounds to the site had led to further blistering. He had lost so much blood he needed a transfusion.
After nine days, he came back to the hospital complaining of further bleeding once more. On this visit he had to have another emergency surgery as the bleeding was found to be the result of a torn artery.
Eventually, the tissue around the site healed and after six weeks his blood count was back to normal.
The man's ordeal is documented in BMJ Case Reports. In it, Harriet A Cunniffe, from the James Paget University Hospitals NHS Foundation Trust, U.K., says the incident raises important issues about removing dentures before administering anasthetic. Any false teeth should be documented before and after surgery, she says, and the surgical team should be made aware of them.
This is not the first case of a patient inhaling items during operations. Other cases include teeth and a latex glove. In another case, a denture was aspirated during intubation and the patient ended up dying.
Cunniffe says the case of the 72-year-old highlights the importance of listening to patients: "Although one should not underestimate the power of hindsight, looking back through this man's A&E notes, he was clear that the reason he attended A&E was a sore throat and difficulty swallowing, and therefore, the positive findings on blood work and chest X-ray acted as a distraction."