Denver Bookstore Alters Isis Sign After Vandalism—but Keeps Name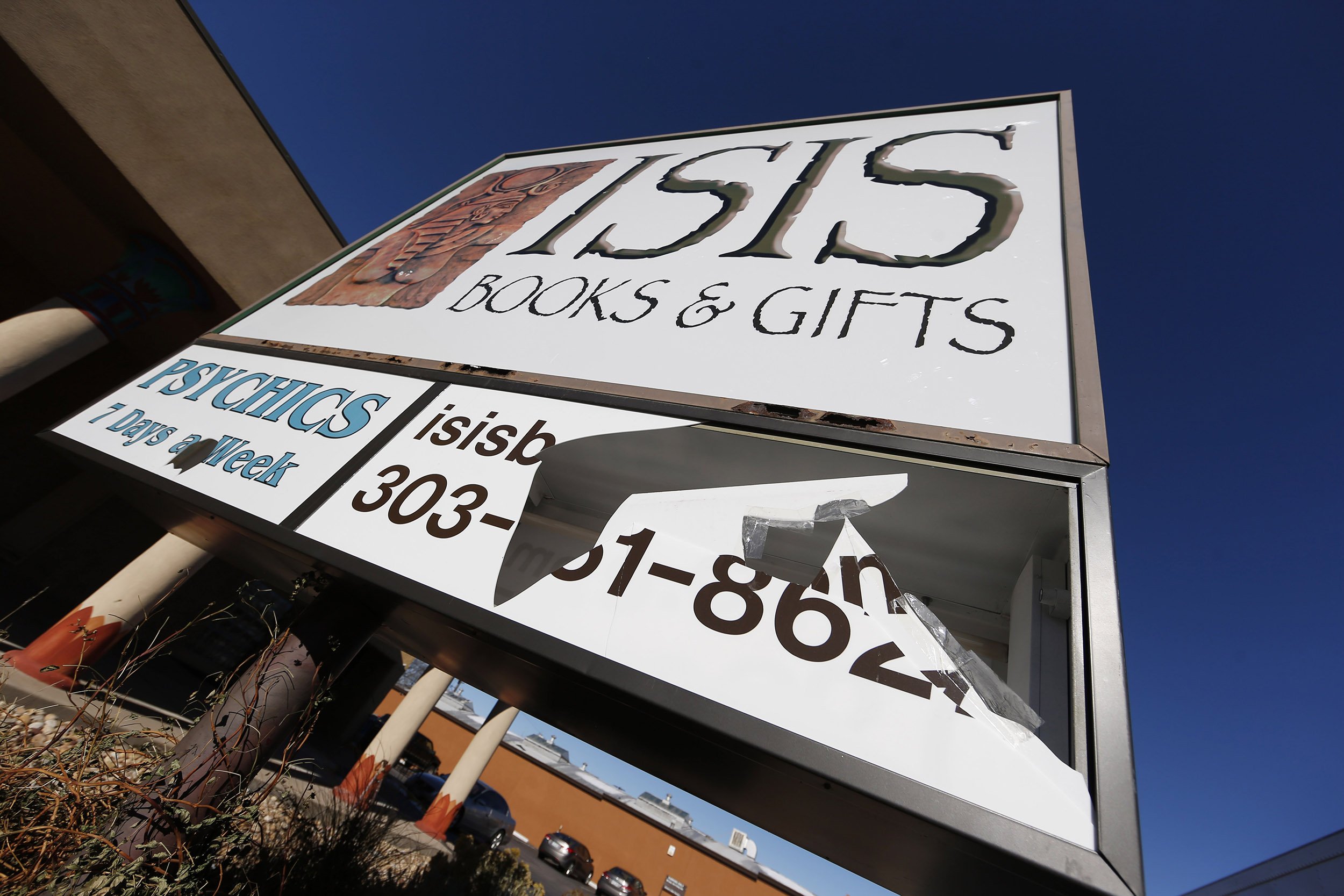 After a series of attacks by vandals, a Denver store called Isis Books & Gifts has removed the word that has become synonymous with the Islamic State militant group from its signage.
The shop, founded 35 years ago, was named after the famed Egyptian goddess Isis. The website describes the store as "part library, part apothecary and part temple," and "the premier metaphysical source" for "all the tools for your soul's journey."
In November, Karen Charboneau-Harrison, the shop's owner, posted an image of its shattered roadside sign on Facebook, saying it was "just one of the many incidents of harassment" the store has recently seen.
Charboneau-Harrison tells Newsweek that in early 2015 she found hot pink paint splashed across her storefront sign and poured onto the store's entryway. A few months later, a vandal had torn down the store's parking signs, each displaying the shop's name. And every so often, a person will call in or leave a menacing voice mail suggesting the store's name be changed, she says, or tell her that the store's name is anti-American.
"I don't know if somebody walking down the street just saw our name on the sign and kind of lost it for a moment and threw a rock through it," Charboneau-Harrison, told Fox31 Denver at the time, "or if it was an ignorant person who actually thought this was a bookstore for terrorists. I don't know."
Charboneau-Harrison's November Facebook post also urged supporters to use the term Daesh—or Dawlat al-Islamiyah f'al-Iraq w Belaad al-Sham, which is the full Arabic term for what English speakers translate as the Islamic State—when referring to ISIS militants. Her suggestion was an apparent attempt to lessen collateral damage.
"We get so many messages from people who either themselves are named Isis or their daughters are named Isis," Charboneau-Harrison says. "People are harassing these individuals."
On December 30, Charboneau-Harrison announced that the store altered the sign for customer and employee safety.
"We have changed our sign to a gorgeous one with a huge image of Isis and her most honorific title: Goddess of 10,0000 Names," the shop posted on Facebook. "We are deflecting the attention of folks who flunked their 6th grade basic mythology class (and have anger issues) away from us and our signage."
Charboneau-Harrison tells Newsweek that she also had the store relandscaped as a precautionary measure, removing the river rocks that had once decorated the storefront area. "We decided not to leave ammunition there for them," she says. The sign and landscaping cost around $10,000 collectively.
But the store isn't changing its actual name anytime soon.
"We feel very strongly about the name Isis, but we feel just as strongly that we don't want to be waving a red flag that would entice ignorant people to act out of their ignorance," Charboneau-Harrison told Fox31. "People are a little bit on edge, and there's no need to play into that and incite any sort of ridiculousness."
Since the harassment began, the shop has seen an outpouring of support both online and offline. Netizens shared the November Facebook post about the store's destroyed sign more than 4,000 times, and customer donations helped pay for its replacement.