Denver Cop Who Posted Picture of Officers Captioned 'Let's Start a Riot' Fired
Denver, Colorado police officer Thomas McClay was fired Tuesday after posting a photograph of himself wearing crowd control gear on social media with the caption, "Let's start a riot."
An internal affairs investigation was requested by Denver Police Chief Paul Pazen into McClay, who posted the photo as Denver was undergoing a series of protests related to the death of Minneapolis man George Floyd, a black man who died while in police custody. Demonstrators have engaged in protests that have, in some cases, turned violent.
McClay was fired after the investigation concluded that he "violated the Department's social media policy [and] posted content inconsistent with the values of the Department."
Denver Mayor Michael B. Hancock tweeted his agreement with Chief Pazen's decision to fire McClay on Tuesday. "I support Chief Pazen's decision and regret this occurred at a moment in time when we must all bring out the very best of ourselves to meet the challenges before us," Hancock wrote Tuesday.
McClay's controversial photo first appeared on the social media platform Instagram but has since been deleted. Two other officers in the photo with McClay are still employed by Denver Police.
Newsweek reached out to the Denver Police Department for further comment. This story will be updated with any response.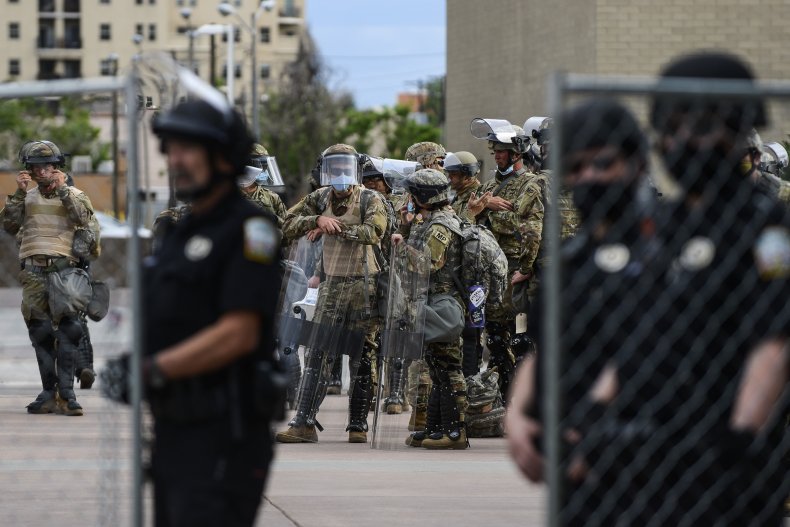 Pazen addressed the photograph Monday as he marched with protesters during a peaceful demonstration. "I was hurt by the post," Pazen said. "We need to bring the temperature down."
Denver police, however, are alleged to have harmed peaceful protesters during the demonstrations with non-lethal offensive weapons. City council members have asked for an independent investigation into the claims.
Chief Pazen said Monday that his department did not condone those actions and that a probe would be launched to ensure officers had followed departmental policies while responding to the protests. "If we miss the mark, we need to be held accountable," Pazen said Monday. "Including myself."
Although many protests have devolved into violent activity, calls for peaceful protests have been made. Terrence Floyd, the younger brother of George Floyd, encouraged people in Minneapolis not to resort to destructiveness during their demonstrations. "I know my brother would not want violence," Floyd said Monday.
Demonstrators in Kentucky have protested the March death of Breonna Taylor, an EMT who was killed by gunfire after Louisville police officers entered her apartment while serving a no-knock warrant. Taylor's partner, believing a robbery to be in progress, opened fire on the officers. Louisville police returned fire, striking Taylor at least eight times.
Taylor's mother, Tamika Palmer, appreciated the idea behind the demonstrations but called for them to take place without the violence.
"Please keep saying her name," Palmer said in a May statement. "Please keep demanding justice and accountability, but let's do it the right way without hurting each other."