Denver Maid Called a Hero After Finding Guns, Ammo at Hotel Near Site of MLB All-Star Game
A maid at the Maven Hotel in downtown Denver is being praised as a hero by local officials after finding and reporting a cache of weapons in a hotel room near Coors Stadium.
Police arrested four men after seizing over a dozen guns, more than a thousand rounds of ammunition and body armor from two hotel rooms just days before the Major League Baseball All-Star Game.
Police originally told station Denver7 that when they found the stash of weapons they were concerned about a "Las Vegas-style shooting" while the game is played on Tuesday.
The Denver FBI office was called to the scene along with a SWAT team. Authorities obtained search warrants for the hotel rooms where they found the weapons.
Richard Platt, Gabriel Rodriguez, Ricardo Rodriguez and Kanoelehua Serikawa, all in their 40s, were arrested Friday night on drug and gun-related charges. Three of the four men are repeat offenders and could not legally own the guns, police said.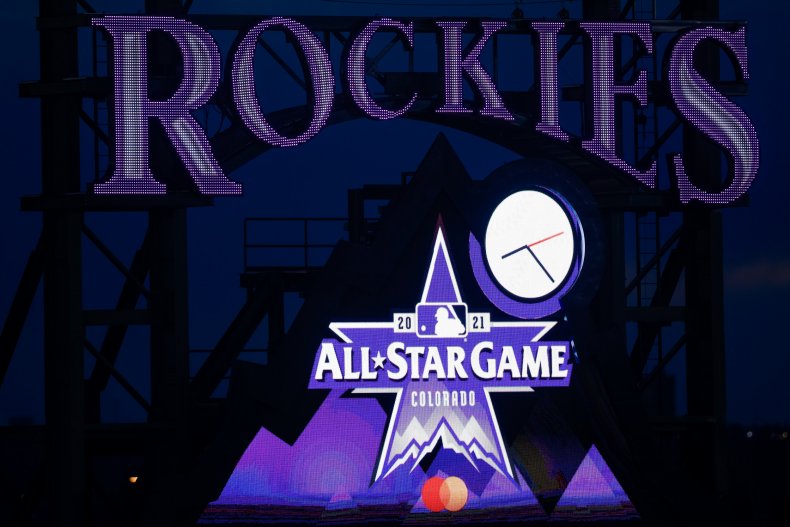 "We have no reason to believe this incident was connected to terrorism or a threat directed at the All-Star Game," the Denver FBI division said in a statement to Newsweek. "We are not aware of any threat to the All-Star Game events, venues, players, or the community at this time."
Colorado Police Chief Paul Pazen said the police are still investigating what the four men were doing with the weapons. He did not want to speculate or overshare any information that would jeopardize the integrity of the investigation at a press conference on Sunday, but he assured that the police are not aware of any active threats to the upcoming game.
"We want to reassure folks that all aspects of the safety department... that we have a detailed and comprehensive plan to ensure the safety of our community members," Pazen said. "We're committed to ensuring that the rest of the All-Star festivities are safe, as well as the rest of our city, our community is safe."
At the press conference, Denver Mayor Michael Hancock confirmed that the All-Star Game will not be postponed, and the festivities will continue as scheduled.
The maid was praised both online and by Colorado officials.
The police chief called the employee "astute" at a press conference on Sunday afternoon. He applauded the entire hotel staff for "doing this the right way."
"We are grateful for the Coloradan who reported the suspicious activity, the swift action of law enforcement and are fully supportive of Denver's investigation," Conor Cahill, Governor Jard Polis' spokesperson, told Newsweek.
Brandon McManus, a Denver Broncos football player, tweeted: "Thank you to that maid!!! You are a TRUE HERO!!! I would love to meet the hero!"