Denver Mayor Michael Hancock boarded a flight to Houston on Wednesday after urging city residents to avoid travel due to the rising cases of COVID-19 in Colorado.
Moments before boarding the plane to Texas, Hancock tweeted "avoid travel, if you can," "stay home as much as you can," and "host virtual gatherings instead of in-person dinners" in a Thanksgiving post about slowing the spread of the coronavirus.
His spokeswoman confirmed to NBC affiliate KUSA on Wednesday that the mayor was traveling to visit his daughter in Mississippi, and that his wife was already there.
Hancock has said his family will be foregoing a large gathering this Thanksgiving, writing in an email to city staff that for his family, coronavirus precautions "means cancelling our traditional gathering of our extended family."
"As he has shared, the Mayor is not hosting his traditional large family dinner this year, but instead traveling alone to join his wife and daughter where the three of them will celebrate Thanksgiving at her residence instead of having them travel back to Denver," the mayor's spokesperson told KUSA.
Hancock's assistant advised that he would be out of office from Wednesday to Friday, according to an email obtained by the network.
In an email to city staff, Hancock wrote: "As the holidays approach, we all long to be with our families with person, but with the continued rise in cases, I'm urging you to refrain from travel this Thanksgiving holiday."
He also said anyone who travels out of state for the weekend should self-isolate for 14 days, including himself.
"Upon return, he will follow all necessary health and safety guidance and quarantine," the mayor's spokesperson said.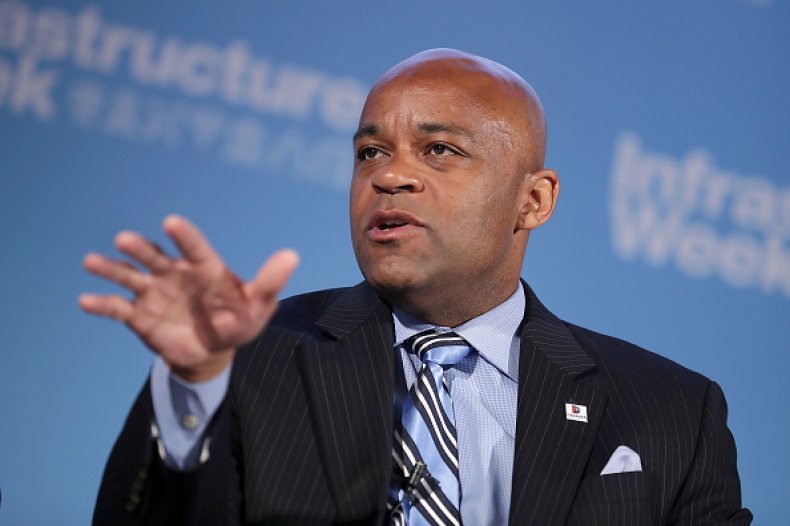 COVID-19 cases are on the rise in Denver. Last week, the city entered Colorado's Level Red severe risk category. According to Denver Public Health, the city has reported 33,971 confirmed cases and 494 deaths as of Wednesday.
At a news conference with Colorado Governor Jared Polis, Hancock said: "We need everyone to stay home."
During a Tuesday briefing, Polis said that one in 41 Coloradans is currently infected with COVID-19, the highest figure the state has seen since the pandemic began in March.
Hancock is the latest public official to face backlash for traveling ahead of Thanksgiving despite encouraging constituents to do the opposite.
Earlier this week, New York Governor Andrew Cuomo cancelled his holiday plans after facing criticism for planning to spend Thanksgiving with his 89-year-old mother and two daughters, all of whom would be travelling to his house in Albany.
In a statement made late Wednesday, Hancock apologized for his decision to travel and visit their daughter and wife in Mississippi, where his daughter recently took a new job. He said when considering the holidays, he believed it would be safer to travel there than to have them travel to see him in Denver.
"I recognize that my decision has disappointed many who believe it would have been better to spend Thanksgiving alone. As a public official, whose conduct is rightly scrutinized for the message it sends to others, I apologize to the residents of Denver who see my decision as conflicting with the guidance to stay at home for all but essential travel," Hancock said.
"I made my decision as a husband and father, and for those who are angry and disappointed, I humbly ask you to forgive decisions that are borne of my heart and not my head."
Update (11/25/20, 6:37 p.m.): This story was updated with comments from Hancock.