Federal Judge Blocks Denver Police From Using Pepper Spray Against Protesters, Says Department 'Failed in Its Duty' to Police Itself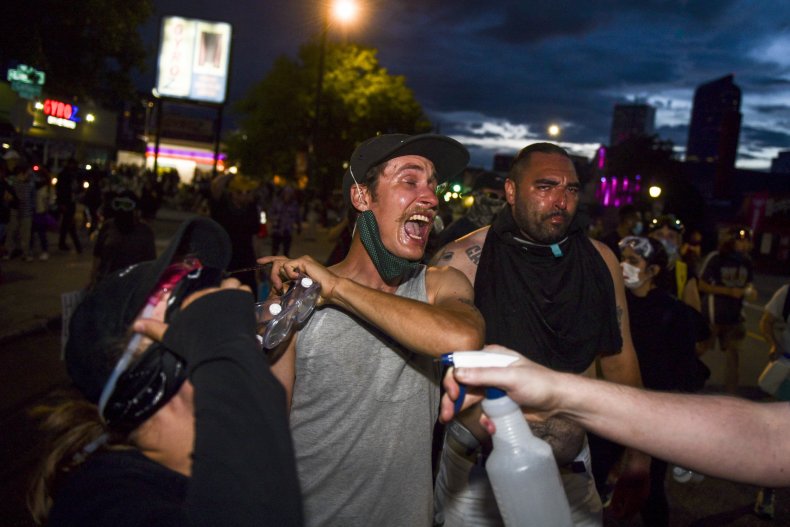 A federal judge has prohibited the Denver Police Department from employing non-lethal tactics outside of strict supervision, after a class-action lawsuit was filed recalling multiple incidents of apparently indiscriminate use of force against peaceful protesters.
U.S. District Court Judge Richard Brooke Jackson issued a preliminary order Friday evening blocking the police from using pepper spray and kinetic projectiles on non-violent demonstrators—unless authorized by an officer at the rank of captain or above in response to a specific disturbance.
According to Jackson's order, rubber bullets are, without exception, forbidden from being used indiscriminately, and pepper spray can only be deployed once protesters have been given a verbal order to clear the scene and have had a fair opportunity to do so.
The City of Denver contends that it does not use rubber bullets in its operations. Representatives for the Denver Police Department and the City of Denver did not return requests for comment.
Scores of encounters between protesters, journalists and police over the past week have appeared to show unprovoked uses of force by officers, in some cases suggesting a sense of zeal underlying the confrontations.
Ahead of one gathering convened in response to the death-by-police of Minneapolis resident George Floyd, Tommy McClay—then a Denver police officer responsible for crowd control—posted a picture of himself and a pair of colleagues on Instagram with the caption, "Let's start a riot." He has since been removed from the department.
One video posted to TikTok shows a woman approaching an officer apparently with the Denver Police Department. The woman asks what will occur at 8 p.m., when the citywide curfew begins, at which point the officer responds: "We're going to start beating the f**k out of you."
The lawsuit recounted other documented instances where Denver police appeared to use non-lethal force indiscriminately, wantonly or in disregard to an attendee's status as a medic or journalist.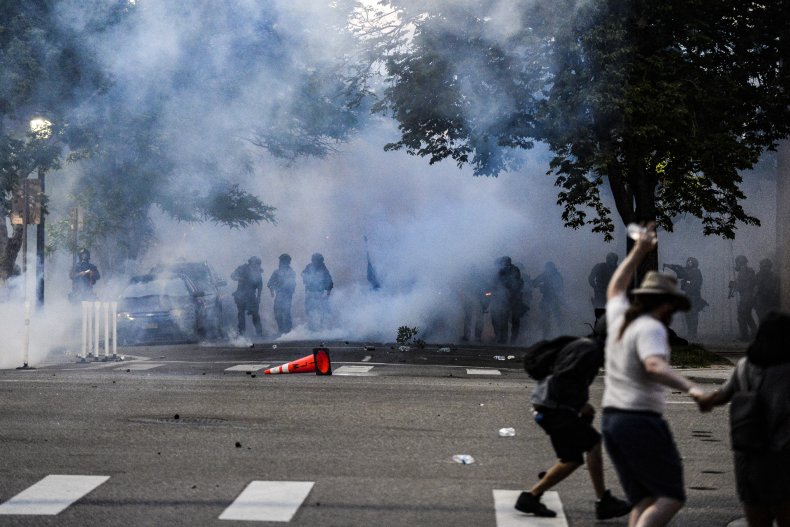 "What becomes clear in viewing these videos is that the Denver Police are not using pepper spray in a limited manner, but instead as a tool to suppress expression they don't appreciate," the lawsuit alleged. "Not only is the Denver Police using pepper spray to suppress expression, they are using it to deter documentation of their activity."
The lawsuit was filed as a class-action complaint seeking to represent all peaceful demonstrators in Denver, who number in the thousands, alleging that the aggressive use of force by police squelches their constitutional rights to public assembly and to be free from the use of excessive force.
"For years now, we finally have video evidence come out showing police using excessive force in one-off violations. Each time we're told, 'That's just one bad apple,'" E. Milo Schwab, a Denver attorney representing the plaintiffs, said. "So it's been disappointing to see how prevalent and systemic this appears to be. This is not one-off. These are not bad apples. This is a culture that has been allowed to develop not just in Denver but everywhere where police don't view themselves as part of the community but view themselves as overseers of the community."
In his ruling, Jackson acknowledged that the police "have a very difficult and often thankless job," and are forced to make "split second citizens" in dangerous circumstances. Nevertheless, he said video evidence he reviewed of police action at the demonstrations was "disgusting."
"The time is past to rely solely on the good faith and discretion of the Denver Police Department," he wrote, adding that the department "has failed in its duty to police its own."
After the ruling Friday night, the City of Denver filed a motion asking the judge to loosen the restrictions. The city argued that its police department only has four officers currently serving at the rank of captain or higher, a prerequisite for using non-lethal force under Jackson's order. It believes that officers will not be able to protect themselves without a more diffuse authority to response with non-lethal force.
Denver is also challenging a provision of the order requiring body cameras worn by officers patrolling the protests to be recording at all times.
Jackson said his ruling does not seek "to prevent officers from protecting themselves," but rather to safeguard the constitutional rights of the protesters.