Denver Protester Claims He Was Sexually Assaulted During Arrest, Sparks Police Probe
Police have launched an internal investigation after a protester in Denver claimed he was sexually assaulted with a baton during his arrest.
Michael Jacobs was attending a protest near Civic Center Park when he was arrested and charged with trying to disarm a police officer.
He told media outlet Fox31 that as he was arrested, an officer used a baton inappropriately, violating him and leaving him traumatized.
Speaking to a reporter at the station, Jacobs said: "As I was on the ground and as I was completely helpless, someone took what felt to be a nightstick and just shoved it up my butt.
"After that it was pretty much done."
"It was the most traumatizing experience I've been through in all 23 years of my life."
Jacobs said he obtained a rape kit following the arrest and told a reporter that medical records show he had a rectal and anal hemorrhage.
Local media reported that protesters clashed with police on July 29 after pushing down a fence around Veterans Park and getting inside.
Jacobs denies the original allegation and his lawyer, Matthew Greife, said the police had yet to provide body camera footage with his office.
Greife said: "Will there be a civil filing? Absolutely, this was a sexual assault."
Speaking to a reporter, Jacobs said: "The people that are there to protect you, to do something so wrong, it's like I have panic attacks now, which I've never experienced before."
Denver Police Department has confirmed it is conducting an internal investigation into the incident.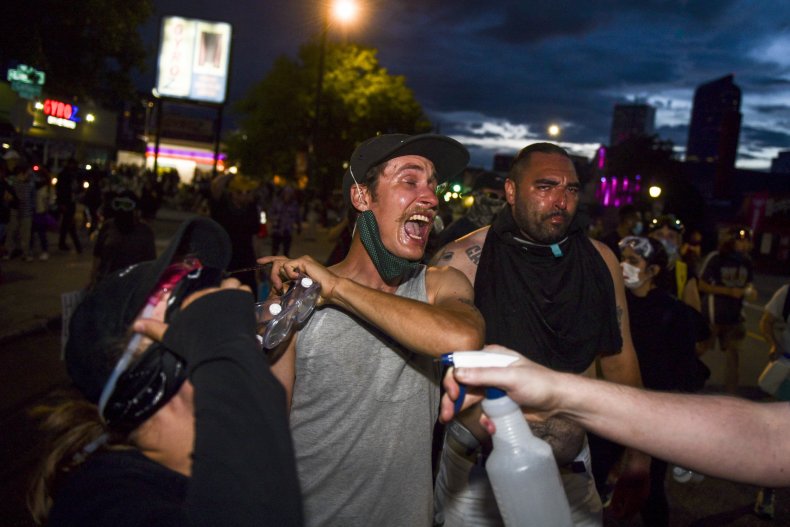 It is understood the criminal case against Jacobs is still pending and being handled by the Denver District Attorney's Office.
Jacobs' next court appearance is scheduled for September 28.
The spotlight was on the police in June when a federal judge prohibited the Denver Police Department from employing non-lethal tactics outside of strict supervision, after a class-action lawsuit was filed recalling multiple incidents of apparently indiscriminate use of force against peaceful protesters.
U.S. District Court Judge Richard Brooke Jackson issued a preliminary order blocking the police from using pepper spray and kinetic projectiles on non-violent demonstrators—unless authorized by an officer at the rank of captain or above in response to a specific disturbance.
According to Jackson's order, rubber bullets are, without exception, forbidden from being used indiscriminately, and pepper spray can only be deployed once protesters have been given a verbal order to clear the scene and have had a fair opportunity to do so.