Denver Radio Host Fired After Wishing for a 'Nice School Shooting' As Distraction From Trump Impeachment
A radio host in Colorado has been fired after he sparked outrage by suggesting that a school shooting could be a welcome distraction from President Donald Trump's impeachment.
In an exchange on Denver's 710 KNUS Chuck & Julie Show, the conservative host Chuck Bonniwell was discussing the fate of Trump.
The host said: "All right, Chuck Bonniwell, Julie Hayden here, a little after 1:30, talking about the never-ending impeachment of Donald Trump," to initial chuckles from his co-host.
When Bonniwell said, "You know you wish for a nice school shooting to interrupt the monopoly," Hayden jumped in to say, "Don't even—don't even say that. No, don't even say that."
Hayden continued: "Don't call us. Chuck didn't say that." Bonniwell added, "[in] which no one would be hurt."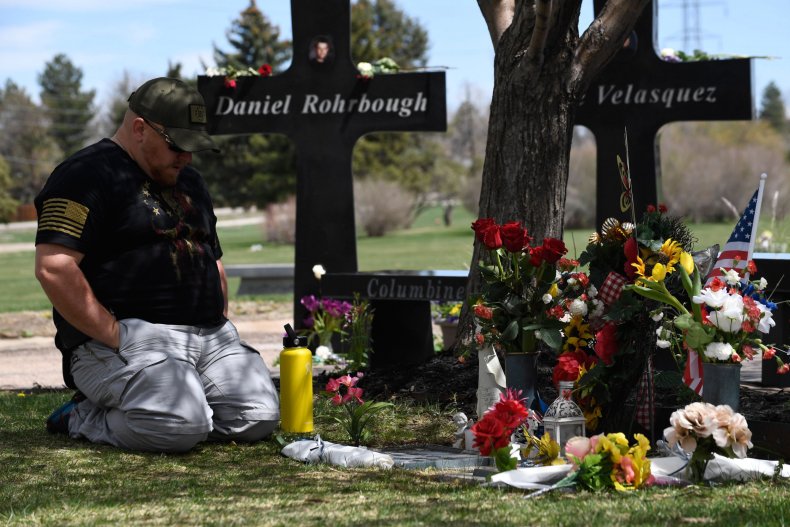 Colorado has been the scene of a number of mass shootings, the most notorious being at Columbine High School in 1999 in which 12 students and a teacher were killed.
Most recently, the shooting at the STEM School Highlands ranch in May claimed the life of Kendrick Castillo, trying to protect his classmates. His father John Castillo tweeted: "Unbelievable that a radio host would suggest a school shooting to distract from the presidential [impeachment.]"
Sandy Phillips, whose daughter Jessi was killed in a shooting in 2012 at the Aurora theater, tweeted: "Total ignorance. Shootings hurt us all...just ask witnesses and first responders. You don't have to be shot to be wounded."
The network condemned the comments and said it has cancelled the show.
"Given the history of school violence that has plagued our community, 710 KNUS confirms that an inappropriate comment was made on the Chuck & Julie show by co-host Chuck Bonniwell," the station said in a statement to Newsweek.
"A programming decision was made to end the program immediately. As independent contractors, they are no longer affiliated with the station," the statement added.
The station said that the 1-4 p.m. timeslot would be replaced by the Salem Network show, America First, hosted by Sebastian Gorka.
A statement on the Chuck & Julie show's Twitter account, said: "I made an inappropriate comment meant as a joke. I'm sorry it was not received that way."
The radio station has faced controversy in the past. Former host Craig Silverman said that his show was canceled because of comments he had made criticising the president. The radio station disputes the host's claims that he was told what to say, The Denver Post reported.
The Post also noted that the radio station has faced claims in the past that it has given air time to white supremacists.
The story has been updated to include a statement by 710 KNUS to Newsweek.