Denzel, Obama, and the Tony Awards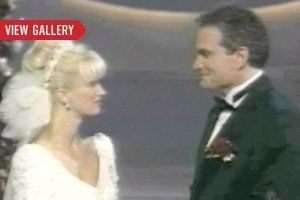 It's Tony weekend, the time when Broadway dishes out the little statues for the best work of the last year. (Random question: why are all the major entertainment awards named after people, and why are three of the big four—Tony, Emmy, and Grammy—named after women?)
But we digress, mostly. When it comes to those little statues, Denzel Washington already has a few of them, and he's the favorite to win another, for best actor in August Wilson's masterwork, Fences. Which is funny, given how different the play feels from when it debuted on Broadway, in 1987, with James Earl Jones in the lead. It seems like such a cliché to write about reinterpreting August Wilson in the age of Obama. Aren't we all sick of those "Obama and blah-blah-blah" stories—they're so lazy.
Except that, in this particular case, the age of Obama has changed the play's significance. Fences is about a garbage man in 1950s Pittsburgh whose life—and especially his promising baseball career—has been curdled by the strictly enforced racism of the time. When Wilson's play debuted, 30 years after it was set, the audience trembled with pathos at the idea that black people were hobbled by the burden of their deferred dreams. In his review in The New York Times, Frank Rich wrote: "For blacks like Troy in the industrial North of 'Fences,' social and economic equality is more a legal principle than a reality: the Maxsons' slum neighborhood … is a cauldron of busted promises, waiting to boil over." But such also was the reality for blacks in Brooklyn in 1991, in Los Angeles in 1992, and so many other places where Jim Crow had left the building but still hadn't entirely closed the door behind him. For African-Americans, Troy Maxson's pain was also ours. Certain paths were closed to us, not because of lack of talent or ambition but because of the color of our skin.
But now, when Denzel Washington summons the Lear-like rage necessary to tell the story, it feels like an extremely famous and successful African-American playing black. I do not mean this as an insult to Washington—his performance is powerful and moving. But it also has the feeling of a history lesson. There is laughter when once there had been silent shock at his plight, judgment when there used to be understanding of his infidelities. August Wilson once said, "Blacks in America want to forget about slavery—the stigma, the shame. That's the wrong move. If you can't be who you are, who can you be? How can you know what to do? We have our history. We have our book, which is the blues. And we forget it all." But in the audience that evening I felt, maybe for the first time in my life, that it is possible to remember our history and not be crushed by it. Suddenly, one can see Fences as the descendant of other classics: Long Day's Journey Into Night, Death of a Salesman, Cat on a Hot Tin Roof. All portraits of the desperation and treachery hiding behind the American Dream—but none about race.
Perhaps the blues—making art out of crumbs—is no longer our artistic modus operandi. We feel pity for Washington's character, but we no longer feel we are sharing the same experience. Wilson himself worried that this would happen. "My plays insist that we should not forget or toss away our history;" he said once. But we are not throwing it away—we are simply able not to take it personally.