Denzel Washington Praised for 'Wise' Words to Will Smith
Denzel Washington is being praised on social media for the "wise" words he apparently offered Will Smith during a commercial break on the night of the Oscars after the actor slapped comedian Chris Rock on stage.
In an already notorious moment of the 2022 Oscars ceremony, Will Smith strode up on stage and slapped Chris Rock in the face after the comedian made a joke about the former's wife Jada Pinkett Smith.
Rock, who was on stage to present the Best Documentary award, said he could not wait for "G.I. Jane 2," a reference to Pinkett Smith's shaved head. In 2018, Pinkett Smith had shared with the public that she had alopecia, a condition that causes hair loss.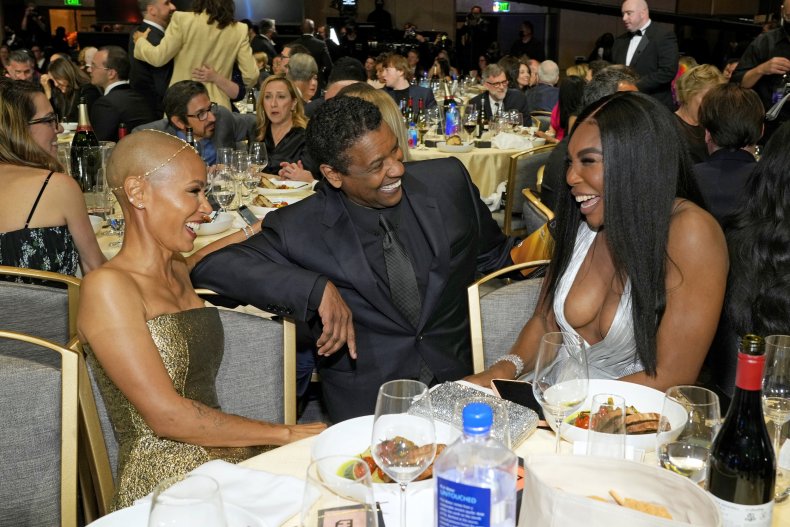 Will Smith can be seen on footage initially laughing to Rock's joke but then getting quite upset when he notices that his wife isn't as amused. Smith then stormed on stage, slapped a stunned Rock and returned to the seat only to twice yell at the comedian: "Keep my wife's name out of your f****** mouth."
During a commercial break following the slap, actors Denzel Washington and Tyler Perry approached Will Smith in an apparent effort to console him and calm him down, as captured by Hollywood Reporter columnist Scott Feinberg.
During his following acceptance speech for the Best Actor award for his role in King Richard, Smith said that Washington told him: "At your highest moment, be careful—that's when the devil comes for you."
Social media users have praised Washington's words and remarked on how he's the only actor worth of praises, while both Rock and Smith's behaviors were condemnable.
The episode has become the most seen and commented moment of Sunday's night, upstaging award winners, a historic breakthrough for the film industry and heartwarming moments among the stars.
Many watching from home were initially not sure whether the slap was scripted or not, but Rock's reaction—and Smith's verbal outburst—gave away that the episode had not been a stunt.
Smith later apologized to the Academy and fellow nominees for slapping Rock, saying that "art imitates life," in reference to the character of the overprotective, sometimes overbearing. Richard Williams—based on Venus and Serna Williams' father—that Smith played in King Richard.
"I look like the crazy father, just like they said about Richard Williams. But love will make you do crazy things."
An outpouring of condemnation and support on social media for one or the other of the two actors involved followed the slap, overshadowing the awards.
On Monday, the Academy declared on Twitter that it "does not condone violence of any form."
"Tonight we are delighted to celebrate our 94th Academy Awards winners, who deserve this moment of recognition from their peers and movie lovers around the world," it added.