Review: Denzel Washington Almost Too Much as 'Fences' Patriarch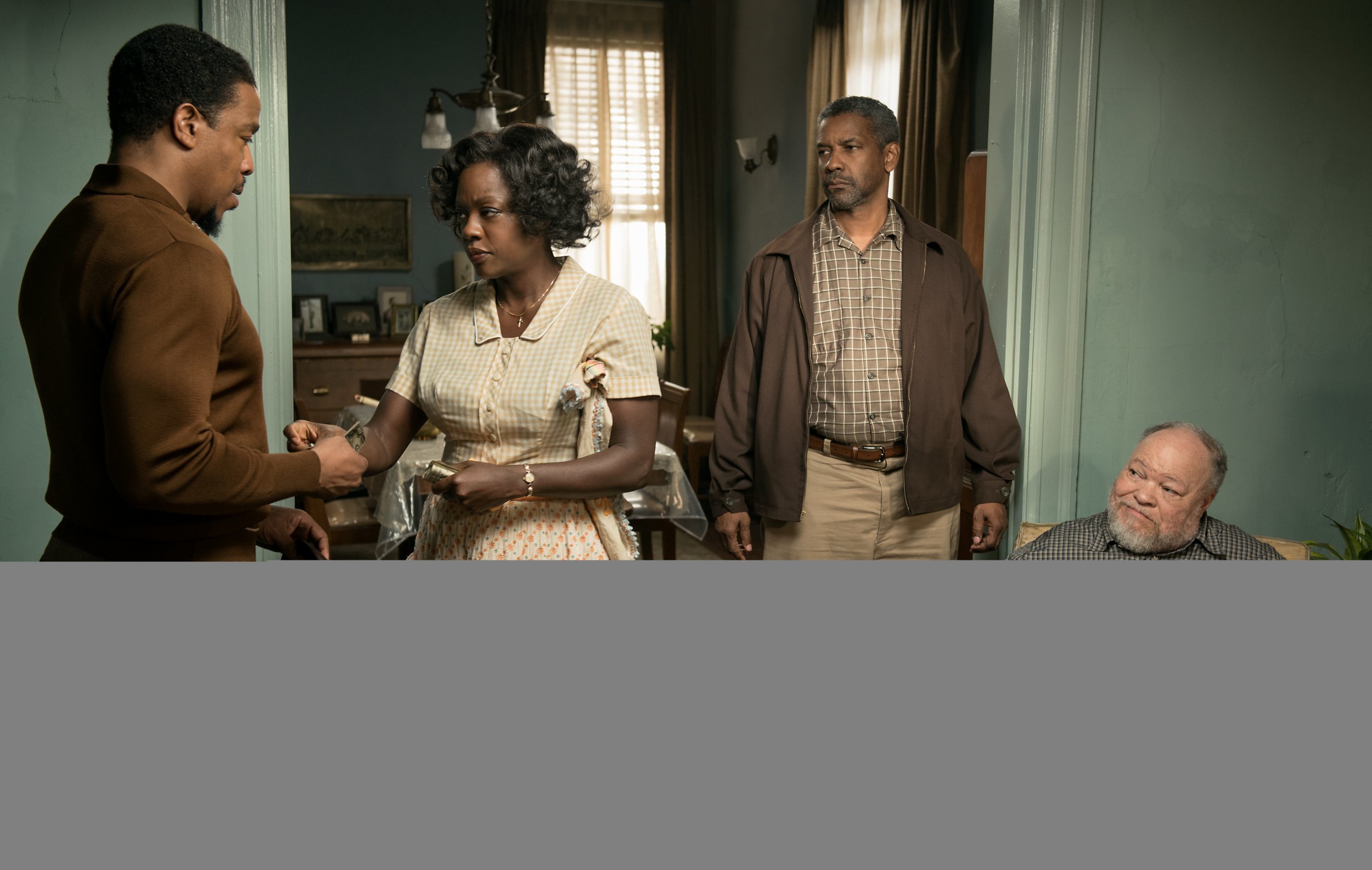 As Troy Maxson, the 1950s Pittsburgh sanitation worker at the center of Fences, Denzel Washington stands slightly stooped, in a way that suggests a lifetime of lifting—but when he talks, he soars. The film, directed by Washington and based on the late August Wilson's 1987 Pulitzer Prize-winning play, comes packed with Wilson's rolling, punchy rhythms. From the moment we first meet Maxson, hanging on the back of a garbage truck and bantering with his friend Bono (Stephen McKinley Henderson), torrents of talk spill from him—tall tales about wrestling death, boasts about his work ethic, profanity-ridden riffs on women and his brief time as a professional baseball player. His speeches would seem prolix were it not for the rapscallion charm Washington invests in this pot-bellied figure. Think Falstaff with a baseball bat, a bottle of gin and a sore heart for having been shut out of the major leagues.
RELATED: 'Loving' tackles racism from the inside out
Washington is enjoyable in the role. Almost too enjoyable: too vital, too vibrant, his smile too bright. For when, during an argument with his teenage son, Cory (Jovan Adepo), Maxson stuns him by saying "liking your black ass was not part of the bargain," you are rocked back in your seat as if stung. Maxson, it becomes clear, is a proud and dignified hard-ass, so busy fulfilling his responsibilities to his dependents—his wife, Rose (Viola Davis); his two sons; and his brother, Gabriel (Mykelti Williamson), a brain-damaged World War II vet who wanders the streets muttering about St. Peter—that love has been lost in the shuffle. "I give you the lint from my pockets," he complains. "I give you my sweat and my blood. I ain't got no tears. I done spent them."
When James Earl Jones created the role for the play's premiere on Broadway, Maxson's shadow side was, by all accounts, deeply inked from the outset. But while the threat of eruption is never far off in Washington's performance—when we hear Maxson once killed a man, it comes as no shock—the paterfamilias who charms us so effortlessly seems too life-loving to be so miserly in his affections. Washington hoots and hollers, sings and dances, canters and claps, cuddles with Rose and cups her backside, letting loose a Tarzan yodel after she departs. He acts as if the whole production depended on it, which in a way it does. But his performance is also unflagging in another way: as if he fears the material might otherwise prove too inert.
Most of the film is set, like the play, in Maxson's backyard, where we find his bat, his booze and the bulk of the symbolism. And not least the fences of the title—standing in for the barriers of race and family, and the frighteningly porous border between life and death. "Death is a fastball coming on the inside corner," says Maxson, who engages in occasional soliloquies notionally addressed to the Grim Reaper. "You gotta take the crookeds with the straights," says his elder son, Lyons (Russell Hornsby), continuing the baseball theme. By the time Rose has chimed in about her dreams for "a house I can sing in," and Cory about the "empty spaces" in their existing home, the script has severed its connection to street vernacular and is fast approaching full symbolic gridlock. Nobody outside of the theater talks like this.
That the film doesn't seize up completely is largely down to Washington's infinite zest, some nicely prowling cinematography from Charlotte Bruus Christensen and a quiet, plain-spoken performance from Davis that builds toward a stunning rebuke of her husband's silver-tongued selfishness. "What about my life?" she cries, all snot and fury, in a scene that loses a little strength from having been featured so heavily in the trailers. But there's no doubting this woman's stoicism and fatigue, nor her brimming heart. Davis deserves all the awards coming her way for this performance: It's a fastball with wicked spin.