Deontay Wilder vs. Tyson Fury 2 Predictions: Experts Pick Winner of WBC Heavyweight Rematch
Tyson Fury and Deontay Wilder collide in one of the most-awaited fights of the year in Las Vegas, Nevada, on Saturday night. It's been 15 months since the duo boxed each other to a standstill in Los Angeles, with the bout ending in a controversial split draw.
While Fury arrived into the first fight with just six months of boxing under his belt following a three-year layoff, the Briton expects to be in peak form on Saturday.
Both boxers have won two bouts each since colliding in Los Angeles and the status quo hasn't changed. Wilder is the more powerful puncher of the two, while Fury is the better boxer.
In 2018, the Briton outboxed the American for large spells, before being floored in the final round and somehow beating the count.
Despite the trash-talking in the lead-up to the fight, there's little to suggest the rematch won't unfold along similar lines.
Here's how six former world champions and a promoter expect the fight of the year to pan out on Saturday night.
Anthony Joshua—Two-time unified heavyweight champion
Joshua is also in the camp of those believing Fury's boxing ability will prove too much for Wilder.
"I hope Fury wins," he said in an interview with Pep Talk UK. "I think the man that nearly did it the first time won't get it wrong the second time. He came so close, to the point of a draw, so I think Fury will come back and win."
Mike Tyson—Former undisputed unified heavyweight champion
Fury hit the canvas in the final round of the first fight but somehow beat the count, and Tyson believes that kind of attitude gives him an edge on Saturday.
"I don't care how hard you punch, it's hard to beat somebody who doesn't wanna quit. [...] It's gonna be a really, really interesting fight and both guys have something to prove," he told BT Sport.
"I just wish the best for Tyson Fury, I'm always a Tyson fan."
Sugar Ray Leonard—Former world champion in five weight divisions
Fury may be a better boxer than Wilder, but Leonard expects the American to finish the job if given the chance this time.
"I know that Fury has excellent boxing abilities and a tremendous chin from the way that he got up from the two knockdowns in their previous fight," he told BBC Sports.
"In the end, I think that Wilder is always in shape and that he will use his speed and power to get the job done."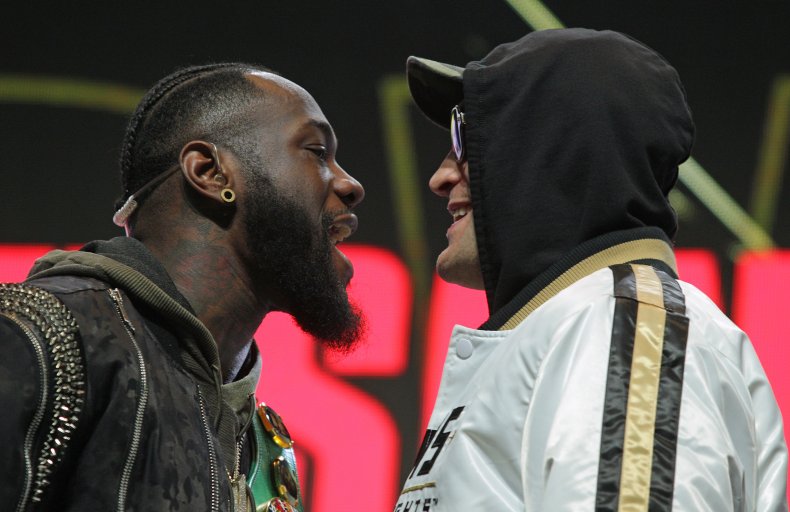 Joseph Parker—Former WBO heavyweight world champion
"I believe Fury can pull it off by the approach he said he will do of putting on more pressure and taking it to him. I believe boxing ability beats power," he told VegasInsider.com
"Coming forward, back, forward in his movement, he looks like he is implementing what he is saying he is going to do which to come forward, throw more punches, be more aggressive—I think Tyson is going to try to knock Wilder out at some stage of the fight, for sure."
George Foreman—Former WBA, WBC, The Ring heavyweight champion
Wilder floored Fury in the 12th round 15 months ago but the Briton survived to earn a split draw. Foreman believes the fight will again go the distance on Saturday, with Fury coming out on top this time.
"I pick Tyson Fury to win on points [...] and it'll probably be a controversial decision," the former heavyweight world champion told Bookies.com
"The world will be talking about heavyweight boxing after this match. It's going to be good for boxing."
Frank Warren—British promoter
Like Foreman, Warren suggests Wilder has to knockout Fury to win the fight or faces the risk of being outboxed.
"Deontay Wilder is a massive puncher, he is dangerous every second of the round," he said.
"But he ain't ever going to outbox Tyson Fury. So he is going to go in looking to take him out, that's all he can do. He cannot out-point Tyson.
"Tyson might rely on the judges again, but I think he can box his head off for the 12 rounds - but I think Tyson is capable of stopping Wilder."
Manny Pacquiao—former 12-time world champion
Like Leonard, Pacquiao believes Wilder's heat-seeking right hand will prove too much to handle for Fury.
"Never bet against a puncher, particularly one like Wilder," the Pac-Man said. "I look at him like I do at a Mike Tyson, another puncher. I see Wilder winning this rematch by 10th-round knockout."