The Department of Commerce Is Selling Out American Workers for China. Biden Must Stop It | Opinion
The Democrats in the U.S. Congress are set to move forward with the Inflation Reduction Act of 2022. The proposed package will allow us to reduce the deficit, accelerate energy production, and support the domestic production of more goods. For instance, in order to qualify for an energy subsidy, a car battery now must be made in the U.S., rather than China. But this is just the beginning when it comes to policies that favor domestic manufacturing and make us less dependent on China.
As a Governor and U.S. Senator representing the great state of Indiana for many years, I must admit that policies which hurt Indiana workers are deeply personal to me and my family. As you may know, the Hoosier State has the largest number of manufacturing employment per capita in the nation.
It's essential that we protect American manufacturing jobs in Indiana and across America. For example, the $12 billion domestic cabinet industry that employs 250,000 American workers, supports more cabinet manufacturing jobs in Indiana, that in any other state. An upcoming decision involving unfairly traded imports of cabinets from China presents President Biden with an opportunity to fulfill his promise of strictly enforcing our trade laws regarding China.
In 2019, the domestic cabinet industry was under attack from China's predatory trade practices, with 40 percent of the U.S. market controlled by China. The domestic industry filed antidumping and countervailing duty petitions with the U.S. Department of Commerce, which found that Chinese imports were unlawfully dumped in the U.S. market and subsidized by the Chinese government.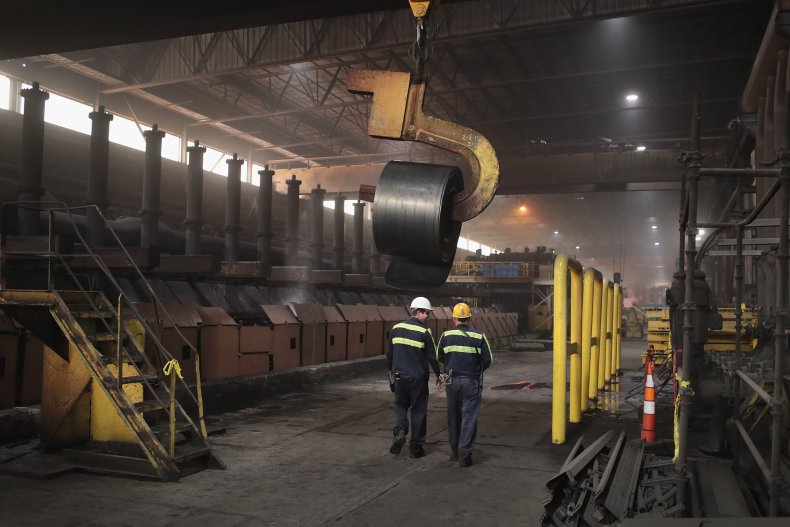 In April 2020, the U.S. Department of Commerce issued orders imposing anti-dumping duties up to 262 percent and countervailing duties up to 293 percent to protect domestic manufacturing jobs by leveling the playing field for domestic cabinetmakers.
Today, the cabinet industry in Indiana is rebuilding. Small businesses like Amish-owned Kountry Wood Products in Nappanee, Indiana are investing $14 million to expand operations and create new jobs. The duties are allowing Indiana workers to buy their first homes, put their kids through school and live the American Dream.
All over the nation, we are seeing thousands of new cabinet manufacturing jobs being created in Indiana, Pennsylvania, Alabama, Georgia, Washington State and North Carolina, to name but a few. Many of these states will be critically important to the 2022 midterms and President Biden's re-election efforts in 2024.
The stakes have never been higher for 250,000 American families as the U.S. Department of Commerce is conducting the first annual review of the antidumping duty order that will determine whether strong relief will remain in place against all Chinese exporters. In the preliminary results of the review, Commerce assigned zero dumping margins to 16 Chinese exporters and producers based on a policy that treats China more favorably than almost every other country in the world.
Unfortunately, on this occasion, Commerce failed to follow the expected method outlined by Congress and instead assigned the non-examined Chinese exporters the rate of 0.00 percent. The simple reality is that if this becomes final, it will allow China to re-enter the market by the back door.
Prior to the duties coming into effect, the domestic cabinet industry was on the brink of collapse. Underserved communities will be hit the hardest if the Commerce does not right this wrong. Minorities and unserved communities represent more than 40 percent of the 250,000 American jobs in the cabinet industry.
In the U.S. Congress, a bipartisan group of 25 U.S. Senators and 100 House Members signed a letter calling for these duties to be put into place. This is not a Republican or Democratic issue; this is about protecting American jobs and rebuilding our middle class.
My friend President Biden was elected on a promise to be the most "pro-labor President ever" with a "worker centric approach" to trade policy. As we approach the 2022 midterm elections, the Biden Administration should stand with American workers. If we do so, these working families will once again stand with President Biden and Democrats in the midterms.
Any failure by the Administration to correct this policy will cripple underserved communities who depend on these family sustaining jobs. We must strictly enforce our nation's trade remedy laws against China, in the same way that they are enforced against our other trading partners, as we work to rebuild our middle class.
Now is the time for the Biden Administration and the U.S. Congress to stand up to China, stand with 250,000 American cabinet workers and support domestic manufacturing as we work together to Build Back Better.
Evan Bayh served as a U.S. senator from Indiana from 1999 to 2011 and as the 46th governor of Indiana from 1989 to 1997.
The views expressed in this article are the writer's own.