U.S. Military Will Stop Providing Coronavirus Data About Its Ranks For Fear Enemies Will Use It Against Them
The Department of Defense will stop providing more precise data about the coronavirus' spread throughout the armed forced over fears that such information could be weaponized by adversaries, Defense Secretary Mark Esper said in an interview Thursday.
"What we want to do is give you aggregated numbers," Esper told Reuters. "But we're not going to disaggregate numbers because it could reveal information about where we may be affected at a higher rate than maybe some other places."
On Wednesday, the Pentagon announced its first positive case, a Marine stationed at the department's sprawling headquarters in Arlington, Virginia. Esper also recently announced the elevation of the Health Protection Condition (HPCON) level to Charlie, the scale's second-highest designation. The condition was applied to Department of Defense installations globally and indicates "sustained community transmission" of an infectious disease.
"Prepare for the potential of limited access to supplies and services, including severely restricted access to military installations," Army guidance warns.
Military Times reports that the number of coronavirus cases in the Department of Defense's purview stands at 453—which includes service members, civilians and contractors—with 227 occurring specifically among troops, an increase of 30 percent.
"I'm not going to get into a habit where we start providing numbers across all the commands and we come to a point six, seven weeks from now where we have some concerns in some locations and reveal information that could put people at risk," Esper said about the new reporting restrictions.
There are currently 9,000 National Guardsmen across the country helping states carry out their response efforts to the virus outbreak. In New York, Washington and California, President Donald Trump has authorized state forces to operate under Title 32 status, meaning they can make use of federal resources while remaining under the direction of their respective governors.
Reuters reported that individual branches of the military are experiencing the vast majority of new infections inside the United States. The Air Force said 85 percent of its confirmed cases have occurred stateside, and in the Navy this number was as high as 90 percent.
"You have far, far, far greater control of your service members when you're deployed abroad, even when you're stationed abroad, than you do back in the United States," Esper explained to the news agency.
The Army, which did not answer Reuters' inquiry on this subject, is deploying an "all-out effort" to fight the virus amid reports that it is scrambling to contain its spread within its ranks.
Task & Purpose reported that Army officials at the Pentagon sent a notice to individual commands on Monday warning that "mitigation measures taken by the U.S. Army to blunt the spread of COVID-19 have proven insufficient."
According to the report, the branch is short by nearly $900 million in funds needed to sustain its disease-fighting efforts.
A Pentagon spokesperson did not respond to a request for comment about what coronavirus data within the military would remain available when the new restrictions are imposed.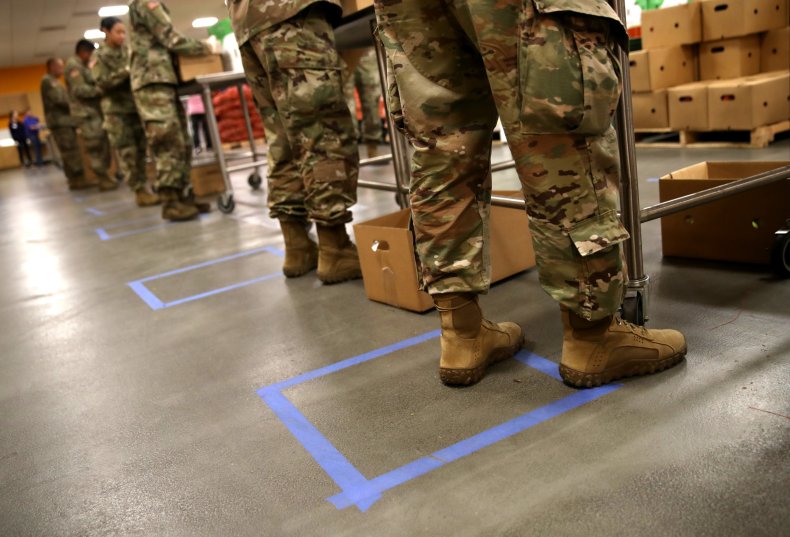 U.S. Military Will Stop Providing Coronavirus Data About Its Ranks For Fear Enemies Will Use It Against Them | U.S.