U.S. Students Filed Record 10,000 Civil Rights Complaints Last Year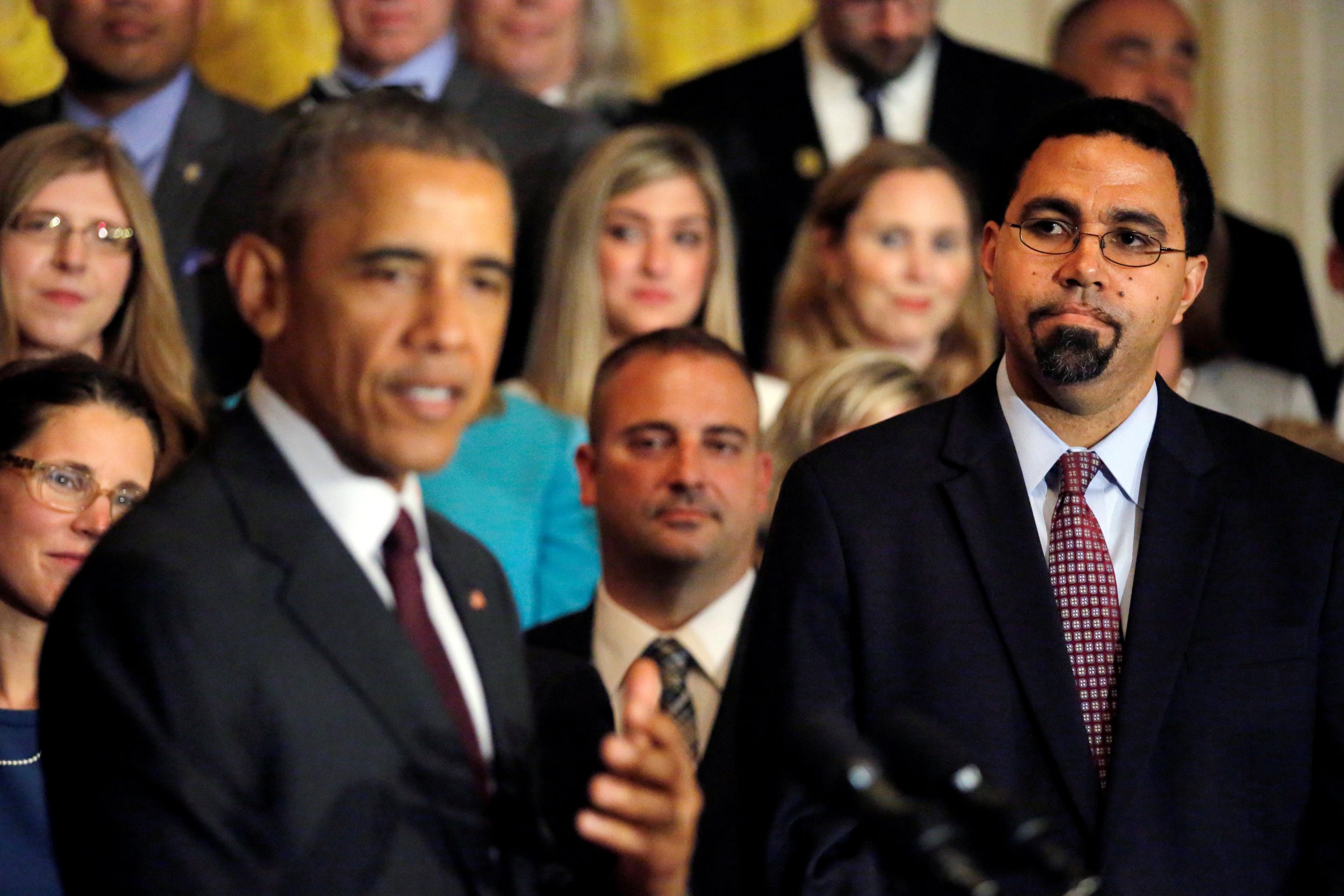 The U.S. Department of Education's Office for Civil Rights (OCR) received a record number of complaints last year—more than 10,000, nearly twice the number it received a decade ago, and the highest number since OCR was established in 1980.
According to OCR's report for the 2015 fiscal year, released Wednesday, it received 10,392 complaints during that period, as compared with 5,533 in 2005. The office said it opened more than 3,000 investigations last year and reached more than 1,000 resolutions.
"Far too many students lack robust access to the core elements of quality education—or face barriers to their education in the form of discriminatory harassment, violence, or exclusionary discipline, or other types of discrimination," Assistant Secretary for Civil Rights Catherine Lhamon wrote in the report, titled "Delivering Justice."
OCR reports that it has seen increases in complaints related to the restraint and isolation of students with disabilities; racial harassment; inadequate support for students learning English; and sexual violence.
Almost half of all complaints last year, or 46 percent, alleged discrimination against students with disabilities. The most common complaint involving those students claimed that the student was not receiving a "free appropriate public education." Hundreds also claimed "different treatment, exclusion or denial of benefits," or "retaliation."
The OCR report says complaints about the alleged restraining or isolating of those students, typically for apparent behavioral issues, have increased 58 percent since 2014. Advocates for those students have called for an end to the use of such practices.
"There are literally thousands of students every day in U.S. schools who are secluded and restrained, and there's a lot of research demonstrating that kids have profound mental health issues that result from that," says Jennifer Kurth, a board member of TASH, an advocacy organization for people with disabilities.
"Because a lot of times these are kids who don't have the verbal skills to go home and say 'This is what happened,' parents might not even know about it," says Kurth, who also serves as co-chair of the organization's Inclusive Education Committee.
Just more than a quarter of total OCR complaints last year—28 percent—were related to sex-based discrimination. Of those, 536 were related to sexual harassment or violence, while the majority, 1,771 complaints, involved school athletics. The number related to sexual violence at colleges rose to 164 in 2015 from 11 in 2009, the report says.
Another 21 percent of complaints were related to discrimination based on race or national origin. The number of racial harassment complaints OCR received at the college level in 2015, 146, was almost three times the amount in 2005. Five percent of total complaints involved age-based discrimination.
OCR noted that while its workload has reached an all-time high, its staffing level is at an all-time low, at 540 people.
"We are really pleased to see that OCR has become more aggressive in recent years, aggressive in terms of of issuing meted guidance to help aid school districts who are seeking and need to comply with the law," says Kristen Clarke, president and executive director of the Lawyers' Committee for Civil Rights Under Law, a nonprofit that provides legal services in cases involving discrimination.
Though it is possible that certain forms of discrimination in U.S. schools are more prevalent in recent years, observers say the rise in the number of complaints is likely more related to the growing visibility of certain issues, such as how schools are handling sexual assault and harassment, racial injustice and the treatment of transgender students.
Brenda Shum, director of the Educational Opportunities Project at the Lawyers' Committee, says the uptick in complaints is likely related to the guidelines OCR recently issued on various topics. Those guidelines "do a better job of explaining to the public and to both state and local education agencies what their obligations are under our federal civil rights statutes," she says. The increase could also have to do with better data-keeping by OCR.
Some people have said such guidance is overreaching, especially OCR's 2011 "Dear Colleague" letter, which offered information to schools on how to handle sexual violence claims. Those critics say the guidance discriminates against students accused of committing assault.
Last month, OCR was sued by Grant Neal, whom Colorado State University-Pueblo suspended last fall after he was accused of rape. He alleged the "Dear Colleague" letter violates the federal Administrative Procedure Act because it acts as a rule without having gone through the necessary notice and review process.
State Representative Earl Ehrhart of Georgia filed a similar lawsuit against OCR last month, also citing its sexual assault guidance and the Administrative Procedure Act. The Foundation for Individual Rights in Education, a nonprofit focused on students' free speech and due process rights, has said it is pursuing similar legal action against OCR.
Another group, Families Advocating for Campus Equality, which advocates for the due process rights of students accused of sexual misconduct, filed testimony with a Senate subcommittee in April in which it opposed a proposal to increase OCR's funding. The organization has said such an increase "will only reward OCR for its much-criticized overreach."
"We're looking at equity for all parties," Lhamon told Newsweek last year in response to claims that OCR is biased against male respondents in Title IX cases. "We are very open to hearing about fairness for accused students as well as fairness to students who are accusers."
She added: "We are deeply concerned if schools don't follow the law. We are deeply concerned if schools are not fair to their students."
Secretary of Education John King said in a statement Wednesday that OCR's work over the last year "has been absolutely pivotal to advancing the department's goal to increase equity and opportunity for all students." He added: "The department's message to the public is clear: We are committed to working with and supporting schools to protect students' civil rights—and we will take action to secure those rights when necessary."