Justice Department Plans 'Thorough, Impartial' Investigation of Chicago Police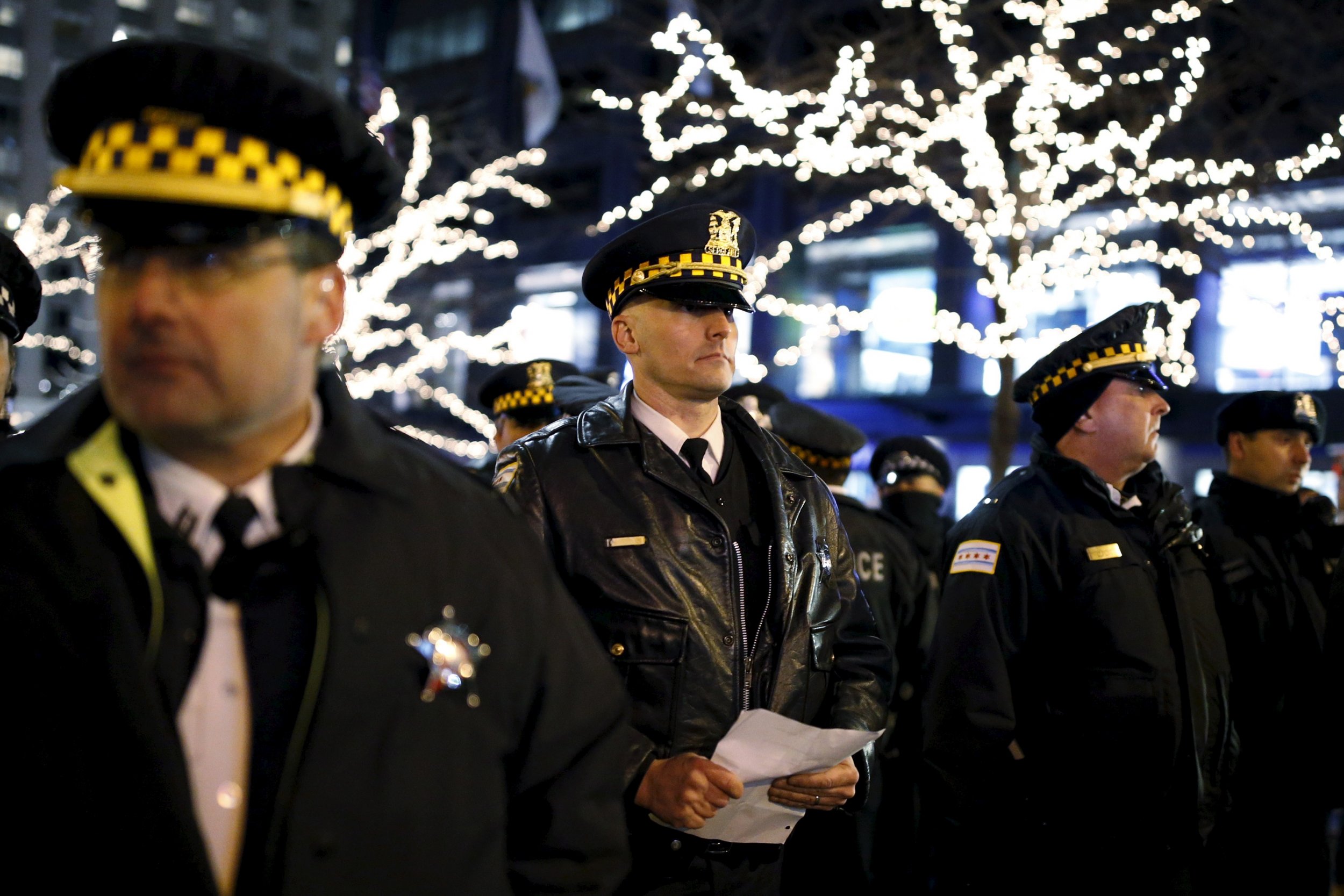 Updated | The U.S. Department of Justice has opened what it says will be a "thorough, impartial and independent" review of the Chicago Police Department, following intense protests against the fatal, police-involved shooting of Laquan McDonald, a 17-year-old black man, U.S. Attorney General Loretta Lynch announced Monday morning.
A judge last month ordered the release of dashboard camera video footage showing Chicago officer Jason Van Dyke firing at McDonald 16 times within seconds of exiting his police vehicle in October 2014. The video footage taken from the patrol car set off protests around the Illinois city.
Van Dyke has been charged with first-degree murder. His lawyers say the shooting was justified because he felt threatened.
"The Department of Justice is committed to upholding the highest standards throughout the United States. Every American expects and deserves the protections of law enforcement that is effective, responsive, respectful and, most importantly, constitutional," Lynch said during a press conference.
"When community members feel they are not receiving that kind of policing, when they feel ignored, let down or mistreated by public safety officials, there are profound consequences for the well-being of their communities," she added.
The DOJ's investigation will seek to determine if the Chicago Police Department has engaged in a pattern or practice of violations of the Constitution or federal law.
"Specifically, we will examine a number of issues related to the Chicago Police Department's use of force, including its use of deadly force, racial, ethnic and other disparities in its use of force," Lynch added.
Lynch's announcement also comes in the wake of Chicago Mayor Rahm Emanuel asking Police Superintendent Garry McCarthy to step down from his role after four years. Emanuel simultaneously created a task force that will focus on police accountability.
The investigation into McDonald's death is ongoing.
Also on Monday, Cook County State's Attorney Anita Alvarez announced that no criminal charges will be brought against Chicago officer George Hernandez in the fatal shooting of Ronald Johnson III in October 2014. She said video footage from a dashboard camera showed Johnson was wielding a gun before the officer fired at him. He died eight days before McDonald was shot to death.
The 1994 Violent Crime Control and Law Enforcement Act allows the federal government to review local law enforcement procedures. The department has conducted dozens of such investigations.
Several state and local officials, as well as community leaders, requested the DOJ investigation. Attorneys from the Civil Rights Division will carry out the probe, with the help of the United States Attorney's Office for the Northern District of Illinois. They are expected to meet with members of the community.
Chicago's Police Department will be the latest under pressure in a string of recent investigations into law enforcement agencies around the country. Earlier this year, the agency decided to review the practices and procedures of the police in Baltimore, where 25-year-old Freddie Gray died while in police custody.
In December 2014, federal authorities launched a civil rights investigation into the death of 43-year-old Eric Garner in the New York City borough of Staten Island. A police officer placed Garner in an apparent chokehold that allegedly led to the man's death. The DOJ launched an investigation in Cleveland, after the police-involved shooting of 12-year-old Tamir Rice, that spanned more than 18 months.
In Ferguson, Missouri, where the DOJ ultimately cleared officer Darren Wilson of any wrongdoing in the death of 18-year-old Michael Brown in August 2014, federal authorities criticized the city for civil rights violations against African-American citizens by its police department and courts.
If the team determines Chicago's police department uses unconstitutional patterns of policing, Lynch said the DOJ will announce those findings publicly.
"Our goal in this investigation, as in all of our pattern of practice investigations," she added, "is not to focus on individuals but to improve systems."
This article has been updated to include the state's attorney's decision not to bring criminal charges against Hernandez.
Justice Department Plans 'Thorough, Impartial' Investigation of Chicago Police | U.S.