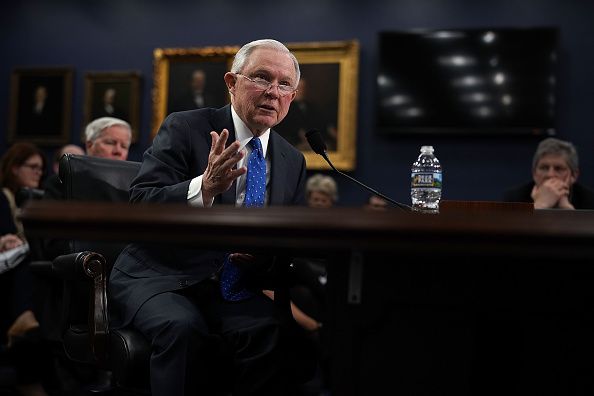 The Department of Justice has scrubbed and revised language concerning press freedom and civil rights from its manual for federal prosecutors.
In a broad revamping—the first in over 20 years—a subsection titled "Need for Free Press and Public Trial" was taken out, reported BuzzFeed. Additional changes included removing mentions of racial gerrymandering; language about literacy testing bans and poll taxes remained.
"The purpose of that review is to identify redundant sections and language, areas that required greater clarity, and any content that needed to be added to help department attorneys perform core prosecutorial functions," Ian D. Prior, a spokesperson for the Department of Justice, told Newsweek in a statement.
While it represents "a quick and ready reference of internal department policies and procedures," it is not intended to be an "exhaustive list of constitutional rights, statutory law, regulatory law or generalized principles of our legal system," Prior said.
The manual has updated current language such as "the right of the public to have access to information about the Department of Justice," which, according to BuzzFeed's report, was meant to "balance out" the now excluded parts.
"Taken in isolation, I'm not sure how much we should read into the language changed in the DOJ manual, or how much it will actually impact the work of line prosecutors," Alexandra Ellerbeck, the North America program coordinator for the Committee to Protect Journalists, told Newsweek.
Former federal prosecutor Patrick Cotter also expressed a need for caution in evaluating the edits. "It would be a mistake to attribute too much significance to them," Cotter said. But, he notes, it could be an indicator of the general climate under the current DOJ leadership.
Ellerbeck pointed out, however, that removing the "need for the free press" section is concerning, considering the level of hostility toward journalists. Since President Donald Trump has taken office, he has popularized the term "fake news" and derided journalists at press conferences. The administration has also made repeated threats to go after leakers, Ellerbeck said. Attorney General Jeff Sessions said in November there are 27 open leak investigations. In comparison, Sessions noted that during former President Barack Obama's administration, the DOJ investigated "three per year."
Reporters Without Borders released its annual World Press Freedom Index last week and cited an increasing sense of "hostility" toward the media. The watchdog organization labeled Trump as a "media bashing enthusiast," while revealing that the U.S. fell back two places in rankings.
"I think we're one of the most accessible administrations that we've seen in decades," White House press secretary Sarah Huckabee Sanders said in response, calling it "pretty ridiculous to suggest otherwise."