Hunt For Man Who Allegedly Staged Armored Truck Heist End in DMV Arrest, Suitcases of Cash Found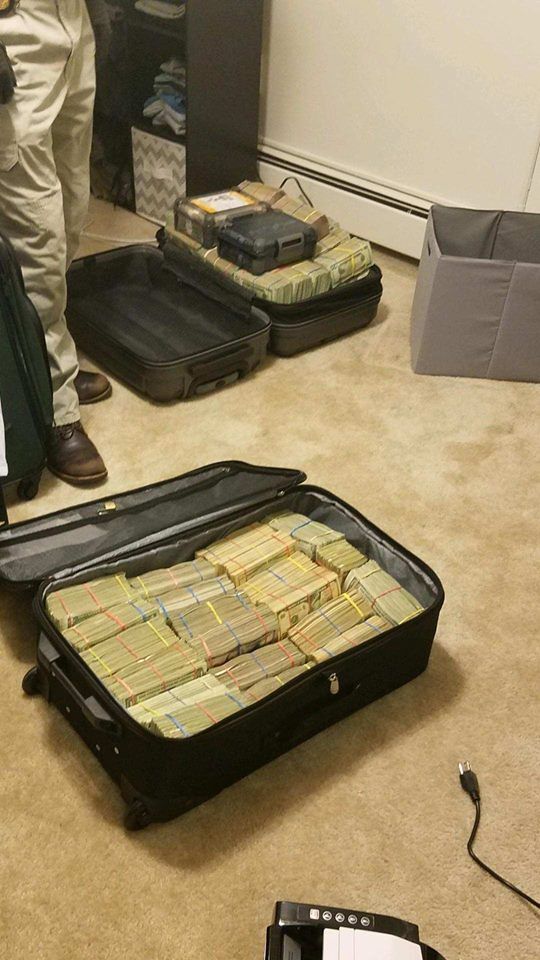 He went to take driver's license photo and ended up with a mugshot.
Something wasn't right about the man applying for a driver's license at around 8:20 a.m. Wednesday inside of the Department of Motor Vehicles (DMV) in Wethersfield, Connecticut.
A vigilant clerk recognized a forged birth certificate and alerted the cops.
"I knew something was up," said Wethersfield police Officer Justin Hilchuk, who was dispatched to the DMV that day. "Something wasn't right. He gave a lot of good answers. He lied pretty well."
The alleged driving deviant turned out to be 28-year-old Mark Espinosa, who'd been wanted by the law since he vanished, along with a truckload of cash, on December 5, near the Jefferson Mall in Louisville, Kentucky.
Now exposed, the heavyset man, who appeared to have shaved his head and trimmed his facial hair since going on the lam, tried to flee again.
But Officer Hilchuk caught up to him in the hallway. Espinosa allegedly gave a false name.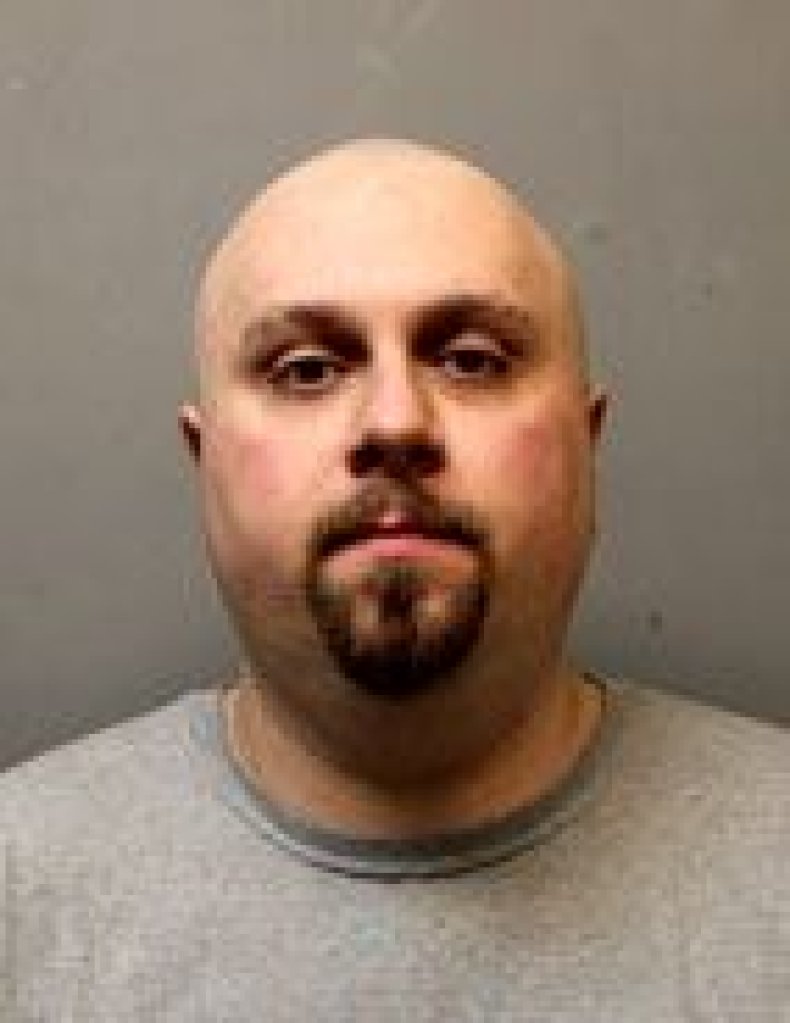 Once the mystery man was back at Wethersfield police headquarters, he couldn't escape anymore.
"They took his fingerprints with the machine. Within a couple minutes on that we actually got a call from Louisville [Metro Police] saying this individual was wanted down there," said Wethersfield Police Chief James Cetran.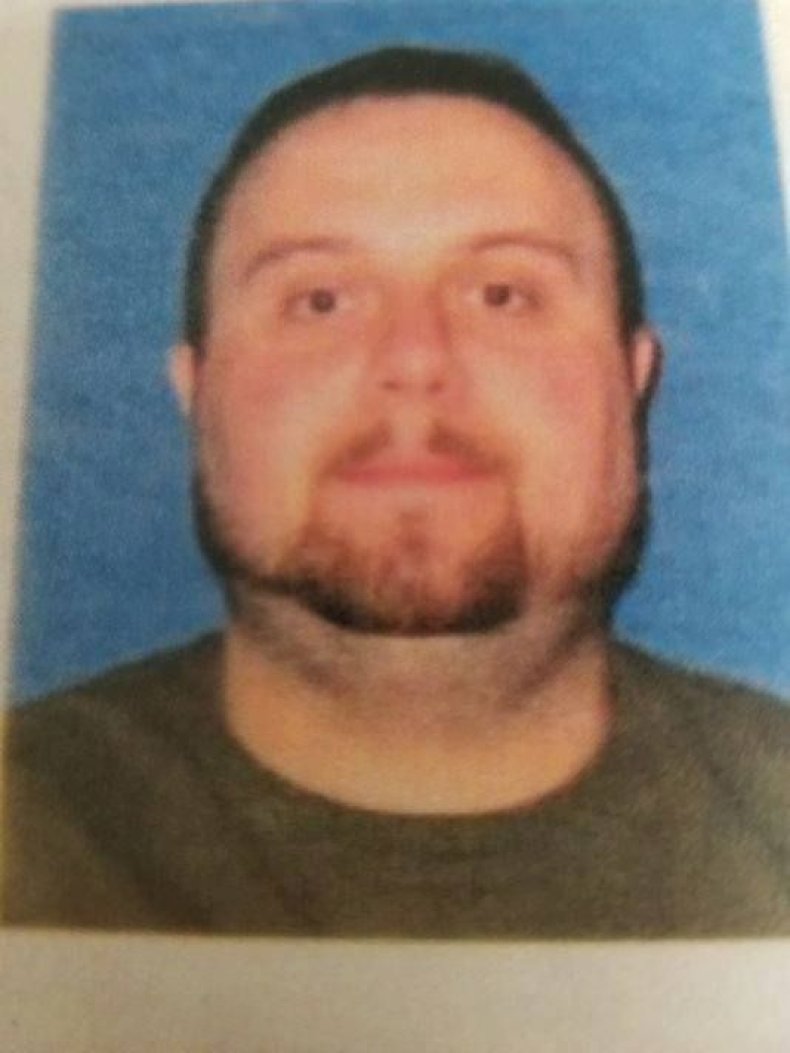 The link was no surprise since there was a reward for Espinosa's capture after the feds fingered him for the armored truck heist.
"A joint investigation between the FBI's Louisville Field Office and the Louisville Metro Police Department in Kentucky has revealed information indicating that Espinosa was allegedly directly involved in the theft," the driver's "Wanted" poster read mere days after the heist of "hundreds of thousands of dollars."
It also mentioned how Espinosa had direct ties to New Britain, Connecticut.
Armed with a search warrant, federal and local officers raided Espinosa's Middletown, Connecticut, home and discovered suitcases stacked to the seams with brick-sized bundles of "significant amount of cash"—believed to be the same cash fleeced from an armored GardaWorld truck where Espinosa worked.
The arrest ended a weekslong pursuit of the missing currency and Espinosa, who was in the wind ever since the man's armored truck was found ditched and emptied of its cash.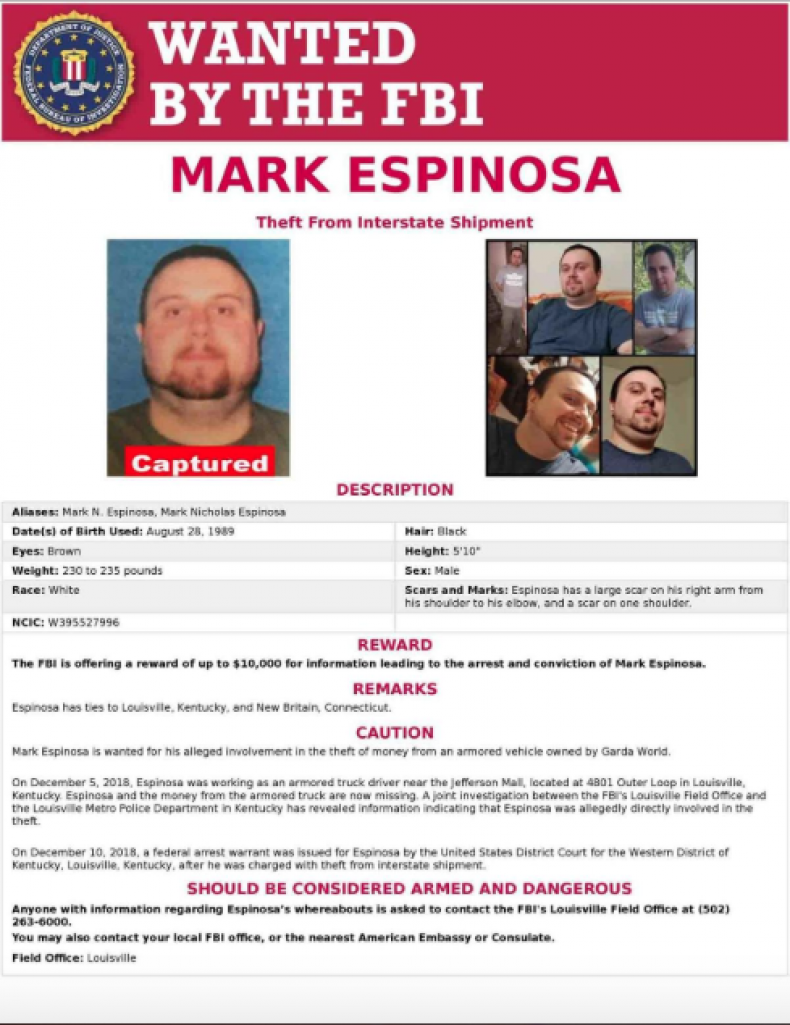 Espinosa allegedly attempted to gin up a scheme to make it look like he was robbed and kidnapped.
"We had a pretty quick reference that this was most likely not a random act of violence," Louisville Metro Police Detective Dan Mason said. "It was staged as a random act of violence, we believe. But we learned this was not the case."
On Thursday, Espinosa appeared before a judge in a New Britain, Connecticut, court to face the forged document and interfering with an officer charges. He was placed in federal custody, where he will answer to theft from interstate shipment.