Alt-Right Celebrates Trump at 'Deploraball,' Says Media Is Next Target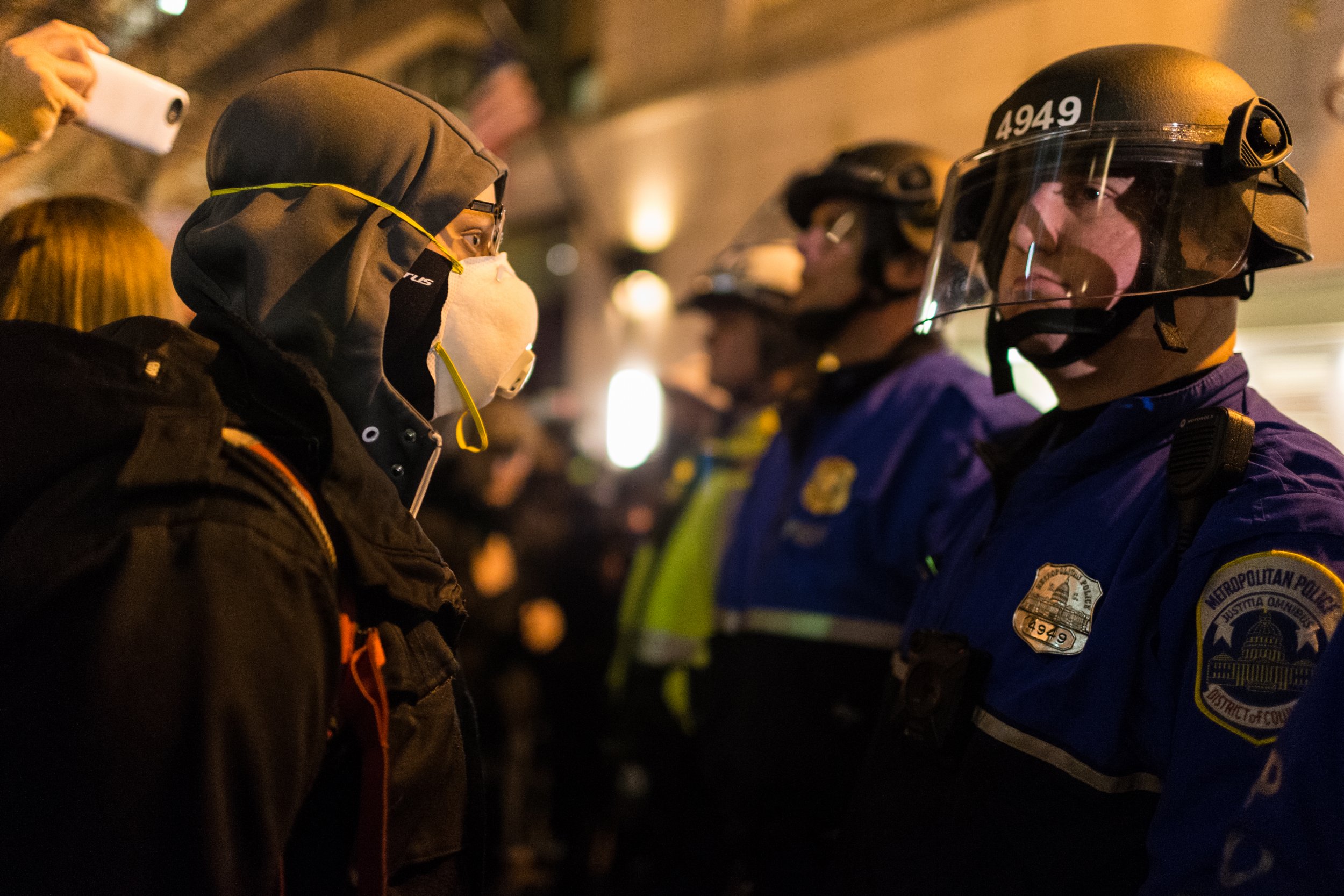 Some of the stars of the alt-right and white nationalist movements, trailing cigar smoke and decked in furs and tuxedos, braved a gantlet of some 200 chanting and sometimes violent protesters Thursday night to celebrate Donald Trump's presidency at a "Deploraball." Dozens of Washington, D.C., riot cops, supplemented by private security, formed a human shield for the party-goers from people screaming "Nazi" and "Racist" at them, to enter an elegant federal style building in downtown Washington.
RELATED: Bikers for Trump stakes out turf
For a group that's been at war with the media all year, and whose hero calls CNN "fake news," and personally singles out journalists for abuse, the venue was stunning: The National Press Club. The location seemed selected for the purpose of poking a stick in the establishment eye, and yanking the chain of the mainstream media, but in fact it was the group's second choice, after a venue in Arlington, Virginia, backed out.
Right-wing political provocateur James O'Keefe, the political activist whose impersonations in his various "stings" at Planned Parenthood led to the meme that Planned Parenthood sells dead baby parts, chose the venue to threaten journalists. "Everyone's saying, who are you going after next? I'm going to tell you. I'll make it public. I'm going after the media next."
Incoming National Press Club President Jeff Ballou answered some questions about how and why the National Press Club hosted the "Deploraball."
How did this event come to be at the National Press Club?
First, I'm glad that there was a robust exercise of the First Amendment, both inside our club and outside on the street, and I am particularly happy that there were no serious injuries. That's part of what the USA is about—free speech.
To your question. The organizers approached our staff last year to rent our space as many supporters of past winners of the presidency and state societies have done for decades. My predecessor, along with our staff, carefully negotiated the deal and briefed our club leadership. They did not bill this as an alt-right event and uninvited several people whom we recognized as objectionable and could be the walking epitome of yelling fire in a crowded theater, to invoke a Supreme Court decision. We agreed to rent the space to the organizers both on First Amendment grounds and recognizing that legally, we were counseled that local human rights law dictates—even to private organizations, that they cannot discriminate against political speech. Succinctly put, the same law in D.C. that prevents a bakery from discriminating against an LGBTQ couple from buying a wedding cake, applies to us and the organizers of the Deploraball.
Did a member arrange it and if so, which member?
No, a member did not arrange for booking the event. We did not sponsor, host or endorse this event in any way. Membership is not a requirement for renting our space.
Is the Breitbart organization a member?
Not as an entire group, but yes, there is one member who belongs to the Breitbart organization. Said member did not initiate nor had any role in facilitating the Deploraball. Also bear in mind that we have non-journalist communications professionals and news sources as nonvoting members.
Are you aware that James O'Keefe announced that his next target would be the media? Any comment on that?
First of all, Mr. O'Keefe is free to exercise his First Amendment rights—even in our home. Second, if he'd rather understand than fight the journalism profession, he now knows our address. I'm happy to listen to and educate him on the great work of our members and colleagues at large as we at the National Press Club have done for more than a century. Third, it's clear we're leading by example of constitutional and legal tolerance because he made his declaration here.