A Republican candidate in Georgia's gubernatorial race is bringing a "deportation bus tour" to sanctuary cities throughout the U.S.
Georgia Senator Michael Williams premiered a commercial on Tuesday promoting a bus tour that would send undocumented immigrants "back to where they came from."
"We're going to implement my 287(g) deportation plan that is going fill this bus with illegals to send them back to where they came from," said Williams. "We're not just going to track them and watch them roam around our state, we're going to put them on this bus and send them home."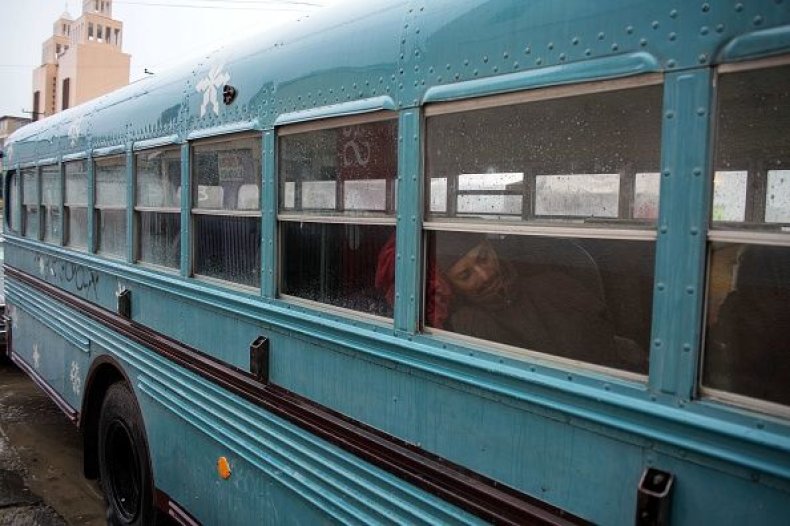 Williams was a former co-chair of President Donald Trump's campaign in Georgia. The senator describes himself as "anti-political correctness, anti-liberal, anti-establishment, and pro-Georgia." According to his emails, Williams is a big supporter of the federal 287 (g) immigration program, which allows local and state law enforcement to work together with the U.S. Immigration and Customs Enforcement to arrest undocumented immigrants based on criminal charges unrelated to immigration.
The senator urged viewers to sign up for emails from deportationbus.com to receive the upcoming dates for the tour during the video.
According to the video, the back of the bus reads "Danger! Murderers, rapists, kidnappers, child molesters and other criminals on board." Right below is a "Follow me to Mexico" sign.
"If you're as tired as I am with politicians that do nothing but talk, and you want to see this bus filled with illegals, vote Michael Williams on May 22nd," Williams said.
Newsweek has reached out to Williams for comment about the tour but did not hear back in time for publication.
In April, 225 people were detained by the U.S. Immigration and Customs Enforcement (ICE) in New York over a span of six days. According to the agency, they held 180 people who are convicted criminals or have pending criminal charges. ICE blamed New York City for having "created another magnet for more illegal immigration, all at the expense of the safety and security of the very people it purports to protect."
The Trump administration expanded immigration enforcement programs in Georgia in March, The Atlanta-Journal Constitution reported. There are four counties in the state currently participating.
The bus tour is set to begin in the Georgia counties of Clarkson, Decatur and Athens on May 16, according to a press release sent by the campaign. The tour is scheduled to run from May 16 to May 21, with locations pending.