College Hosts Deportation Defense Training to Help Undocumented Immigrants 'Resist ICE'
Deportation defense training workshops are being held at The Ohio State University and Ohio University to give people tools to advocate for immigrants who are at risk of being deported.
The workshops include training on legal basics and why people are arrested, detained and deported, as well as prevention tactics for immigrant families. The universities sought to give students a better understanding of immigrant justice, Central Ohio Worker Center (COWC) Board President Dr. Austin Kocher told Newsweek. His advocacy organization designed and sponsored the event.
The COWC-sponsored workshops "will give us an understanding of the best ways we can help prevent deportations, protect the undocumented workers in our community, and resist ICE," the event states on Facebook.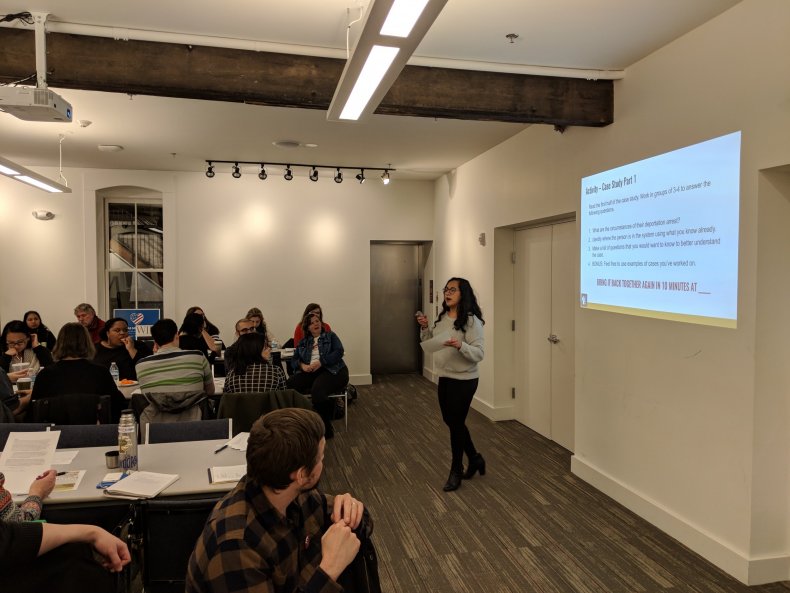 Since taking office, President Donald Trump has sought to crack down on illegal immigration, giving ICE "clear direction to focus on threats to public safety and national security." During Trump's first 100 days in office, ICE deportations surged 40 percent.
The deportation defense trainings, which are ongoing, also aim to connect immigration advocates with social workers, healthcare professionals and lawyers.
The workshops developed out of COWC's previous direct advocacy work. Kocher cited a recent referral by a Kentucky woman whose family has been impacted by ICE; her husband was arrested and is awaiting deportation. COWC helped provide a lawyer.
Kocher cited another example where a social worker attended a past workshop to get information to help clients and found herself needing the tips learned from the workshop. The social worker was detained for hours at customs, where she was questioned about immigration issues and her sexual orientation.
COWC is working to submit a civil rights complaint to the Department of Homeland Security.
"In that case she didn't know what to do or what her rights were, and she felt too intimidated to resist," Kocher said. "However, because she took our workshop, she knew that there were legal options available to her and that the COWC is a resource."