Tropical Depression Possibly Forming in Atlantic, Following Hurricane Florence's Path
While Hurricane Florence barrels west-northwest at 115 miles per hour, there's another storm forming behind it in the Atlantic called "Disturbance 1."
The disturbance over the warm ocean waters a few hundred miles west-southwest of the Cabo Verde Islands is an "elongated area of low pressure," according to the National Hurricane Center.
The system isn't a tropical depression yet, and despite that it showed no indication of a defined center of circulation, the chances of it forming into a depression were still high.
As of Thursday, the formation chances of the cyclone were 70 percent over the next 48 hours and 90 percent over the next five days. This puts the chances of the system forming into a tropical depression at high.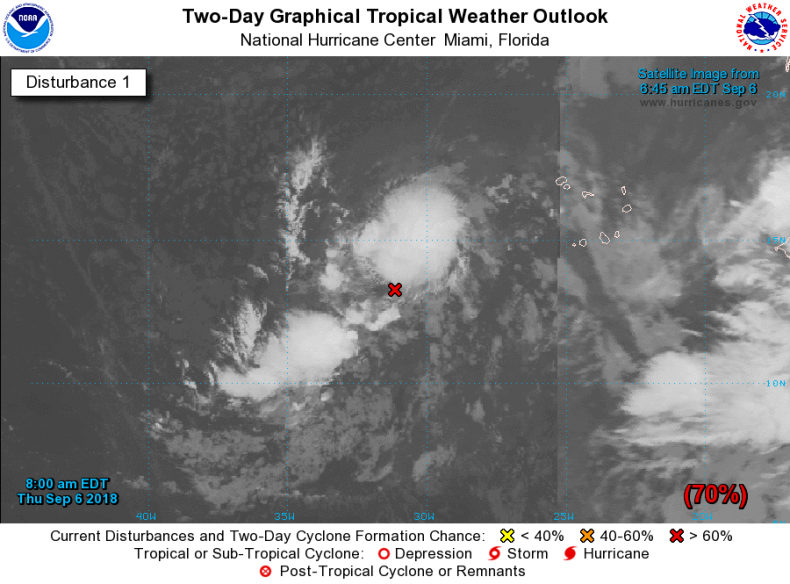 The environmental conditions in the area were "conducive for development," according to the NHC's tropical weather outlook and the system is expected to travel west or west-northwest through the Atlantic Ocean over the following days.
If the system does develop, it could follow very closely in the path of Hurricane Florence. The storm Florence, which formed in a similar area of the Atlantic as the possible tropical depression, was a Category 3 major hurricane as of Thursday.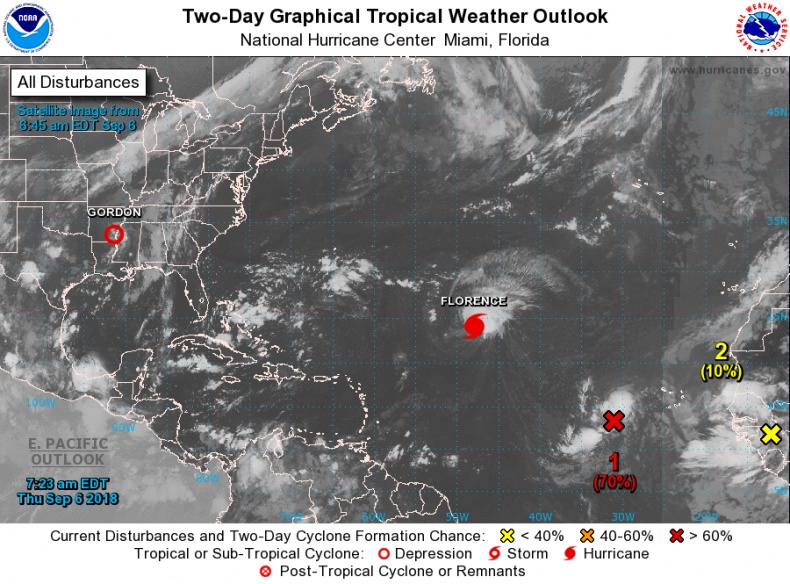 That made Florence a dangerous storm for anyone who encounters it. Luckily, the storm is out in the Atlantic near no landmasses, but it was traveling in the direction of Bermuda as of Thursday. The winds from Florence could arrive at Bermuda overnight Sunday and into early Monday, according to the NHC.
Florence is the first storm to watch, though it's weakening, and it could still pass over Bermuda and head for the coast of the United States. Updates on the progress of Florence as well as Disturbance 1 can be found on the NHC's website along with the National Weather Service.
In addition to keeping an eye on Florence and the forming disturbance, the NHC is busy tracking Hurricanes Olivia and Norman in the Pacific near the islands of Hawaii as well as Tropical Depression Gordon that recently passed over Mississippi. The most active time for hurricane season is approaching and disturbances forming in the Atlantic around this time of the year are normal and expected.
The National Oceanic and Atmospheric Administration recently updated its hurricane season forecast to reflect a likely more calm season than was previously expected.