Deputy Attorney General Rod Rosenstein to Step Down by March
Deputy Attorney General Rod Rosenstein will step down by mid-March, a Justice Department official confirmed to Newsweek.
Rosenstein had long been expected to leave once President Donald Trump's pick for attorney general, William Barr, took office. The Senate confirmed Barr last week. Rosenstein's departure was not related to the wiretap allegations, a Justice Department official first told Reuters.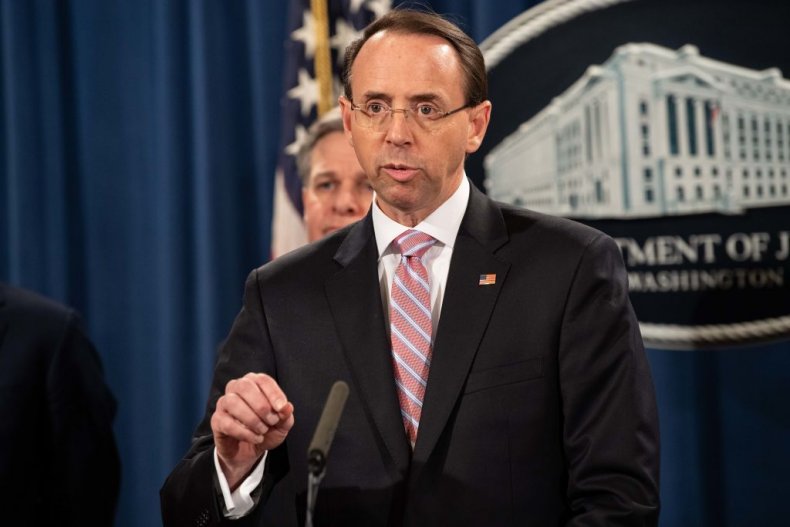 It was Rosenstein who, following the firing of FBI Director James Comey in May 2017, appointed Robert Mueller as special counsel to investigate allegations that Trump officials had conspired with Russia to propel the real-estate mogul to victory in the 2016 presidential election.
Rosenstein appointed Mueller because Jeff Sessions, who was attorney general at the time, had recused himself from matters related to the Russia investigation. Since his appopintment in December 2018, Acting Attorney General Matt Whitaker has overseen the investigation, having previously publicly criticized it.
In an interview with CBS News's 60 Minutes on Sunday, former Acting FBI Director Andrew McCabe said that in the wake of Comey's firing, Rosenstein offered to wear a wire to secretly record Trump as they discussed which Cabinet members would be willing to invoke the 25th Amendment to remove the president from office.
Rosenstein said that he did not believe there were grounds to invoke the 25th Amendment to removeTrump, and claimed he was joking when he discussed wearing a wire.
The Justice Department, in a statement on Monday, said McCabe's account was "inaccurate and factually incorrect," reiterating denials that Rosenstein issued last summer when The New York Times first reported his involvement in discussions about invoking the 25th Amendment.
Trump described Rosenstein and McCabe's behavior as "treasonous" in an extraordinary attack on Monday.
"There is a lot of explaining to do to the millions of people who had just elected a president who they really like and who has done a great job for them with the Military, Vets, Economy and so much more. This was the illegal and treasonous 'insurance policy' in full action!" the president tweeted.
Several former senior officials in Trump's presidential campaign, including campaign chairman Paul Manafort, national security adviser Michael Flynn and former personal attorney Michael Cohen have been indicted in the Mueller probe.
This article was updated with confirmation from the Justice Department.