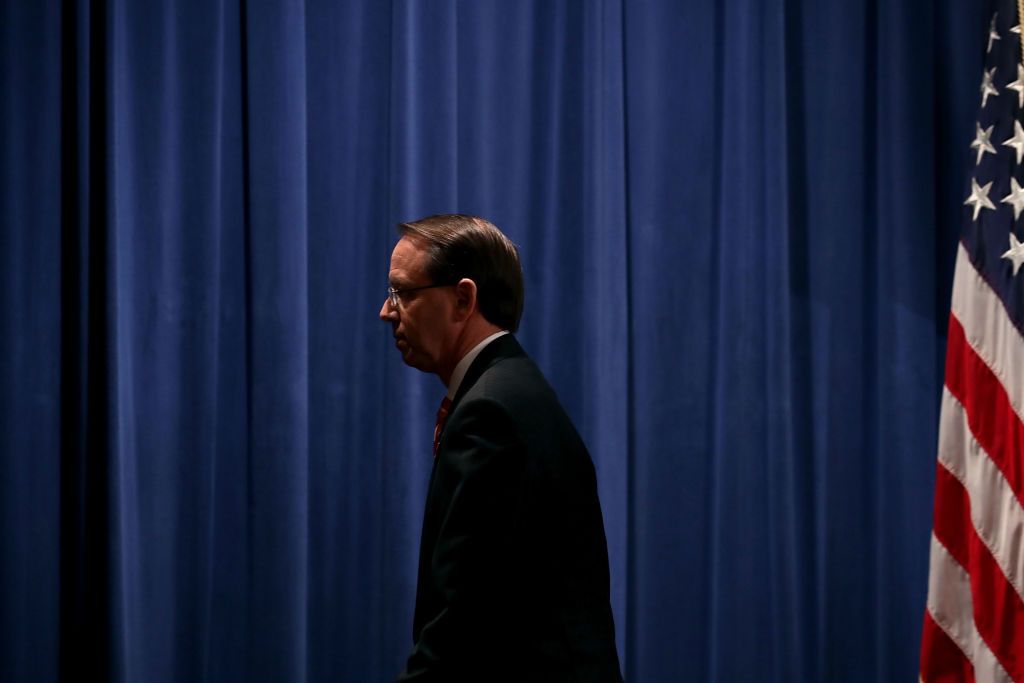 Deputy Attorney General Rod Rosenstein issued two statements Friday denying proposing wearing a secret wire to record President Donald Trump and discussing invoking the 25th Amendment to remove the president from office.
The claims were made in an explosive report by The New York Times Friday, which cited several unnamed sources who described scenes which occurred after Trump fired FBI Director James Comey in May 2017. Other sources cited contemporaneous memos written by former Deputy FBI Deputy Director Andrew McCabe.
One person who claimed to be in the room when the comments were made said Rosenstein was speaking "sarcastically." Rosenstein though denied making the claims.
"I never pursued or authorized recording the President and any suggestion that I have ever advocated for the removal of the President is absolutely false," he said in a strongly worded statement late Friday.
In an earlier statement, Rosenstein said "The New York Times's story is inaccurate and factually incorrect. I will not further comment on a story based on anonymous sources who are obviously biased against the Department and are advancing their own personal agenda."
"But let me be clear about this: based on my personal dealings with the President, there is no basis to invoke the 25th Amendment."
The 25th Amendment allows the cabinet and vice president to remove the president with a majority vote if he is deemed "unable to discharge the powers and duties of his office."
In a statement to CNN, McCabe's lawyer, Michael Bromwich, said his client had taken action to "memorialize significant discussions he had with high level officials and preserved them so he would have an accurate, contemporaneous record of those discussions."
The lawyer said McCabe had handed the notes over to Special Counsel Robert Mueller, who is probing allegations of collusion between the Trump campaign and Russia, and did not know how reporters could have obtained details about their contents.
McCabe was fired as deputy FBI director in January.
The House Justice Committee Friday said it intended to subpoena the memos.
Rosenstein appointed Mueller as special counsel following Comey's firing. The probe has been described as a "witch hunt" by Trump, and Rosenstein has been targetted for criticism by the president.
Jeff Sessions' recusal from the Russia probe means that Rosenstein oversees the investigation, which has resulted in the prosecution of former Trump aide George Papadopoulos and campaign president Paul Manafort and the indictment Russians alleged to be responsible for hacking DNC servers in 2016.
Trump, meanwhile, told a campaign rally in Missouri on Friday that "there's a lingering stench" at the FBI and Justice Department, and pledged "we're going to get rid of that, too."
Senate Democratic leader Chuck Schumer said the Times report "must not be used as a pretext for the corrupt purpose of firing Deputy Attorney General Rosenstein in order install an official who will allow the president to interfere with the special counsel's investigation."