Deputy Uses Broom to Wrangle Alligator Away from Nearby House
A deputy wielding nothing but a house broom managed to keep a family and their home safe from an alligator prowling on their front lawn.
The Hillsborough County Sheriff's Department released bodycam footage yesterday of a late April alligator wrangling. However, rather than using traditional police or animal trapping equipment, Deputy Shyanne Wheaton opted for a broom to literally sweep the creature off of the residential property.
Wheaton, along with two other officers, responded to a call in Tampa regarding an alligator on the loose on Thursday, according to The Hillsborough County Sheriff's Department's Facebook post.
"The gator was approximately 4-foot and had wondered from a nearby pond located behind the homes," they explained. "It was found taking a snooze in the shade under a car."
The bodycam footage starts as Wheaton holds her broom of choice and follows the gator, quickly making its way up the front lawn after it awoke from its nap under the car.
She initially tries to use the broom bristles to keep the gator's mouth shut, but realizes that isn't an option when it nearly bites the broom. The gator even begins hissing and threateningly turns to Wheaton.
The footage then cuts to Wheaton's creative solution: Letting the angry alligator bite on the broom handle and dragging it back to its pond.
"She was using a broom to navigate it in the correct direction and eventually, the gator latched onto the broom and went for a joy ride to the pond," the Facebook post explained.
Her colleagues joke around as they watch her successfully remove the gator, calling out, "Don't fall in!" as she approaches the pond.
Once off the residential property, Wheaton shakes the gator off the broom handle and gives it an extra push for good measure.
"I owe you a new broom," she jokes at the end of the video. Fortunately, no police, neighbors or alligators were injured in the operation.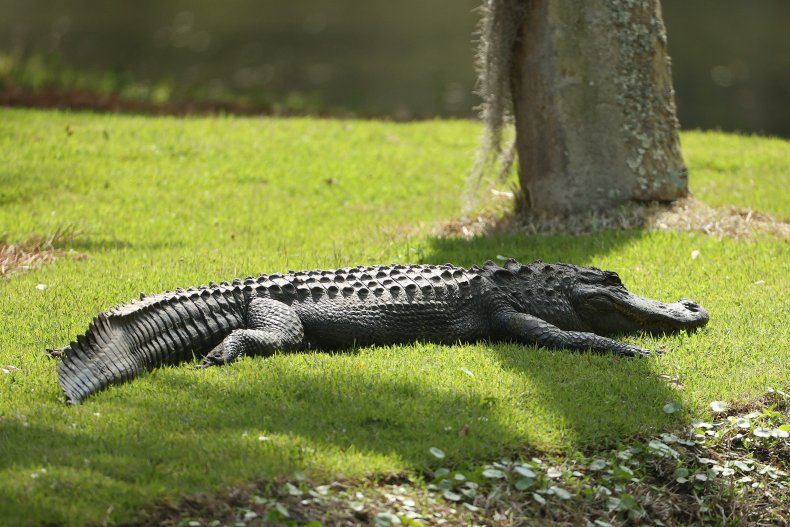 Facebook viewers were impressed not only with Wheaton's innovation but also with the fact that this was her second encounter with a gator on the loose in a month.
On April 6, Wheaton accompanied professional alligator trappers to relocate a much larger gator that had also taken refuge under a car.
In bodycam footage of that gator encounter, Wheaton actually physically lifted the 10-foot beast once its jaw was taped shut to move it out of the area. When the alligator was secured in the Florida Fish and Wildlife Conservation Commission vehicle, she turned around to see several pedestrians cheering her on.
The Sheriff's Department Facebook even joked that the office has opted to change her name officially to "Crocodile Dun-Wheatee" based on her impressive animal control skills.